13 books! I have read 13 books this month. I did not expect that. But to be honest, I had two reading weekends, and… also went for a few shorter books this time. So there's that.
Most surprising to me is, that I have reached my goal of reading 100 books this year, and will be surpassing that easily. Don't get me wrong, I knew this was coming, but still this is so weird to me! I have never read so much before, and that while starting to live together and starting a new job? Where did I get all this extra time from? And how is it possible that I am now reading more than during the Covid lockdowns? It's a marvel, but I'm quite enjoying it. Maybe that's what keeps me on reading the next one, and the next one, and the next one.
My average rating this month feels a bit off though, a 3.6? But don't you worry, there were a couple really high scoring ones. And to even that out, a couple of low scoring ones. I also started a new series, but hardly anything from the library. I did read a whole lot of ebooks, and therefore most of my reads this month were in English.
But let's get to them shall we? What have I read this october?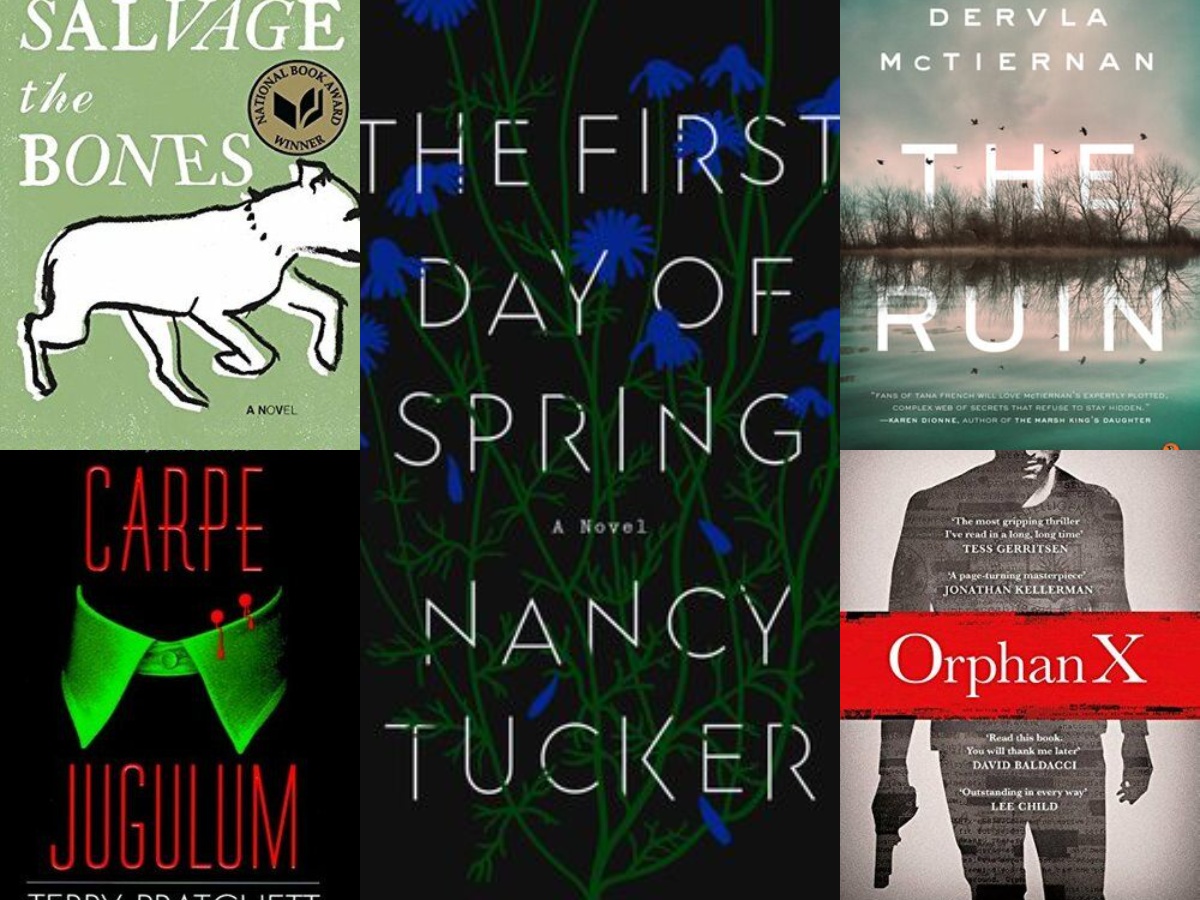 #100 Salvage the Bones by Jesmyn Ward (English, 3.5 stars)
Described as a big-hearted novel about familial love and community against all odds, and a wrenching look at the lonesome, brutal, and restrictive realities of rural poverty, Salvage the Bones is muscled with poetry, revelatory, and real. I found it a bitter and sad story, which was written well even though I didn't feel a connection with the characters.
#101 Carpe Jugulum by Terry Pratchett (English, 4 stars)
Such excitement! Adventure, mystery. This Discworld novel was very action packed, but also quite philosophical. It was good, I kept wanting to know what happens next. And I still do, as these stories are never completely finished.
#102 The First Day of Spring by Nancy Tucker (English, 4.5 stars)
Dark. Uncomfortable. And heartbreaking. This books stirs up some of my own trauma, which didn't make it easy to read. But even without it, I don't think it's supposed to be an easy read. The way young Chrissie and adult Julia flow into one and another is well written. Surely recommend! The only downside is, that I did see some of the plot twists coming, otherwise this would have been a full on 5 star favorite. Will read again though.
#103 the Ruin by Dervla McTiernan (English, 3.5 stars)
This has been on my TBR for a looong while now, after someone recommended the second book in this series to me. The main character has just been transferred to a smaller police station in a different Irish town. There's a lot of backstory there we didn't all get in this book, but that's why it's a series. He's having difficulty mixing with his new co-workers and stumbles upon some things that aren't right. I did enjoy this read, although a lot of it went a bit slow. I like the explanatory chapters after he's finally figured it all out. The history of Ireland is also nicely incorporated. But still… I didn't love it. I might still read the next one, just to know if this author needs to get into it more, or if this detective just isn't my kind of main character.
#105 Orphan X by Gregg Hurwitz (English, 3.75 stars)
Whoa! It's been a while since I read a good spy thriller. I didn't really knew where I was getting myself into with this one, but it's a true Jason Bourne/John Wick kind of story. Liked it a lot, and luckily for me, it's a series!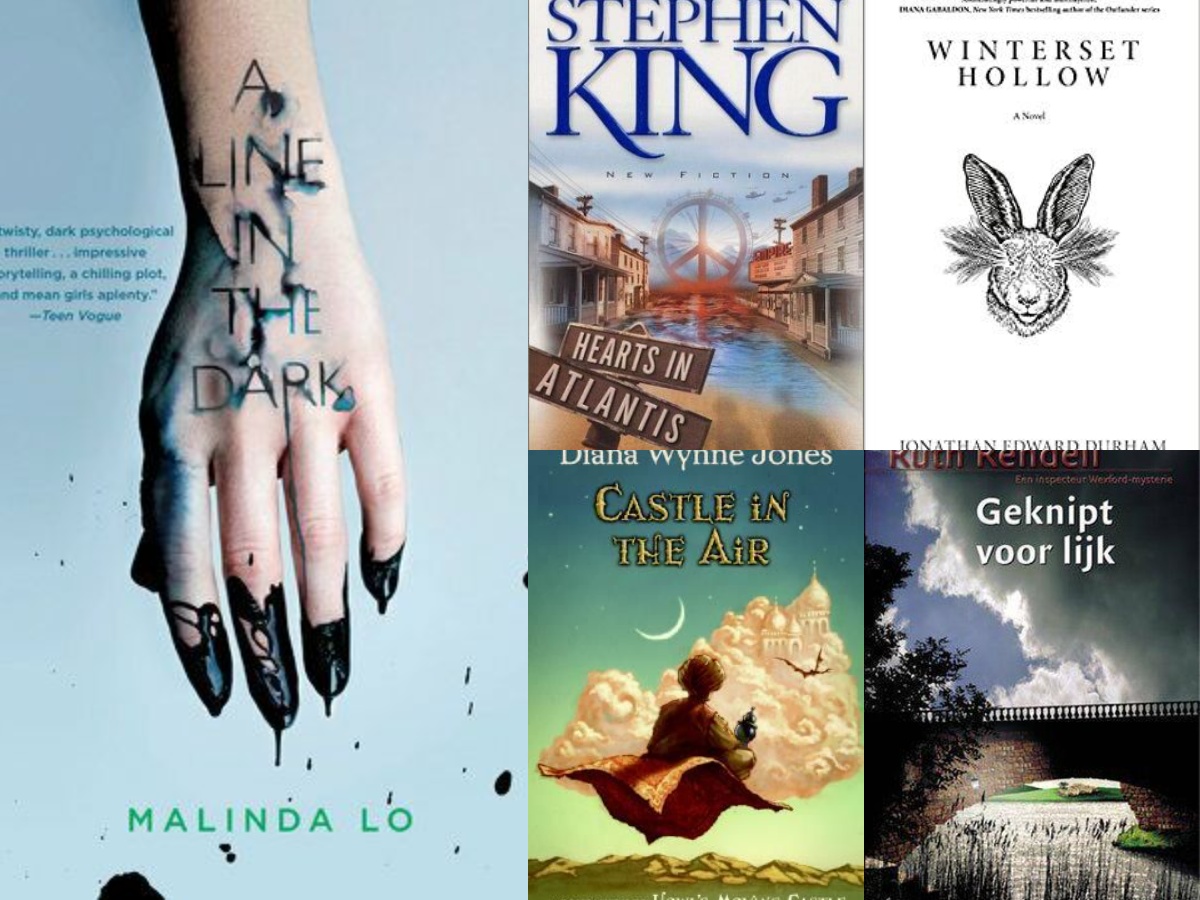 #106 a Line in the Dark by Malinda Lo (English, 2 stars)
Yeah hi it's me. I don't enjoy Young Adult books but for some reason tried one again when I shouldn't. If I would have been a hormone-driven horny teenager I might have loved this, but until the murder happened I basically only enjoyed the bits about drawing the comic. Too much drama. At least it was a fast read.
#107 Hearts in Atlantis by Stephen King (English, 3 stars)
Not the best of books, but an interesting style none the less. This books contains multiple stories, somehow tied together, during the lifetime of a couple of kids from the same neigborhood, and others they meet along their lives. It's heavily Vietnam-oriented, which I didn't really expect. Can't say I recommend this, I even took a break between the parts, but there were some interesting characters.
#108 Castle in the Air by Diana Wynne Jones (English, 2.5 stars)
I'm sad to say, only the last 130 pages have been entertaining, the rest of it was so boring I fell asleep and wanted to DNF. Nothing happened. And not in a nice cozy way either. This story could easily have been 200 pages shorter.
#109 Winterset Hollow by Johnatan Durham (English, 4.5 stars)
This was some story! It has some familiair elements, but twisted in such a dark way, it becomes something else entirely. It's shelved as horror but I would say thats mostly due to how tensed it is. It's also mysterious, adventurous, fast, and sad really. There's a plot twist, and just the right amount of weirdness. I really enjoyed this read. Thank you to whoever recommended it to me!
#110 the Best Man to Die by Ruth Rendell (Dutch, 2.75 stars)
Not very special, but a nice palet cleansing, straight forward murder mystery from the seventies. Relaxing to read when I needed it.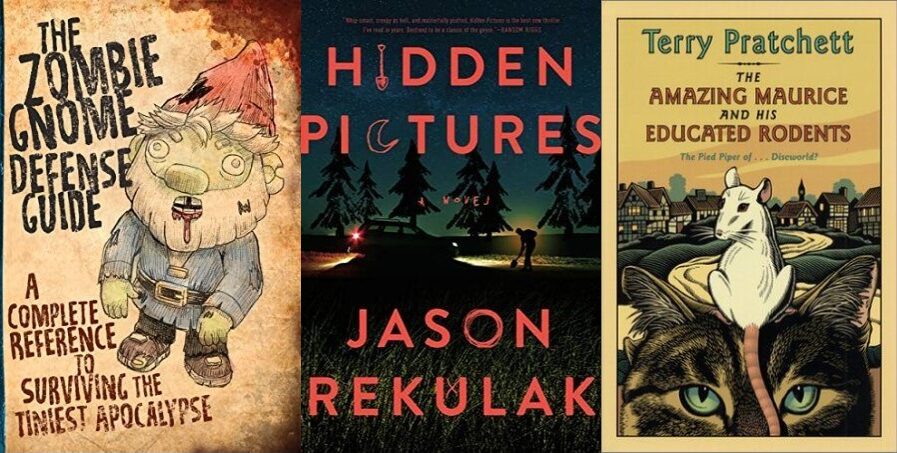 #111 the Zombie Gnome Defense Guide (English, 3.75 stars)
I hope this silly defense guide will someday safe my life, now that I know we can't just stomp the zombie gnomes. Very funny and full of great artwork. Read it as an ebook though, and think it's not doing the artwork justice.
#112 Hidden Pictures by Jason Rekulak (English, 4.75 stars)
Another great one. Like, what, the actual, fuck? For real? Wow… This book started out great, really, it was so creepy, a perfect atmosphere, and then it went the way I somehow expected it to go, because it was hinting that direction for a while, and suddenly… MAJOR PLOT TWIST! Did NOT see that coming, AT ALL. It was amazing. The ending even made me cry a little.
#113 the Amazing Maurice and His Educated Rodents by Terry Pratchett (English, 4 stars)
Quite liked this! The introduction said it was aimed at children, but there was quite an amount of violentness around that I didn't expect. It was also really funny and as is usual for a lot of the Discworld stories, a deeper underlying theme that makes you think about a lot of things. Just like the rats themselves. I'm not sure I would ask my young nieces to read this yet, but we might be able to watch the movie together soon!
So these were my reads! Even though there were a couple I didn't like, there were a couple of really great ones! What about you? Did you read any extra spooky books this month, or did you just went on with your TBR like usual? And did you read any of the books I read? Let me know in the comments!