Dewey's 24-hour Readathon happened last weekend! And on top of that, it was ALSO the online Halloween event by the International Geek Girls Penpal Club (IGGPPC). I participated in both, and combining the two was a lot of fun! Although sometimes distracting.
Deweys Readathon started at 2pm for me, on the Saturday, and finished on 2pm on Sunday. This means I basically take all weekend to read, while on Saturday also getting some chores done in the morning. Not this weekend though, I got through all of them on Friday and have used the morning to bake a cinnamon swirled pumpkin cake. The IGGPPC Halloween schedule started at 2am on the Saturday for me though, and closed at Sunday 8am. To not get confused with both of the activities hours and timezones, I made myself an Excel cheat sheet. 😅
The Books
My TBR was a combination of current reads, H.P. Lovecrafts Classic Horror Stories and Aquarel Workshop, new bought books, Horrorstör, and books I wanted to read for other readathons, Castle in the Air. I also added an extra treat book, Winterset Hollow. If I could get through the others, I could read that one next!
The Food
I of course also got snacks, as they are so very important! Some especially saved from our trip to Sweden last month. I always try to mix in some healthy items too, like carrots and humus or crackers and cheese, and tiny tomatoes. For dinner I made a deer stew, with crunchy fries. And for breakfast, one of my favorite pancakes, with blueberry marmelade.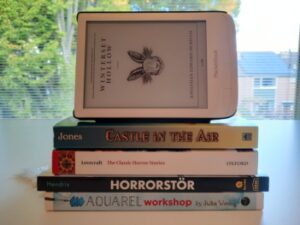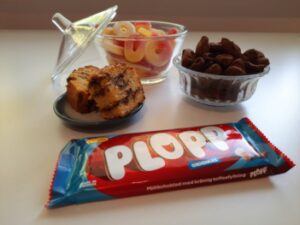 The Activities
There were some of the Halloween activities I really wanted to participate in. The first one was the Hallowiggles dance party. These dance parties are always a lot of fun, and surprising as we listen to music from all over the world. And the best part is, you are at home, so noone can see you do your stupid funny dance moves!
There was also a Haunted Library Cats Game that sounded just too perfect for a combined event of reading and Halloween activities. I had no idea what kind of game it was when it started though. It turned out to be an Role Playing Game, where you are a cat character of your choice, having an adventure in a magical haunted library. A bit like DnD but at lot easier so that anyone could join. I still wasn't very good at it though, so after an hour continued reading again.
The Shadows Game is a recurring tradition during IGGPPC events, and this time it was ever as hilarious as previous ones. The event happens at Discord, where you get to see an image with a shadow on it, and we all get to guess what or which character it is. But as this game usually happens in the evening, well, most of us aren't too serious about what it ACTUALLY is, but do "shout" a lot of other random funny things in the chat. 😆
There were also a couple of livestreams to chat, and a whole bunch of movies to watch together. I was sad on missing out on the Phantom of the Opera watchalong, but that was at 2am for me and I was happily sleeping at that time. I didn't really participate in any of the other watchalongs either, because I was reading.
The Stats
Hours Read: 13
Hours Slept: 6
Pages Read: 426
Books Read: 4
Books Completed: 0
Favorite Reads: Winterset Hollow
Final Thoughts
I've read 426 pages, which is, actually not that much for me? I've made a mess of my current reading books too, as I have read from 4 different ones, and not completed any of them. My first read, Castle in the Air, was so far out of my comfort zone that it got hard concentrating. After switching it up, Winterset Hollow was without a doubt the best one this readathon.
Next time though, I hope to be reading full books again. I'm not one to have multiple current reads going on at the same time, but I guess it was good trying if this works for me. And I did needed to switch up when the first book was going too slow for me.
How about you? Have you ever done a 24-hour readathon like Deweys? Do you have a special strategy for them, or are you mostly winging them like I did this time? If you participated last weekend, how did you do, have you enjoyed yourself?