It hasn't been that long ago, that I wrote an update on my current reading series. And to be fair, not as much has changes since that post either… But today is TopTenTuesday dedicated to series, so instead of series I want to continue and finish, I've written you a list of series I would like to start whenever I have finished my current series.
Hawthorne and Horowitz Mystery series by Anthony Horowitz
This is a classic murder mystery series, which currently has 4 books. The Word Is Murder, The Sentence is Death, A Line to Kill and The Twist of a Knife. I must admit, the titles are what drew me in at first. But the author wrote himself into the stories too, as a ghost writer helping the detective. Even though I hadn't heard of Anthony Horowitz before, this series gets high ratings!
By the Book Mysteries by Tamara Berry
This is a cozy but bookish murder mystery series, currently has 3 books. Buried in a Good Book, On Spine of Death and Murder Off the Books. The covers are really stunning, the artwork looks almost hand drawn. And they have a bit of a summery feel to them, which is perfect for me, because I always have a hard time finding good books for summer! I'm not a beach read romance kind of person, hopefully these murders will fit me better!
Dr. Laszlo Kreizler series by Caleb Carr
This series only has 2 books, The Alienist and The Angel of Darkness, so I'm not really sure if it indeed qualifies as a series or if it's a duology, but they've been on my TBR for quite a while now. It's a historical mystery series, and when the first was published in 1994 it has been a best selling phenomenon for a long time! Of course that happened more often those days, with series like Robert Langdon by Dan Brown, but this is one I am still willing to try. I love a good historical mystery.
Hell's Library series by A.J. Hackwith
Yes, again a bookish series, currently has 3 books. The Library of the Unwritten, The Archive of the Forgotten and The God of Lost Words. This one is more fantasy related as the titles already suggest. I'm not sure if that's something for me but I've seen this series in a book store a couple of times and I keep navigating to them. So I should probably give them a chance?
Miss Peregrine's Home for Peculiar Children series by Ranso Riggs.
This series already has 6 books, so I won't list all their titles. It's both horror and mystery, both supernatural as historical, and I've always thought it was MiddleGrade but just now noticed it's listed as Young Adult instead. I often don't enjoy YA, so I'm really hoping it indeed turns out to be MG when I start this! If it doesn't work out for me, there's also The Incorrigible Children of Ashton Place Series by Maryrose Wood which gives me similar vibes.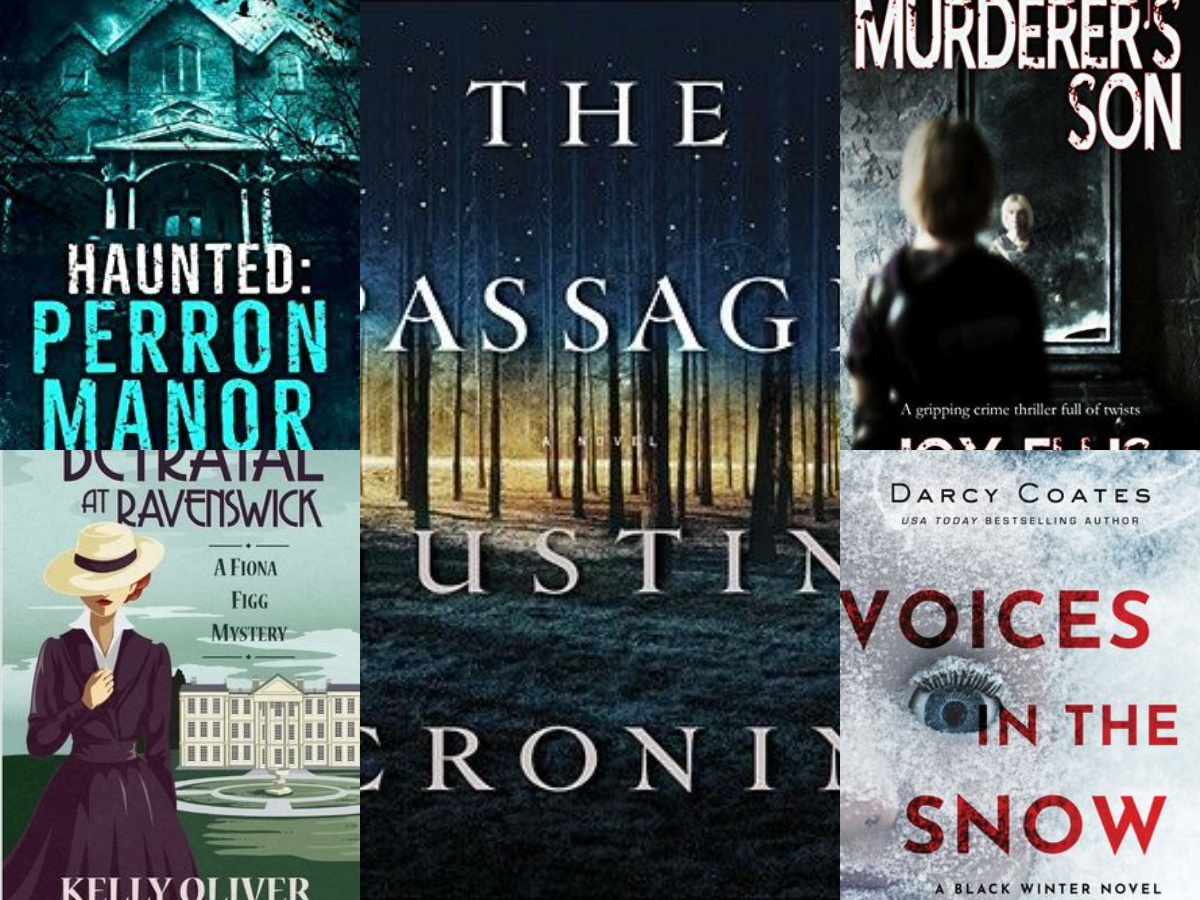 Haunted by Lee Mountford
Not a very known series, but all 5 books seem to have pretty high ratings. It's adult horror and mystery, which often is difficult to write series for. I'm not sure how this one works either. Are there recurring characters, or are they all just the same kind of vibe?
The Passage Series by Justin Croning
This series is a bit different too, but it has vampires! Apocalyptic suspenseful adventure, currently 3 books. The Passage, The Twelve and The City of Mirrors. Even though I'm often bad at reading fantasy, I do like a good apocalyptic story once in a while. And with vampires? Big bonus!
DI Jackman & DS Evans Series by Joy Ellis
A classic British murder mysterie series (again), which currently has 9 books, so that's quite something. It was the first sentence that drew me in though: "What if your mother was a serial killer?" I need to know!
Fiona Figg Mystery Series by Kelly Oliver
This series gives me a bit of a vibe of the Miss Fisher's Murder Mysteries, but with an English female spy instead. It's only 3 books, but that's okay because I don't read a real lot of cozy historical mysteries.
Black Winter Series by Darcy Coates
I love myself a good dark mystery series. I often save up books for winter, and tend to go full nordic noir that time of year. But this series, which currently has 4 books, has a bit of a gothic paranormal apocalyptic twist to it. Will it be vampires again? Or some kind of spirit? I don't know, but give me some snow and let me find out!
I am a real series reader. I don't know why, but it's like bingewatching a tv-show. When I love a book, I just want more of it. And the evolving characters can really make a difference. So do I read for the plot, or for them? Sometimes I don't know.
What about you? Do you read a lot of series? What are some that you would like to start? Have you read any of the ones I listed? Please let me know in the comments!