Yay! It's that time of the year again. The Christmas season is in full swing here! It started the day after coming back from our summer holiday (the end of September), when I decided to get tons of crafting supplies to make my own post cards again. And two weeks ago I slowly started decorating, but now…. NOW it has really started! Because it is swap time again!
After doing a couple of years of the Hackerspace Christmas Exchange (but grew bored of it) I was looking for something else instead. Something a bit more personal and less let me send you our crap. That's how I found the International Geek Girl Pen Pal Club and their Geeky Santa Swap. Last year was my first year with the IGGPPC Geeky Santa Swap and it has been so much fun prepping and scheming that I decided to join again this year. The concept is easy, you fill in a form and share your current top 5 of geeky things, colors, animals and additional info about yourself. A lot of others do the same and somewhere halfway through November you receive an email with information about someone and you get to play Secret Santa!
My swap-girl was someone with a love for everything Alice in Wonderland. Of course I had to choose the most bookish theme of her top 5 and I themed my swap to a Alice in winter Wonderland tea party. Some of the things I put in the swap were: a giant Cheshire Cat cookie cutter (3D-printed, so one-time use), We are all mad here keyshaped bookmarks (also 3D-printed), a little booklet in which I drew a lot of Alice in Wonderland quotes and made up even more riddles (this was so much fun to do, I didn't even know about myself I could actually doodle). A good theme is in the details so I also made gift tags (again with riddles) out of vintage playing cards, the sachet of tea had a pocket watch on it, there were even napkins with flamingoes. And after putting in some real presents which also fitted her other geek loves I also added my favorite cake recipe, because what is a tea party without cake?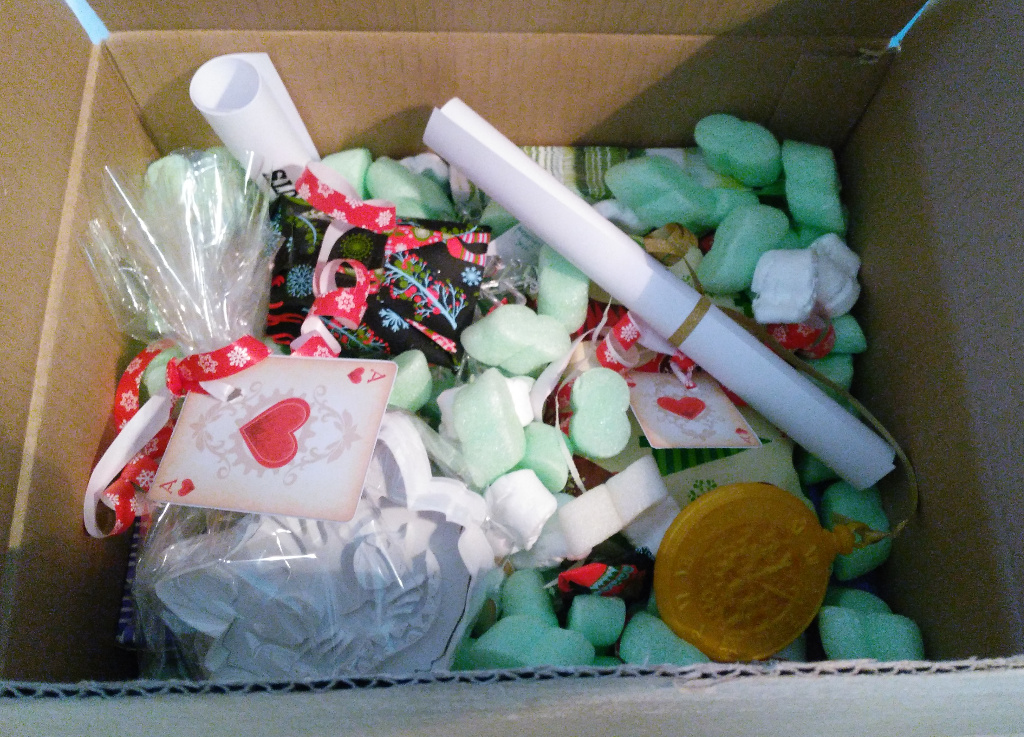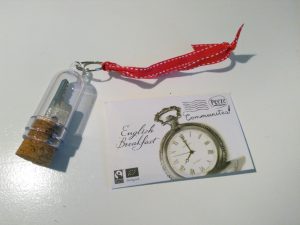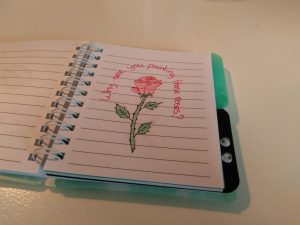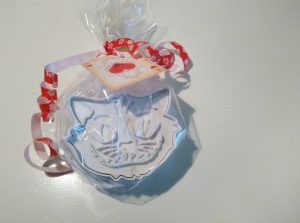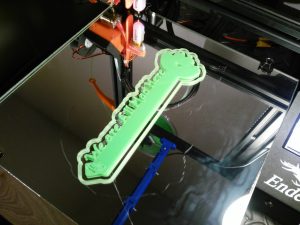 The wait for my own swap gift took until early March (it was saved by a Swap Angel). Although I couldn't unwrap it beside my Christmas tree it was still a lot of fun unpacking (and still cold enough outside). It was put together so thoughtful! Everything was beautifully wrapped, there were a lot of small but usable things inside. Most of them penpal related like the stack of postcards, the feather pen, the pencils, the travel journals, tiny notepad (which is sadly almost used up by now) and some fun things like the grow your own cacti set and the FURaser (an eraser in cat-shape, I am still loving the pun). The bookmark is one I use a lot, and now that the days are getting cold again I also use the hand socks every day. They match my jacket perfectly, what's the odds on that? But the book… oh the book was the biggest surprise! It was beautifully wrapped too, with a big bow. And IT WAS SO GOOD! It was one of my favorite reads this year. 🙂
So there, I can't wait to start again. Prepping and scheming, crafting and buying, to make someone else feel special – even though they signed up for that.