Wow! I've read SO MUCH last month! 15 books, 4.579 pages, plus 2 DNF's. It was still a busy month, but it included some bank holidays and an ENTIRE WEEK off of work. That's when I did most of my reading. And it wasn't just a lot of reading, it was also GOOD reading. My average rating over these 15 books was 3.82 stars.
Most of the books were short, only 6 of them were my average size of 400+ pages. Some of them were also audio, which is something I hardly ever do, but somehow worked this month. But most of all, almost every book I read in May, were books I physically own(ed)! Hurray, finally making a dent in my TBR!
Because I read so many books, I am finally back on track again on my yearly challenge. I still would like to read 100 books this year, and now I might indeed make it? In case I'm getting behind again, I now know I only need a couple of days off again! :-p
But let's dive into the books shall we? So what have I read in May?
#31 The Picture of Dorian Gray, by Oscar Wilde (English, 3 stars)
This took me a while. I started in February, but soon put it away again. It was not the right time. At the start of May I picked it up again, and struggled my way through the many dialogues. Yes, there were many beautiful sentences and it was intriguing, but it was also very slow and there were many parts that didn't add to the story. I'm not sure yet if I enjoyed it, even though I (finally) read it fast enough. And rereading? Well, that's for later to find out… but probably not?
#32 House of Many Ways, by Diana Wynne Jones (English, 5 stars)
Delightful! I was a bit scared to start this, as the second of the trilogy was utterly boring and had nothing to do with Howl's Moving Castle, bit this one is the true sequel. It gives you the same lighthearted feelings, while there is quite a bit of adventure and mystery. Meanwhile Charmain has quite a bit of growing up to do, learning about dishes, laundry and magic. It was delightful, and I wil definitely reread this one!
#33 Guards! Guards! by Terry Pratchett (English, 4 stars)
A reread, and just as fun as the first time around. Maybe even a bit better, as I now know more about the Discworld than when I read this as my first Discworld novel in 2018. It was good to revisit, and I'm even more glad that it was because I now own my own physical copy. Will reread again!
#34 The Pale Criminal, Philip Kerr (English, 3.5 stars)
Started reading this second book of the series, because I didn't know if I like this. And I still don't? It really shows it's age, but there was a stronger moral in this one. Besides that, just like the first one, the story was all over the place a lot, not going straight to the point. I do enjoy that, because it feels more real when things get messy a bit. But it was also confusing and sometimes not well-knit together when needed. I will probably read the third one too, as I own the trilogy, after that it's finally time to decide if I want to continue the series.
#35 The Watcher, by Charlotte Link (Dutch, 3.75 stars)
Better than I anticipated, but not so thrilling to reread it someday. Just a nice pallet-cleansing read, for a slow day.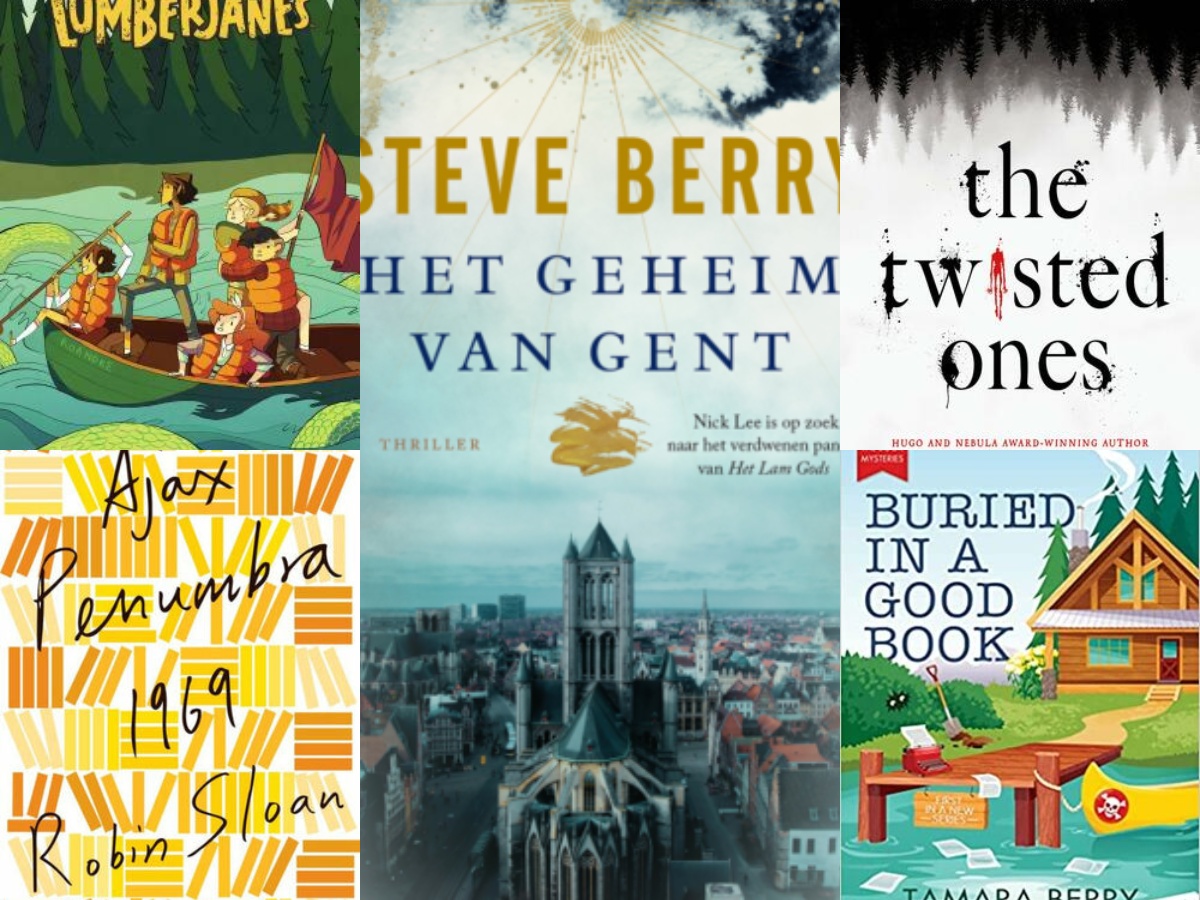 #36 Lumberjanes, Vol. 3: A Terrible Plan (English, 3.75 stars)
Another fun short read! This volume feels a bit les adventurous than the previous ones, but that's possibly because that story went on in two volumes, and this adventure is more stand-alone. It gives you the same cozy vibes though. And it was a nice treat to read on a hot day thinking about summer camps!
#37 The Omega Factor, by Steve Berry (English, 3.5 stars)
I liked it, but I didn't love it. It was nicely paced, tensed where needed and of course mysterious, but there often was too much "background chatter". It was mostly an easy read, for a holiday. Better than others, but I also have read better ones in this genre. If you haven't though, I can recommend this.
#38 The Twisted Ones, by T. Kingfisher (English, 3.75 stars)
I liked it, but it also didn't deliver? Let me be straight, this is a weird story and it's supposed to be too. It's folkloric horror and those are always, well, twisted. It was an interesting take, apparently a retelling of "the White People" by Welsh author Arthur Machen, from the late 1890s. And it was GOOD, but the format was distracting for me. It was like being inside of ADHD brain, so many thoughts! So many side-thoughts! It was sometimes putting me off, while in other times it made me laugh and giggle. So yeah, I did like it, but I already know I probably won't reread.
#39 Ajax Penumbra 1969, by Robin Sloan (English, 3.5 stars, audio)
Entertaining background story, but sooooo short I can't really tell anything about it.
#40 Buried in a Good Book, by Tamara Berry (English, 4.5 stars)
This was fun! Usually a cozy mystery is, a lot about different things but the murder-plot, in this book however, some things are a bit over-exaggerated, but it's certainly ALSO about the murders. It has a lot of basics, a successful female thriller writer and her teenage daughter who go back to her grandfathers small-town cabin in the woods, actual raining bodyparts, Bigfoot sightings, and of course that grumpy male detectives. It also hints at enemies-to-lovers between those two, and I actually started rooting for them. It's the first in a series, so there's more to come!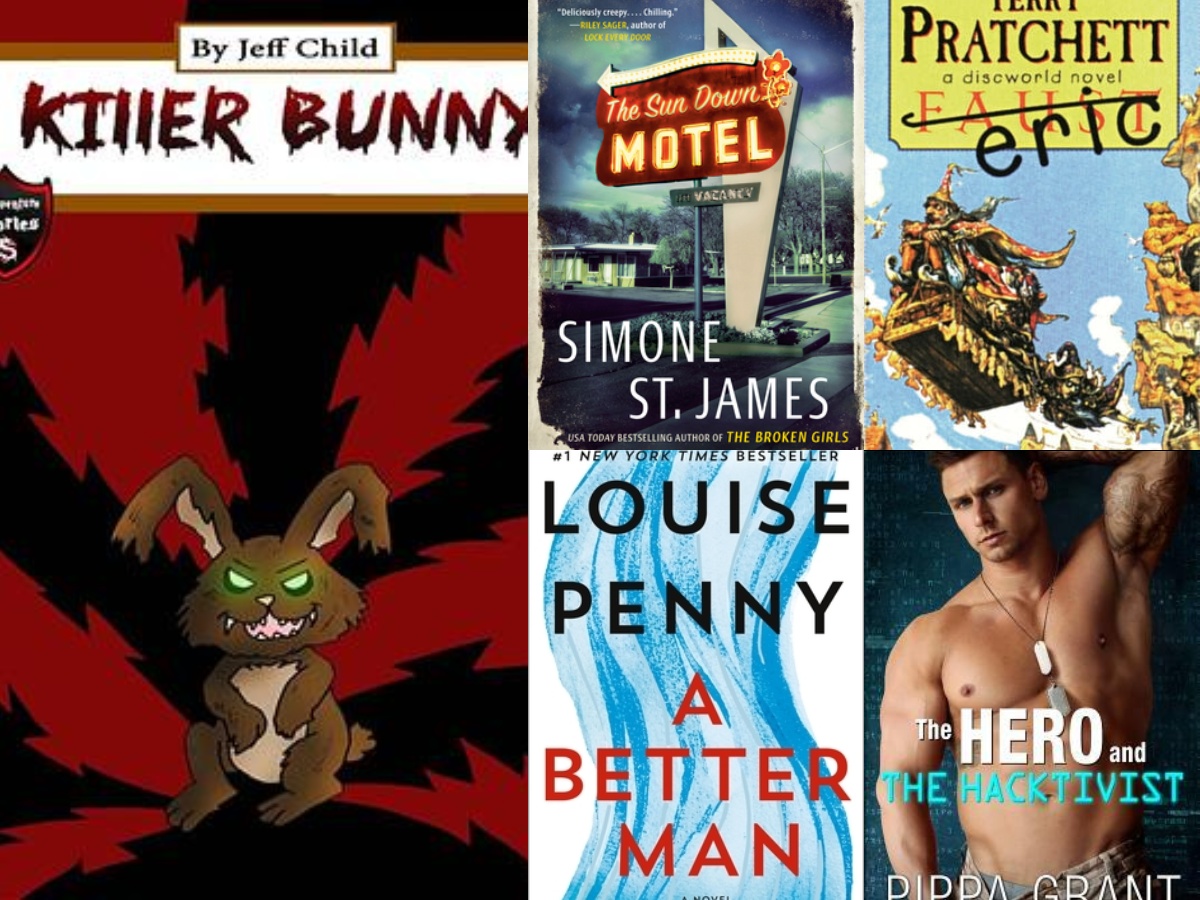 #41 Killer Bunny, by Jeff Child (English, audio)
This was too short to properly review. A children's story about a murdering bunny, who get's hunted down to get killed and eaten by the village. Really weird!
#42 The Sun Down Motel, by Simone St. James (English, 4.25 stars)
After two DNF's I was glad to pick up this story, about a hunted motel, family mysterie AND murder mystery. I'm happy to say that it fully delivered on everything. Simone St. James has entered my auto-read list!
#43 Eric, by Terry Pratchett (English, 3.25 stars)
Another short but fun one! I am still not a huge fan of the Rincewind series, but when reading the Discworld in order they are a nice adventurous treat. I don't feel Rincewind is evolving as a character much, sometimes a story is mostly about the plot I guess.
#44 A Better Man, by Louise Penny (English, 4 stars)
One should know when starting to read this, that it's plot is rather slow. You are reading and will get annoyed, when you spot the mistakes these officers make. But that's kind of the point right? These characters are written up like they are real people, and real people make mistakes. These have too, in previous books. But now possibly a killer gets away with murder. An abusive husband, his pregnant wife. It should have been a done deal, if it wasn't for the mistakes made during the investigation. And with all the experience these three officers have between them, THEY SHOULD HAVE KNOWN. Meanwhile the political game is also strong again, and ofcourse the things happening in Three Pines. And at the end, I was crying again, for multiple reasons.
#45 The Hero and the Hacktivist, by Pippa Grant (English, 4 stars, audio)
Wait whut? I'm reading smut now? And I liked it? What's happening? Well, this was absolutely hilarious! And I needed something to laugh about. It was so funny I might even read more by this author. I think the main thing making it fun were the audio narrators. And yes, that's me saying, the one never really enjoying audiobooks at all…
But what about you? Did you have a good month? Reading or otherwise? Tell me all about it in the comments!