Ever since I was a kid I loved baking cakes. All kinds of cakes, as long as it were cakes. The 200 grams butter, 200 grams sugar and 200 grams flour are so baked into my system I could make a cake with my eyes closed! My best cake ever? The orange flavored cranberry cake with hazelnuts I made for my birthday once. And muffins? Well, they are just mini-cakes right?! The only thing I never really tried were brownies. Don't ask me why, I just didn't.
But now that am on a strict gluten-free diet due to my celiacs disease I can't eat cakes anymore. At least not the ones with the plain wheat-flour. When I visited a thing earlier this year there were really good tasting gluten-free brownies available. Like, seriously good. You couldn't even taste they actually were gluten-free! (Yes, it made me doubt a moment) These brownies were right in between something cake-like and sticky. There was a nice chocolate frosting on top (I never liked frosting, why did I like this frosting?) and there were nuts inside too!
So when I recently got the "baking a cake itch", I decided to go for these brownies instead. And oh my were they delicious!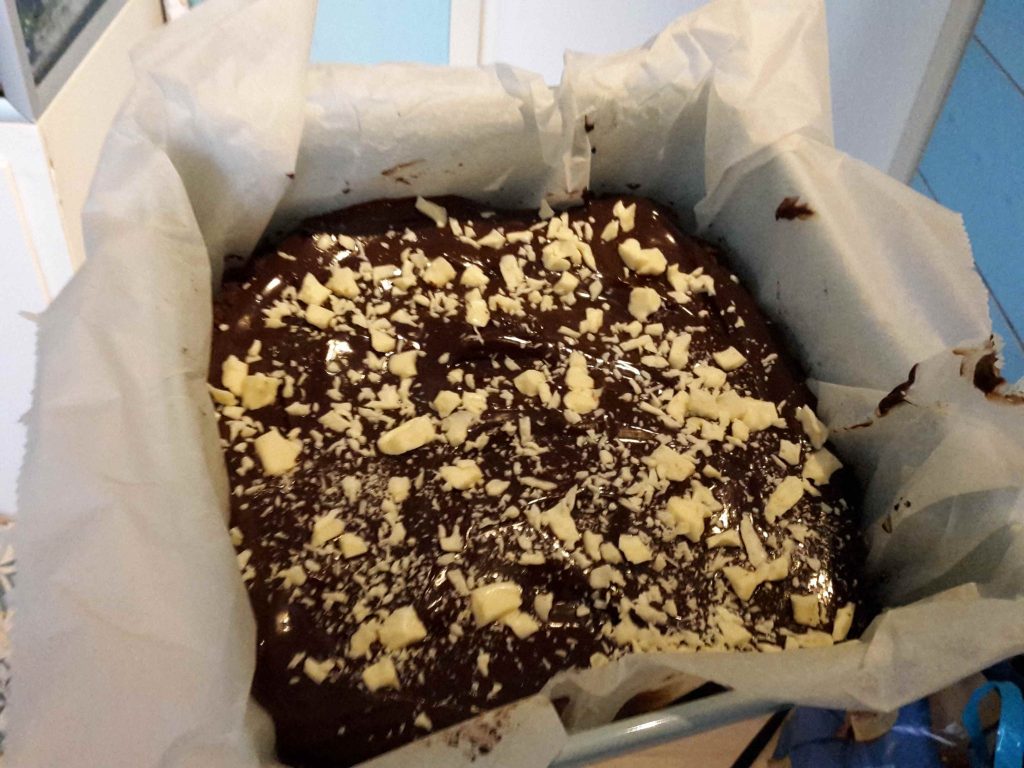 So how to make these delicious brownies?
First you need:
– a baking tin size 20x20cm
– 220 grams of pure chocolate (cut into pieces)
– another (but seperate) 100 grams of pure chocolate (also cut into pieces)
– 100 grams of butter
– 220 grams of white "brown" sugar (I don't know how to translate this…)
– 3 eggs
– 150 grams of gluten-free flour (mine was by Doves Farm)
– 1/2 teaspoon of baking powder
– 1/2 teaspoon of xanthan gom
– 1/2 teaspoon of salt
– 50 grams of chopped hazelnuts or walnuts (or a mix!)
For the frosting you'll need an additional:
– 100 grams of cream
– 125 grams of pure chocolate
– maybe some more chopped nuts or as I did 50 grams of chopped up white chocolate
So, you basically need about 450 grams of pure chocolate. THIS IS WHY THESE BROWNIES ARE DELICIOUS!! (note: if you aren't a celiac yourself and are making these brownies for someone who is, make sure to also check if the chocolate and other ingredients are gluten-free)
And then you'll do:
– preheat the oven at 175 degrees Celsius (yes, I'm from Europe)
– put baking paper in your 20x20cm baking tin
– premix the the flour, baking powder, salt and xanten gom in a bowl
– get out a pan to put a seperate bowl in so you can melt the butter and the 220 grams of chocolate au bain marie (DO NOT LET IT BURN)
– add the sugar when the chocolate and butter are completely melted
– turn down the gas and add the eggs, use a spatula to mix them shortly
– add the flour, baking powder, salt and xanten gom with the chocolate mass, use a spatula to mix them shortly
– add the 100 grams of chocolate and the 50 grams of nuts and also mix them in
– pour the batter into the baking tin
– bake the brownies in 30-35 minutes at degrees Celsius and let it cool down in the baking tin (this sadly takes a while)
For the frosting:
– boil the cream in a sauce pan
– add the chocolate and mix it in until it's all melted
– pour the frosting over the brownies
– add the extra chopped nuts or white chocolate for decoration
– let the frosting cool down
– get the brownies out of the tin and cut into size
You can either eat everything at once and get a stomach ache, keep them for two weeks in an airtight container or (also in airtight containers) put them in the freezer for 3 months.
Enjoy your brownies!