If you haven't read part 1 of my August reads, please do as it explains about the Amazing Readathon, which I participated in August. In this second part, I'll review the Sightseeing and Face Off Weekend books.
For each of the ten main prompts, we traveled a leg. But when we got to the city, and there was still time left until the next prompt dropped, we could go sightseeing and read a bit more for the same prompt. It had to follow the same "rules", but you didn't have to spend GRC on traveling OR got any of the travel multipliers/dividers.
As each prompt dropped about every three days, it was hard for me to go sightseeing, but I did manage to sneak in two sightseeing books. The rest of these reviews are all Face Off weekend reads.
Face Off weekend was a WHOLE DIFFERENT CHALLENGE. We had to spun a spinner wheel, containing a bunch of European countries. For each of the spins we got a country for, we had to read a book that has those countries flag colors on the cover. The countries were: Germany, Finland, Hungary, Portugal, Sweden, Ireland, Bulgaria and Lithuania.
I read 7 books during FaceOff weekend. Compared to readathon weekends like Dewey's, that's quite a lot for me. I did choose shorter books, and some of them were ebooks I could read when I woke up at night in the dark without waking up my partner. Most of the ebooks were on my TBR for quite a long time already, so I am glad I finally got a reason to prioritise them!
For Face Off weekend, Blue Team got in second place! As for the readathon itself, it turns out we got third place. All of the teams were very close together though, so it could have easily been different if one of the sabotages had been another way. Red Team, our main competitor, indeed got in first place, grrrr… 😉
But now, let's finally get to the books shall we?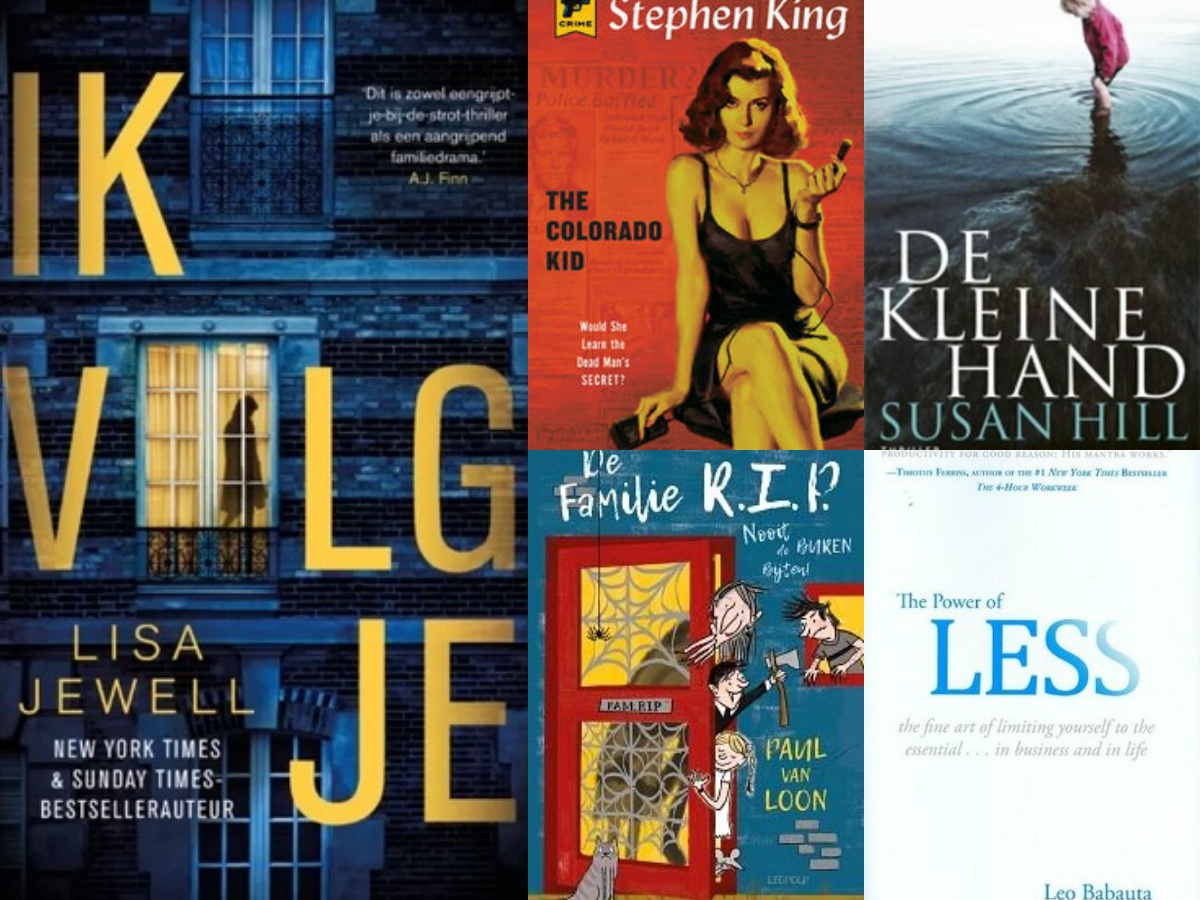 Watching You, by Lisa Jewell (Dutch, 3 stars)
To be honest, this was more disappointing than anticipated. Lisa Jewell is a great storyteller, she spins characters together in a way we mostly don't see coming. But this one was less of a surprise. And also more of a domestic thriller. It was still written well, and I have enjoyed myself, but it wasn't what I expected and because of that, a bit disappointing.
The Colorado Kid, by Stephen King (English, 2 stars)
Stephen King writes in his afterword, that the reader of this story either loves it or hates it, and that he doesn't expect any middle ground. Well… I hated it! It is a mystery without a true ending, but the way it was told was also quite boring.
The Small Hand, by Susan Hill (Dutch, 3.5 stars)
This short horror by Susan Hill is the second one I read from her, and I only found it by coincidence when looking for short books at the library. I admit it isn't the best of horrors I ever read, but it is eery, mysterious and really setting the right atmosphere. If you are into old school haunting stories, this is one to pick up for an easy read some day!
The Family RIP, by Paul van Loon (Dutch, 3.5 stars)
This is a Middle Grade by a Dutch childrens author I remember from when I was a kid. This story is quite adventurous, and more funny than horror, even though the main characters are a vampire, ghost, werewolf and ghoul.
The Power of Less, by Leo Babauta (English, 3.5 stars)
A lot of good things to be reminded of again. Even though I have tried to live a simpler live for as long as I can remember, it's good to continue reading about it. I have read Leo Babauta's blogs many times and now finally got to his book. There are a couple of things I have been slacking off on (again) and a couple I am doing so automatically that I don't even notice. It's good to reflect on the both of them, and learn some new things to possibly focus on in the future.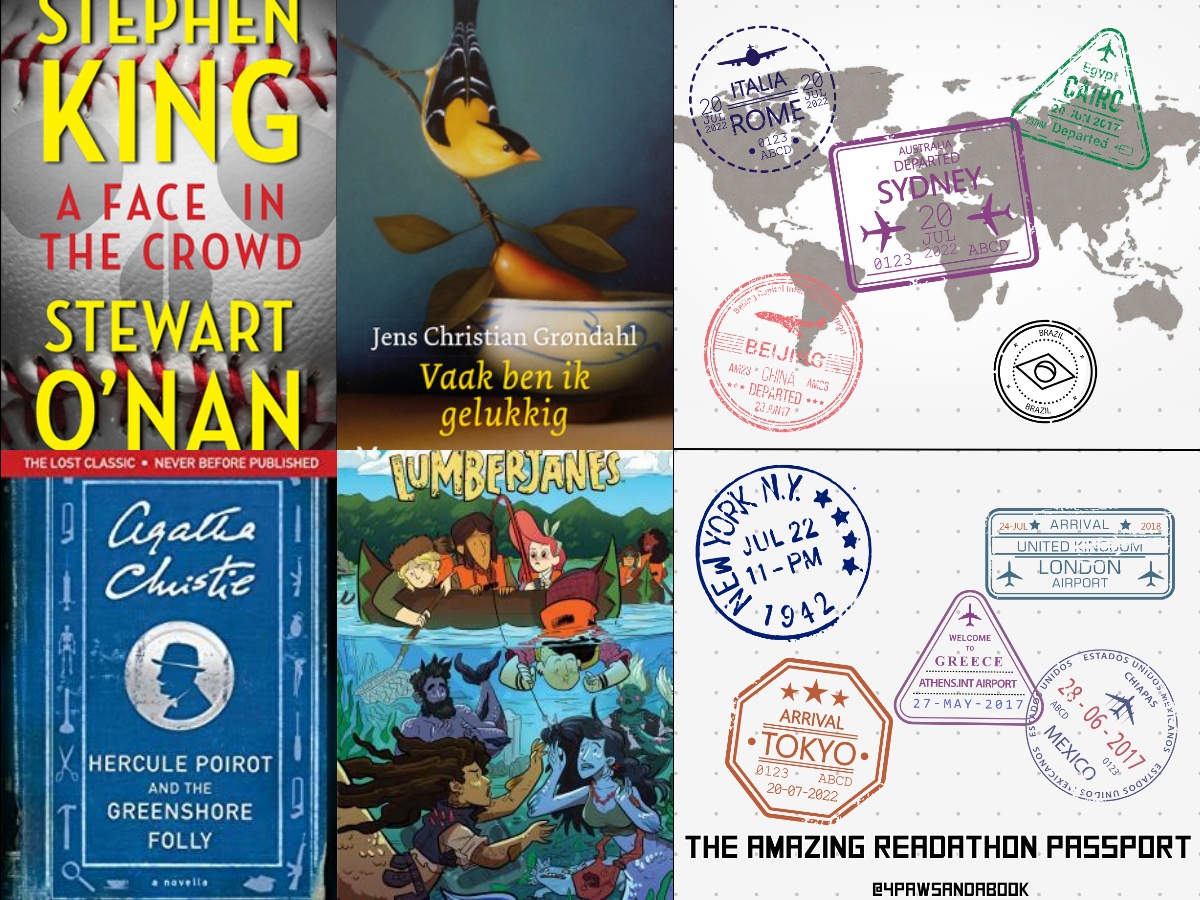 A Face in the Crowd, by Stephen King and Owen King (English, 3 stars)
This was a fun weird writing exercise. It is reeeally short, only a 50 pages, so I find it hard to say anything about it.
Often I Am Happy, by Jens Christian Grøndahl (Dutch, 3.75 stars)
The musings of an old woman, looking back at her life, after her (second) husband dies. It's slowpaced and short, but there is so much feeling between these pages that it feels as reading a 500-page family saga. So heavy and full of sorrow. Have someone with you to hug after, because you will need it.
Hercule Poirot and the Greenshore Folly, by Agatha Christie (English, 3.25 stars)
Entertaining short story. I could hear the voice of David Suchet's Poirot when I was reading. And because I know the tv series so well, could easily guess the plot of this story. It was the first time reading a Poirot, and I did enjoy it enough to possibly pick up one of the bigger novels too.
Lumberjanes volume 5, Band Together (English, 3 stars)
I don't know… do I like them less every next volume? I expected some of the loose ends from the previous volume would be answered this time, but it was an entire different story. The artwork was also a bit different, which I was a bit sad about. The story itself is okay-ish though, it's good to shine some light on a friends group where someone makes mistakes and is being selfish, but it didn't leave me with the cozy feel-good feelings I normally have after reading Lumberjanes.
Even though we didn't win, I have enjoyed the Amazing Readathon very much, and if possible will join again next year if it returns. It was fun to be part of this first edition! Thanks to Brianna, Margaret and all of the other hosts for making this readathon so Amazing! And thanks to Blue Team too!