My tenth day of cheer was: something which sounded very good when I was moving the gift from under my tree to my desk! I will have to hide this from myself till the weekend, because this is absolutely my favorite treat: TWO bags of crisps. One of them with seasalt and the other… with ROSEMARY and seasalt! They don't sell the Rosemary one in the Netherlands anymore and I think it's an absolute shame. So this will be very enjoyable.
Yesterday's tea was called "Stormy weather tea for little ones", filled with spearmint, camomile, elderflower, lime-tree blossom sage and thyme. Even though the spearmint made me go "aw, not again" the sage and thyme sounded interesting to me. And frankly, I could use a bit of spearmint yesterday, after a short night of sleep. The smell is herby and minty, I can definitely smell the sage and thyme. The tea has a light color and the taste is just as the smell. First there is the mint and then you taste the herbs. This tea would probably taste well with the crisps…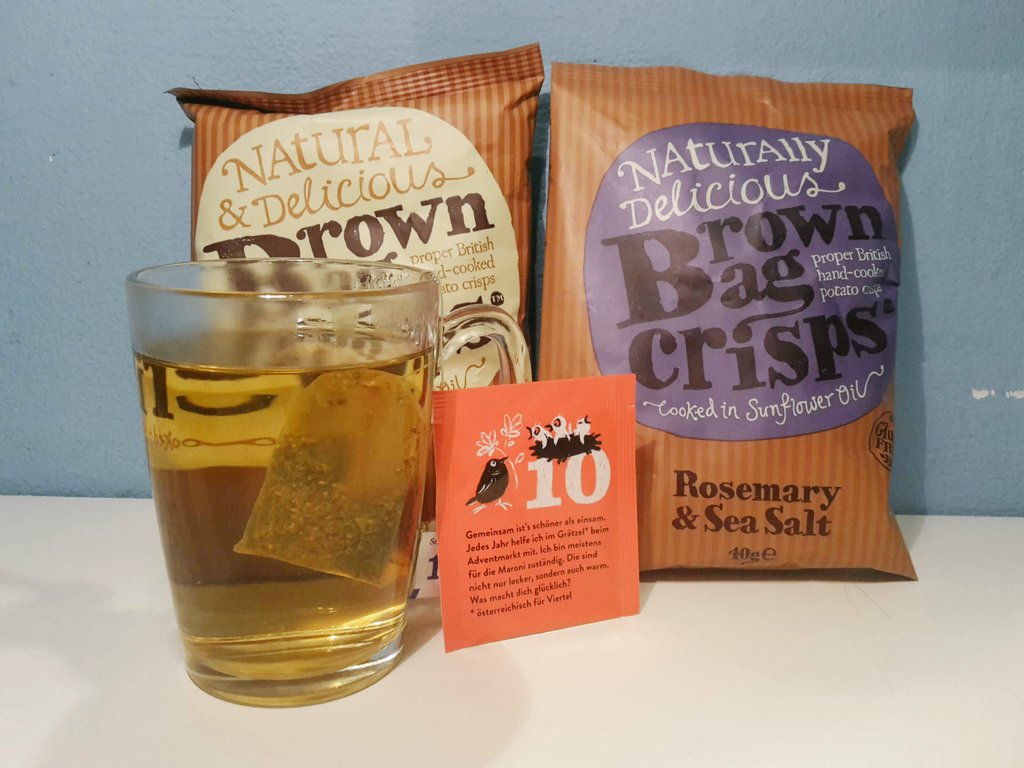 And today, my eleventh day of cheer, is: Hogfather by Terry Pratchett! It's my first physical Discworld novel. Can't wait to read it! It's also the IGGLE Bookworms book of the month this month, as it is the most Christmassy Discworld novel Terry Pratchett has written.
Today's tea is a "Stinging Nettle" tea, with… nettles! I always like nettle tea. It's high in iron, which I easily have shortages of, so I drink nettle tea often. It smells fresh and leaflike (nettle tea can sometimes smell a bit dusty) and the color is a golden green. The taste is a bit surprising though. It can often be real strong, but this is lighter and has a bit of a sweet taste. Makes me wonder if something else isn't mixes with it after all, but the package really only says nettle.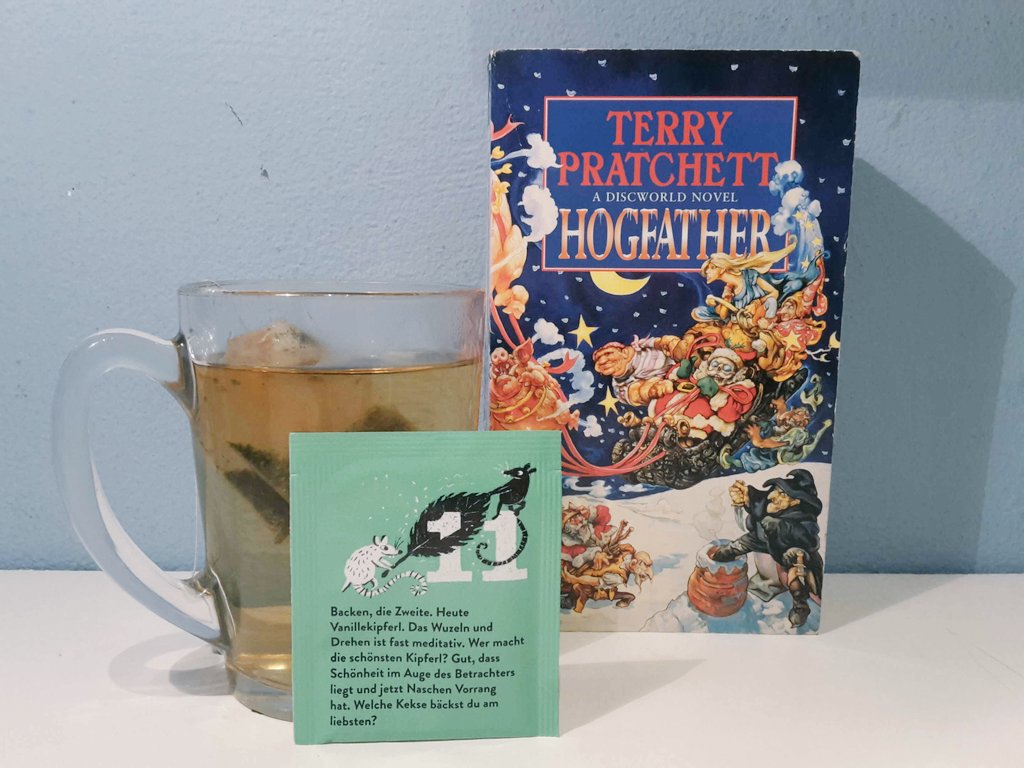 For day 4 of the 25 days of cheer swap to my swap partner I chose the book Merry Midwinter. I never heard of it before, it was hidden deep in her Goodreads want to read list and it truly felt like a good gift this year. The book is subscribed as "a gentle and warm investigation of winter, which explains why it is important to celebrate the whole season, not just one or two days", something we have time for now, in this year where we look for new traditions.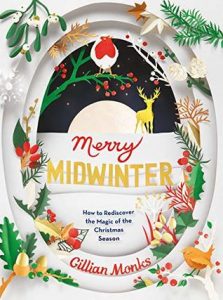 The book states that "the true significance of midwinter is not found in any individual spiritual or religious belief or practice. Instead, the winter solstice provides an opportunity to celebrate what we as humans share; to set aside our differences and come together with a sense of community and cheer" and it includes ideas for how to make your own decorations, your own alternative gifts which cost nothing except your time and thought, your own entertainments and games and simple, seasonal recipes.
Ofcourse after reading this, I also wanted to read it myself!
Merry Midwinter starts reading like a fairy tale and folklore, following the cycle of the seasons. But it's also personal, with nostalgic stories from Gillian Monks childhood and notes from her mother.
Recipes and crafts can be found throughout the book, right from the beginning. They accompany the tales and give you the opportunity to build your own tradition from all the offered inspiration.
Merry Midwinter is also not "just about Christmas", this book holds many more traditional dates. ONe of them being Saint Nicholas Day, which is celebrated big in the Netherlands. (I am not a fan of this childrens holiday though, and decline it's existence in my home.) The description Gillian Monk wrote isn't very accurate of today's celebrations, but then again, her memories of it are from the 1950's and 60's.
What will I take from this read?
I loved the part about Christmas card traditions, I too have a home full of cards and send out many when winter comes. Every card leaving and arriving my home is giving me cheer. This year I went all out with my Christmas cards and I have been enjoying it so much that I probably will repeat this in coming years.
Something Gillian wrote a lot about is that you should only do what you can, and plan in advance, to not be spending your holidays in stress. She compares it to planning a wedding, because that is also a special day, and who will plan a wedding just a few days in advance? Talk with everyone about their expectations, divide tasks, don't let things go out of hand and also plan plenty of resting days inbetween all the preperations. If you make the preperations little traditions too, they will also become more fun and part of your Merry Midwinter feelings. Don't do something because you HAVE TO. I can only acknowledge that.
I haven't finished reading yet, but it can be of no surprise that I want to make some of the fir cone gnomes she wrote about!