My twelfth day of cheer was: oddly shaped! Those are always the gifts that tet me the most curious, so I was looking at it for a while now and I could finally unwrap. It did not dissapoint! It's a cactus needle felt kit! I always wanted to try needle felting! And the cacti are just adorable. These will look lovely with my real cacti once they are done.
Yesterday's tea was a "Sunny Ginger" tea, with ginger, lemon grass, cinnamon, orange peel, cardamom, liquorice root, lemon balm, rosebud and sunflower leaves. I love ginger teas! It smells really spicey and the color is so yellow! The taste is strong on this one, and I like the mixed spices added to it. I usually only add lemon and/or thyme to my ginger tea. To also taste the cardamom and something sweet is a nice surprise!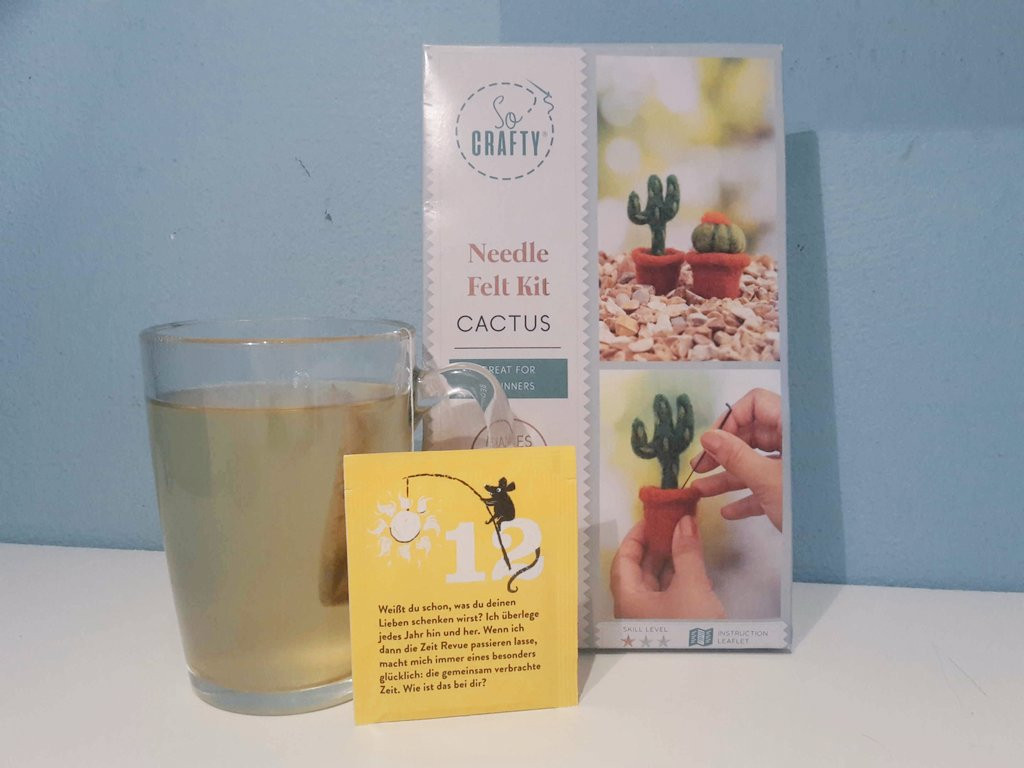 And today, my thirteenth day of cheer, is: a wintery joke teller! I immediately had to fold it and 'annoyed' my just-woken-up partner with the jokes. They are so silly, it's fun! And I'm just now thinking I can color it too.
Today's tea is a "Newyears" tea, with verbena, elderflower, lime-tree flower, lemon balm, nettle, blackberry leaves, camomile, mallow, yarrow and sunflower leaves. It smells both earthy as flowery, I can smell a hint of nettle and camomile, but don't know all the smells of these plants so it's hard to distinguish them from one another. The color is a yellowy green and the taste is… well, just as the smell. I like it!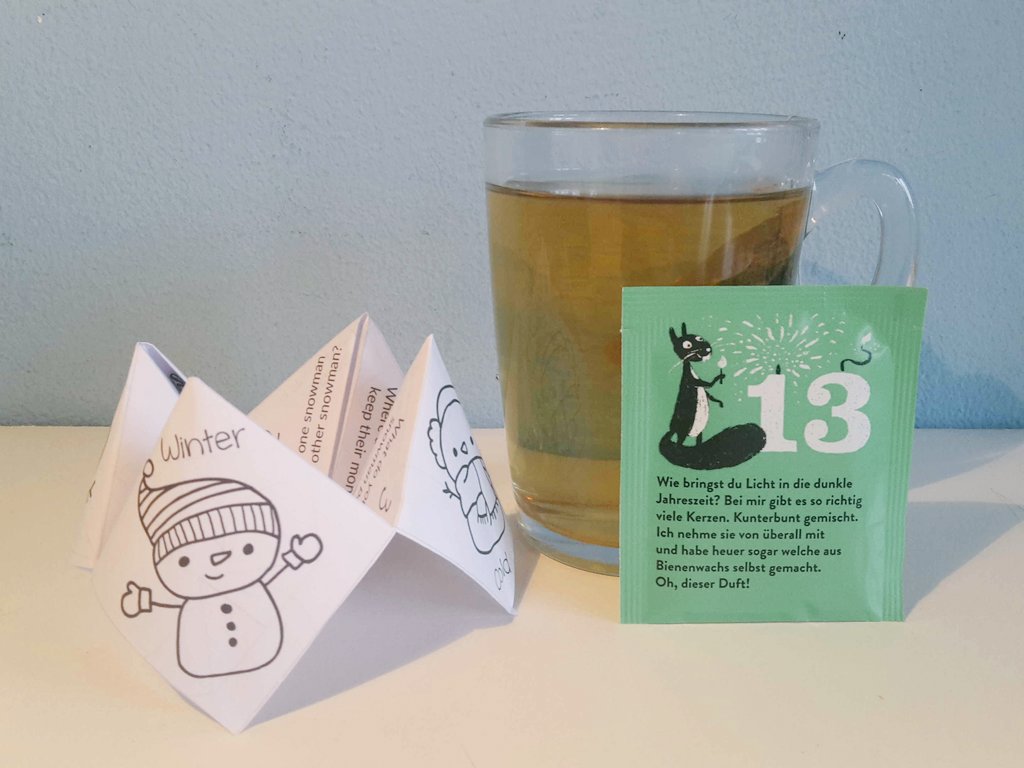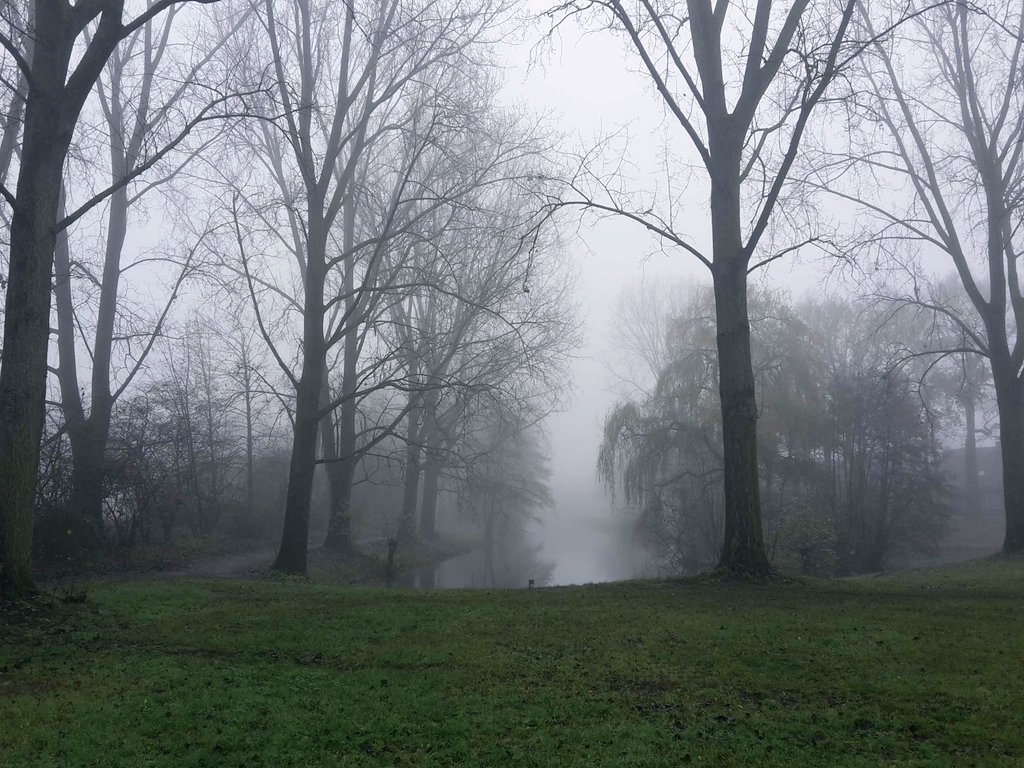 The days are getting colder and colder here in the Netherlands, we went from 10+ degrees Celcius late November to nightly frosts and icy winds in just a couple of days. But this cold also brings along the sunny weather again. Bright blue skies, instead of dark grey ones.
Last week I have been preparing a winter date for me and my partner. I hung up extra lights in my home (yes, I put screws the walls to do this), added the paper chain and the twine stars, even cut out some snowflakes to also hang randomly throughout the living room. That we can't go anywhere because of lockdown, does NOT mean we can't have fun together!
So yesterday we went out for a walk, which was ofcourse foggy and wet again. But that's okay, it still made us cold! And after our walk we got to come home to our twinkling lights and fuzzy socks, the matching pyjamas I bought us and a warm couch blanket.
Because we both love and have the tradition of drinking hot chocolate after a hike, I decided to finally start learning how to make my own. It will be the perfect treat for our special day together. (And in case it didn't work out, I still had our usual brand nearby)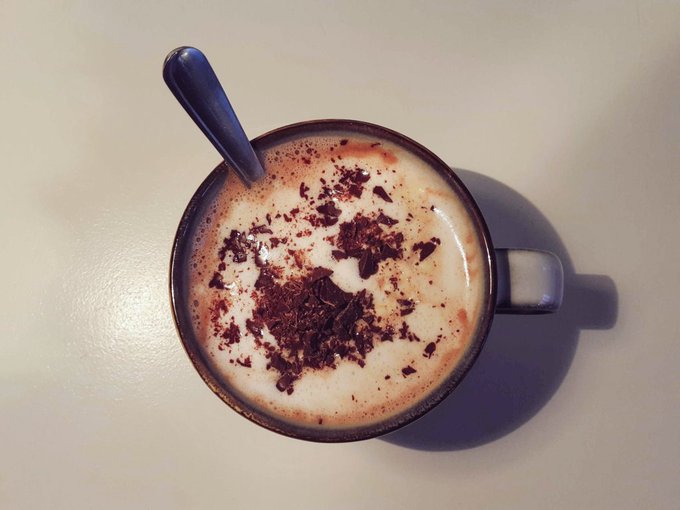 So how to make this hot chocolate?
First you'll need:
• milk (I will use the creamiest one I can find)
• splash of cream (you can whip the rest, as topping)
• 72% chocolate, cut into bits
• additional: a bit of brown sugar
• additional: a drop of vanilla extract
• additional: marshmallows
• additional: whipped cream
• additional: chocolate shavings
And then you'll:
0. Get your cups ready and add the bits of chocolate to it.
1. Add the milk and the cream to a saucepan over medium-low heat.
1.1 Optional: add the sugar and the vanilla if you'd like those.
2. When the milk is properly hot (but not boiling!), turn of the heat and pour it over the chocolate. (or add the chocolate to the saucepan, which might be easier)
3. Whisk your chocolate and milk, possibly add some more chocolate and/or sugar.
4. Add your marshmallows or your whip cream (or both!) and some of the chocolate shavings.
And that's it! It's THAT easy! Enjoy your hot chocolate. 🙂