I have been neglecting all of my online presence lately, and with reason. Five years ago I was diagnosed with celiacs, an auto-immune disease. I was glad, because even with all the difficulties of having a strict medical diet for the rest of my life, I would be able to feel good again, I could finally participate in life!
Last year I noticed I was lacking energy again. The big move and job change of 2021 were taking all my energy to adapt to my new surroundings. I was eating gluten-free but… not anything nutricious. I was going backwards again.
So for the last few weeks I have been focusing purely on my health again. Good food. Exercise. Getting better. And I'm glad to say it's working. I feel better already and, thanks to my dietician, know what I was lacking.
It takes a lot of time to feel better, but it's worth it. Yesterday morning I celebrated with a baked overnight oats breakfast. It tasted like dessert, or cake! And I absolutely can get used to that. 😉
The fun thing about it, is that it's supereasy to make! The evening before. So when you are still tired getting out of bed, you only have to put it in the oven to enjoy your breakfast. Here's the recipe for anyone else who needs a morning pick me up.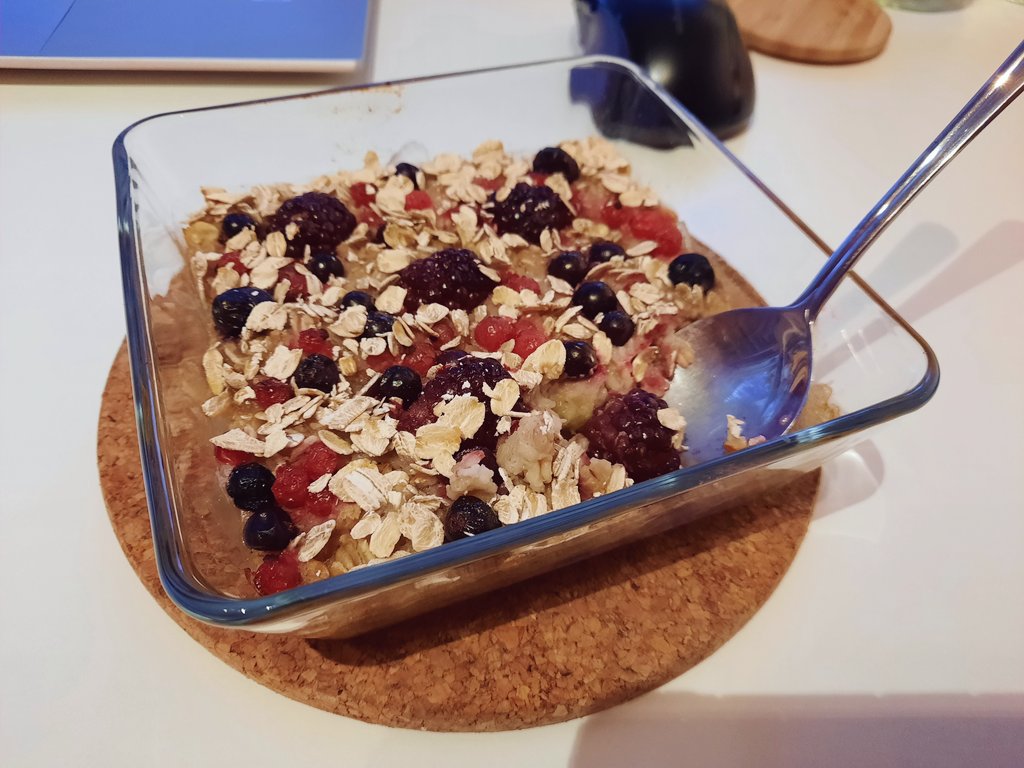 So how to make baked overnight oats?
First you'll need:
• one ripe banana
• glass of (almond) milk
• 50 to 60 grams of (glutenfree) oats
• frozen berries or other fruit
• (optional) vanilla aroma
And then you'll:
0. start the evening before, by mashing a banana
1. add the oats
2. add the milk, until everything is just under the milk
3. stir everything a bit
4. put the frozen berries or other fruit on top
5. add some drops of the vanilla aroma
6. put the dish in the refridgerator
next morning
7. preheat the oven at 180 degrees Celsius
8. top the berries with some more oats (for crunch!)
9. bake in the oven for 20 to 25 minutes
Enjoy your breakfast!