My sixt day of cheer were, two sachets of Twinings tea. One a blackcurrant rhubarb crumble and the second a cranberry and raspberry tea. I haven't tried them yet, but they both sounds really festive. I love that the back says: "Always enjoyed best without milk"! I always considered it a weird custom of the English to make milk tea's. Something left over from their seafaring days.
Yesterday's tea was "Santa's Secret Advents" tea, filled with apple, hibiscus, cinnamon, pear, quince, orange zest, clove and vanilla extract. There's the hibiscus again! You can see it in the color right away as it turns a dark pink. The smell and taste are a bit soury, but unlike the Fireplace tea, you can taste the apple, pears and vanilla better in this one. Still not a fan though.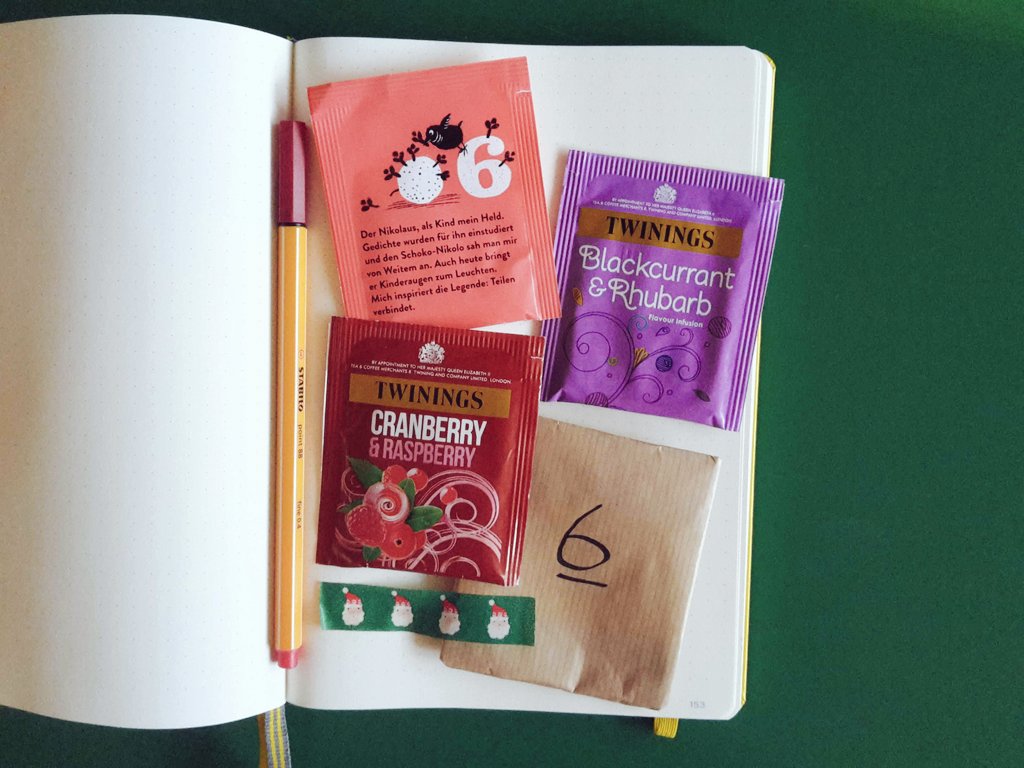 And today, my seventh day of cheer, are: strips of wrapping paper to make paper chains! This is festive, and will fit right into my date plans for next weekend. I was looking for some ways to help me decorate more, so I will definately make these! And maybe even some more of my own left over wrapping paper.
Today's tea is an "Hildegar's Energy" tea, filled with hyssop, spearmint, fennel, rose-hip and camomile. By the sound of it, it feels more like a relaxing tea! It's fun too, because I grow most of these ingredients in my garden, but have never combined it as a tea. It smells delicious! It's sweet from the fennel, but there's another sweet smell too. The color is a dark yellow, and the taste is just as delicious as the smell. I can spot both the fennel and the camomile, with an aftertaste of the spearmint. This is my kind of tea, I should make some of my own next year.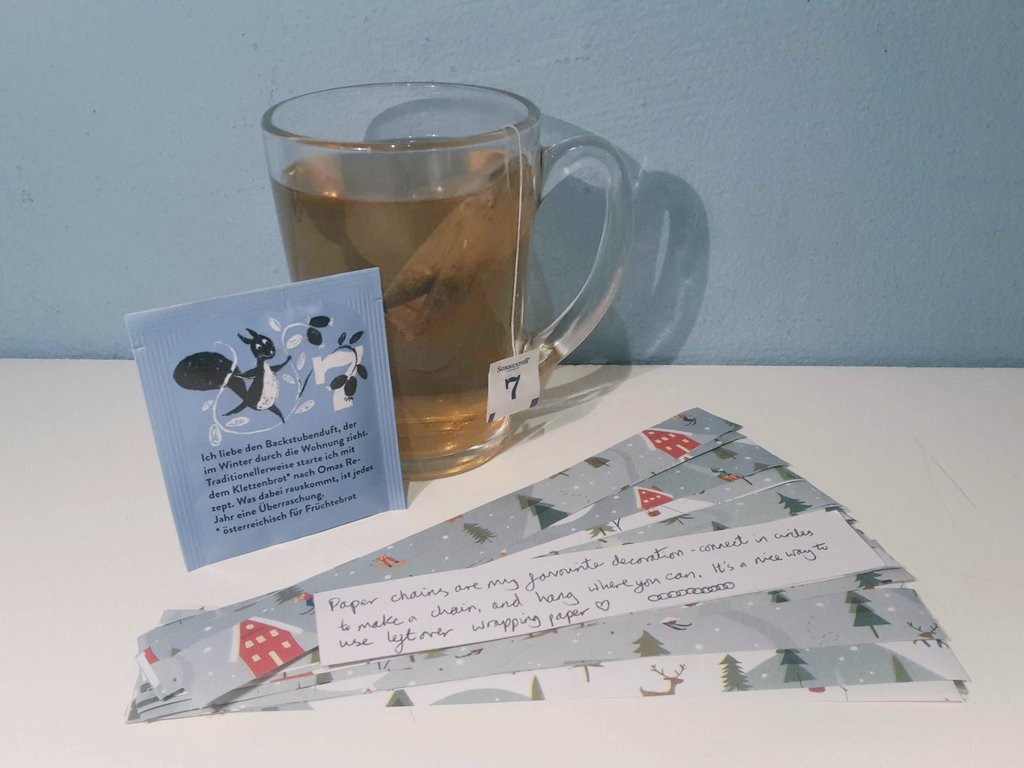 Today I want to share with you one of my favorite recipes, which I often use for Christmas: bacon wrapped green beans. It's a favorite not only because I love green beans (which I do) but also because it feels festive, it can match almost anything else on the table, you can eat it either warm or cold, it's easily sizable to more or less people and you can always prepare it advance. That's a lot of plusses right?
So how to make these delicious festive beans?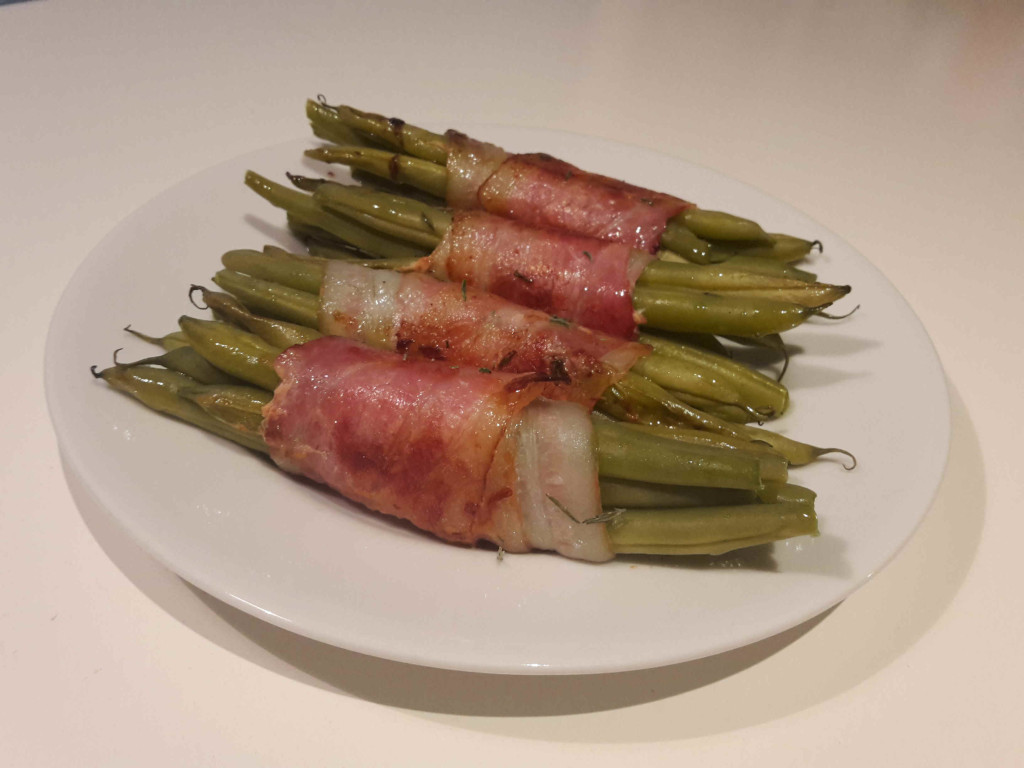 For each roll I use 6 or 7 green beans and one strip of slightly thicker sliced bacon. When it's the only vegetable on the table I usually prepare four rolls a person, when it's a side dish to another vegetable I prepare two rolls a person. (Yes, I'm the crazy woman in the store COUNTING the beans she's buying.) The other ingredient to use is either fresh or dried thyme, or other herbs. But you can also do without.
And then you'll:
0. Cut of the twigs at the top of the beans and rinse them
1. Cook the beans for about 8 minutes and cool down with some cold water
2. Toss your beans with some of the chosen herbs
3. Use a flat surface to roll out the bacon
4. Place 6 or 7 green beans onto the strip of bacon and roll up into a bundle (repeat)
5. Place the bundle into the frying pan, seam side down (this is important)
6. Bake them for a couple of minutes, turn them over until all sides are done
Enjoy!
You can either do part 6 right before serving, or keep them in the fridge till the next day and reheat them in the oven or on the grill. If you want to serve them at room temperature, do let them cool down on a plate and move them over your airtight container after so you won't have blobs of exces fat sticking to them.
So what about you? Have you ever eaten bacon wrapped green beans? And do you (or your family) have any go to recipes for Christmas? Or what is your favorite if you don't cook yourself? Tell me all about it in the comments!