Things are going well, I'm still working on a couple of health problems and another backlog of things, so writing is not really on the calendar these last few ehm, months. Due to a shifted focus, my reading is also all over the place. I've noticed I read more non-fiction, but I also have multiple books going at once, easily pause books when they aren't feeling right at the moment and DNF-ing or giving away books is also a lot easier!
Since I'm also behind on sharing what I've read, and because of that sometimes don't even bother to write my short reviews after finishing something, I'm trying to catch up with these posts a bit. You might see a couple in a row as from now.
I'm glad to say my reading in February did improve a bit from January. According to my stats I read more lighthearted and adventurous books, which might have solved my reading slump. There still was plenty of mystery, but less darkness. And more comedy! Because of that my average rating went up to 3.8. 😀
But, let's get to them, which books did I finish reading in February?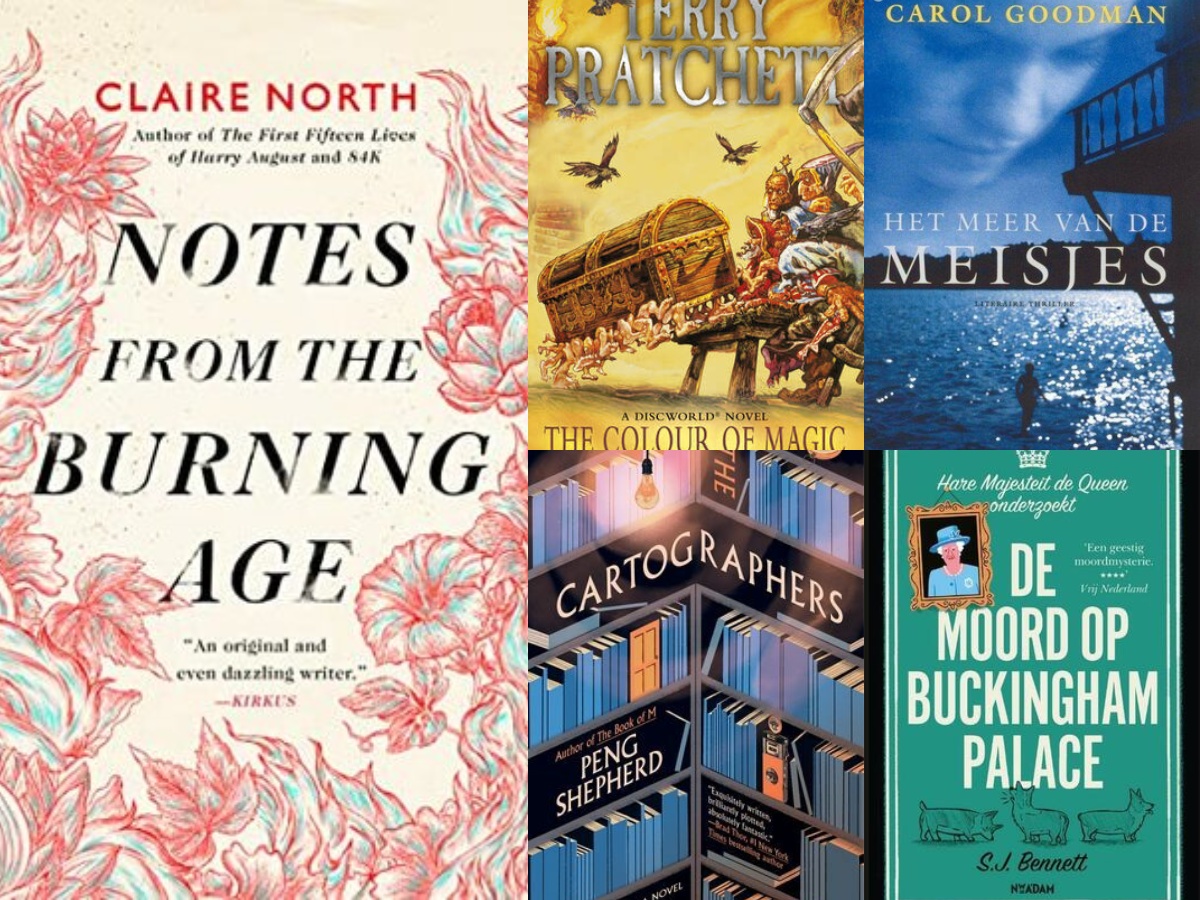 #8 Notes of the Burning Age by Claire North (English, 4 stars)
Not my usual read, and because of that, it took me a time to get into the story. It is written beautifully though, but sometimes there are so many beautiful sentences that I lost the plot for a while. Still, I really enjoyed this read and I will save this to read again some day. Maybe next time, when I am more experienced in this genre of literary dystopian fantasy, it will become a 5 star read!
#9 The Lake of Dead Languages by Carol Goodman (Dutch, 4 stars)
I did not expect this to be such a thrill! If I would have know, I would probably have read it sooner. This book was almost discarded during the end-of-2022-purge. I'm glad I didn't, because up till now it's one of the best books I've read this year. Quite a surprise! I did see some of the plot coming, but not everything. And also not too soon to spoil reading further.
#10 The Color of Magic by Terry Pratchett (English, 3,5 stars)
#11 The Light Fantastic by Terry Pratchett (English, 3,5 stars)
These two really do belong together, so these are also the first Discworld books I've read back to back. After finishing the first, it didn't feel right, it didn't feel ended. Like they were supposed to be one book, but the publishers randomly split them in halve…
I dreaded going to these early stories from the Discworld after everything I've heard about them, but it wasn't at all so bad as expected. It also wasn't as entertaining as most I've read from Discworld, but it sure was adventurous and I laughed out loud a couple of times. I don't mind coming across Rincewind again either. So that's something to look forward to from now!
#12 The Cartographers by Peng Shepherd (English, 4 stars)
This was good! The plot started pretty soon, while getting to know the characters a bit, we didn't have to wait halfe a book to get to the plot. There's a mystery to be solved! 😀
But there's also found family, quite a bit of overexplaining of the plot, some romance, a fair bit of drama and thrilling tension. The best thing however, where the maps… we don't get to see them, but the way they are described, about what their purpose is, the way they make you feel, the history, both old as modern maps. Really nice!
#13 A Three Dog Problem by S.J. Bennett (Dutch, 4 stars)
I really enjoyed this second in the series. I am surprised every time about how the author makes the Queen and her life like that of a real person. Someone with opinions, and sentiment, and a bit of cheekyness. It was both funny as cozy, and I never know who the murderer is before it's explained, but with these series I also never try to find out because the rest is so lovely.
Still, not too many books, and I'm still behind on my reading, but I don't care. It was a good reading month quality-wise. If I can keep this up again, I'm good!