My forteenth day of cheer was: a crocheted Christmas ornament! I can't crochet AT ALL, and yes, I have tried many times. But it just gets a huge mess, and me too because of the frustration. So to get something crochetted is a true gift of time! And the colors are perfect for my home.
Yesterday's tea was a "Darjeeling" tea, a black tea. I'm usually not a fan of black teas, but the white tea from day 9 was a surprise, so this one might be too? It doesn't smell too heavy and the color is an interesting orange. The taste is well, tea… No surprise sweetness or aftertaste. It's not entirely bad, but a tad boring. Not something I would buy.
And today, my fifteenth day of cheer, are: two bags of tea! One lemony ginger and one grapefruit. I'm planning a reading day after work today so this is perfect!
Today's tea is a "Baked apples" tea, with apple, rosehip, lemon peel, orange, cinnamon, orange peel, red pepper. It smells a bit soury, like hibiscus, and I have actually checked three times if I read the ingredients right. There is also a hint of cinnamon in the smell. The color is pinkish orange and it tastes more of the lemon than the apple. It's a bit of a weird tea…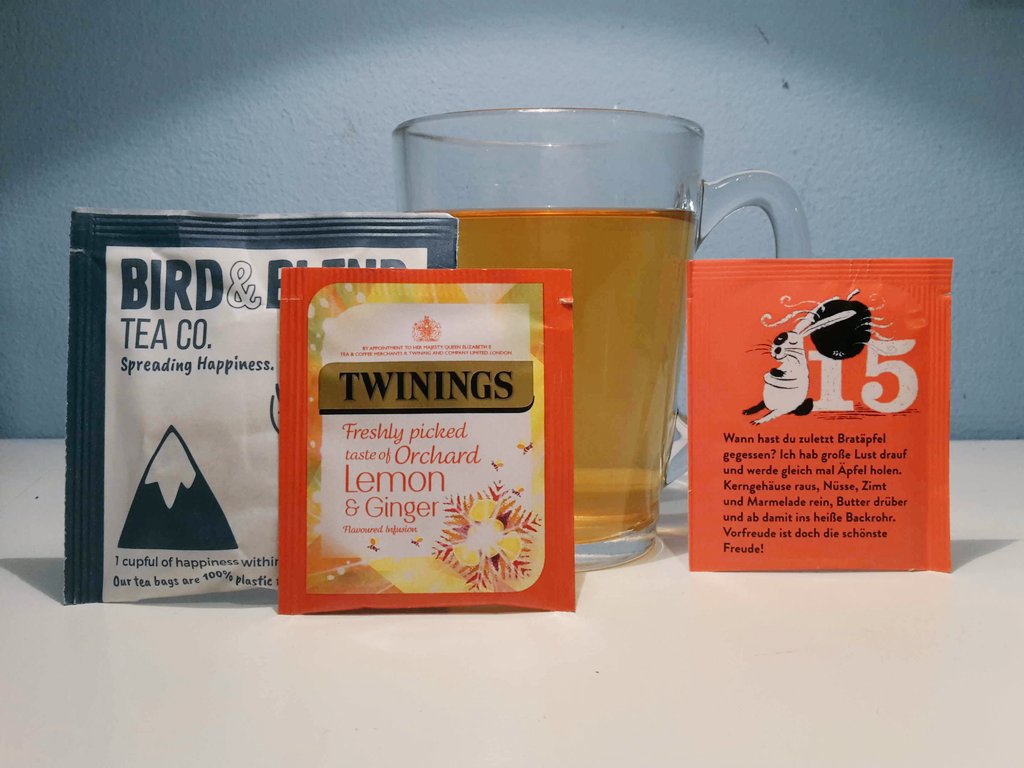 I'm not a music listener, I don't know why, but somehow I always forget what I like. So I either listen to the radio (a lot now that I am working from home this year) or just something I bookmarked over and over and over again. I like music most of the time but I also like quiet, and occaisionally forget to turn on something.
My inlaws on the other hand, are big music listeners. Three of them even make their own music (not together). So this tradition is one I have learned from them.
December is Top2000 time. "The Top 2000 is an annual marathon radio program, that plays the 2,000 'most popular songs of all time'. The show runs 24 hours a day, starting Christmas and ending on New Year's Eve. The show is hosted by Dutch national radio station NPO Radio 2." Even though it starts on Christmas day, the Top2000 feeling lasts the entire month. First there is the voting period, and then the list itself gets announced and all those days inbetween there are special items on the radio about the songs and the people who and why love them. The radio show is usually accompanied by a Top2000 pub in the same studio as the dj's, which people can visit and other people can watch through the live stream and every year some of the same iconic visitors will be there (METAL MAN RULEZ!!!). All those peoples feelings and all of those old songs, make it really nostalgic!
Bohemian Rhapsody" by Queen has traditionally been voted the most popular song on the countdown. This year however, it's a new Dutch artist. When you hear it you can probably understand why:
It's Christmas month! And all the nostalgic feelings are rising within me! Christmas was never much fun when I was still a kid, and also not for many years after, so where this whole nostalgic feeling is coming from… *shrug* it's probably the Top2000 which gets me in the mood for all the old songs. And this month I happen to be listening to rock&roll, swing and blues A LOT.
Some old Christmas songs also made it to the Top2000. Some of my favorites are:
And another I like, just for bonus, because it sounds SO happy:
Okay, one more! Because you need some snow BEFORE you can go on the sleigh ride, and this song is just so cozy isn't it?

Maybe one other one, so I won't forget about it, because this one is just too funny!

So what about you? Are you a music person? And what is your favorite Christmas music? Share with me in the comments!