My sixteenth day of cheer were: three cute bird stamps! I really like birds and I didn't have bird stamps yet. These are perfect! And yes, I did immediately used them in my journal. Birbs!
Yesterday's tea was a "Fortune" tea, with applemint, lemon balm, peppermint, mallow, daisy, cornflower and calendula. It smells minty and the color is brownish yellow. The taste is again, mostly mint. But I can also taste a hint of the added flowers. I'm not really a fan of minty teas, but I can imagine this being real nice in summer!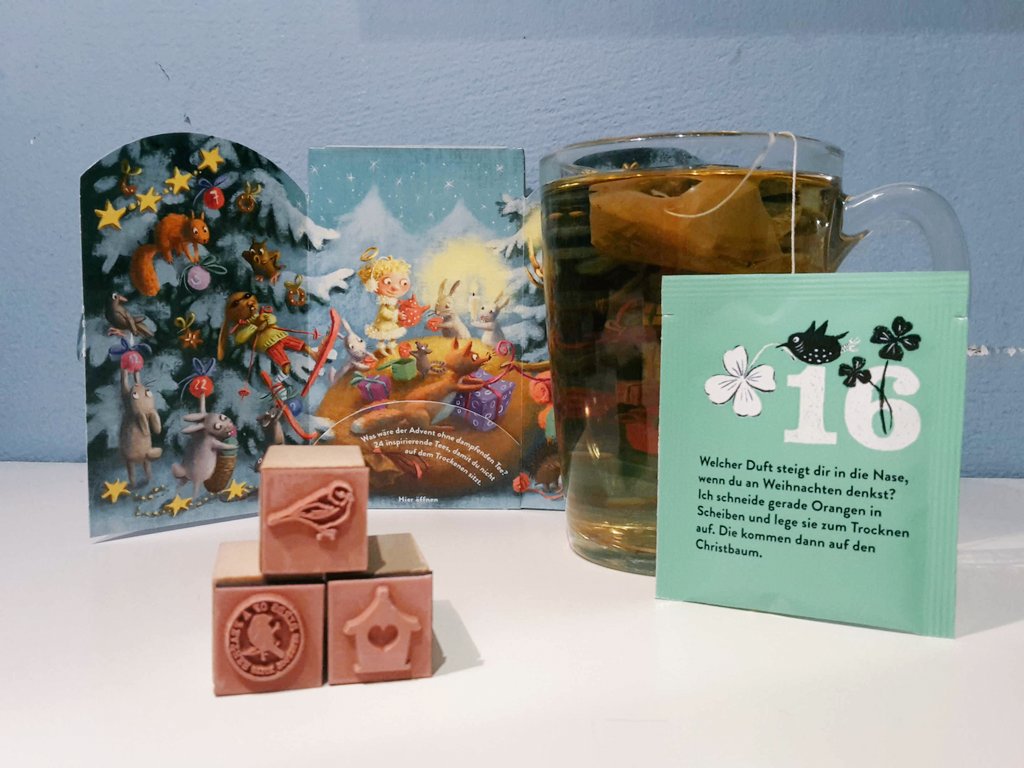 And today, my seventeenth day of cheer, are two Christmas washi tapes! Both great for decorating my journal or maybe some late Christmas cards envelopes?
Today's tea is a "Bloomy Turmeric" tea, with turmeric, rosehip, elderflower, limetree flower, rosebud, lemon thyme, cardamom and lavender. It smells delicious! And the color is a golden orange. I'm a bit excited about this tea, I love these spicey teas in winter, but I never combined it with flowers! And the taste doesn't dissapoint. It's a bit weird, as in, I'm not used to this combination. But it's also great! Where can I get more of this?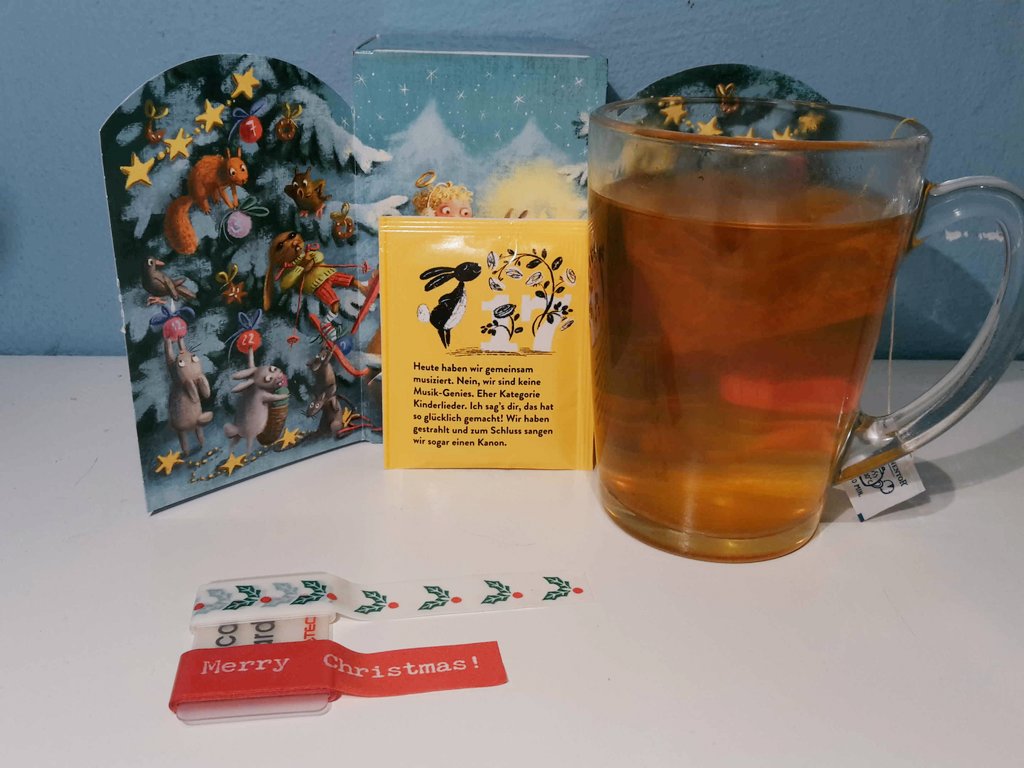 I never really thought about how much of a Dutch tradition this is, but every end of the year our employers gift us Christmas gifts as a thank you for our work. This tradition comes from the 19th century and is still been done. It's comparable to the old-British Boxing day tradition, when workers received a box of luxury food items for their own holidays. Since the 19th century it grew, little gifts were added and nowadays sometimes even consists of big gifts!
The traditional Christmas gift from employers nowadays is still a box filled with luxary food items. But also more common now is a voucher, for people to choose their own gifts, or to do a donation out of the name of your employees.
My partner and I have both received our Christmas gifts from our employers this week. And he was so kind to let me unbox his, as mine was a voucher.
It was what is considered a "small" giftbox, made by a local farm store. I really like this idea of going local instead of letting big corporate companies make and send the gift boxes. Especially this year when lot's of local stores are struggling!
First looks after opening: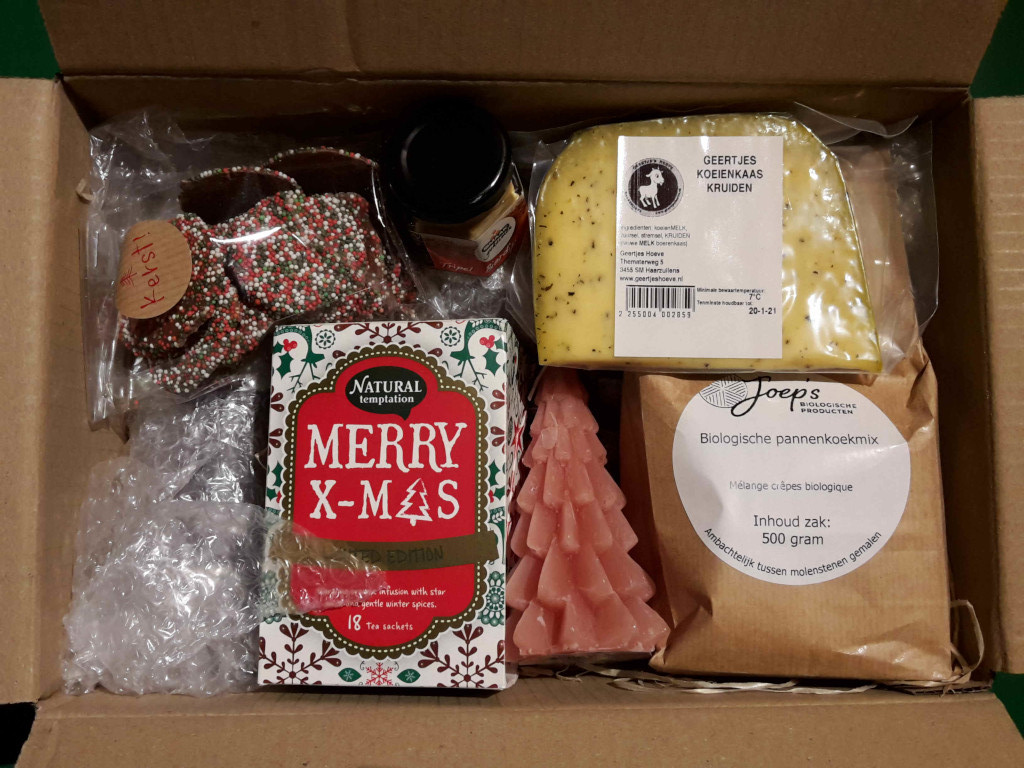 And the final result! All luxury items to make fancy pancakes and also some christmas tea, a fancy fruit juice, candy, chocolate and a pretty candle. It was a good box! We usually have to regift many things due to my celiacs. This time only the pancake mix itself wasn't something we would use, but it will be great for our little nieces. 🙂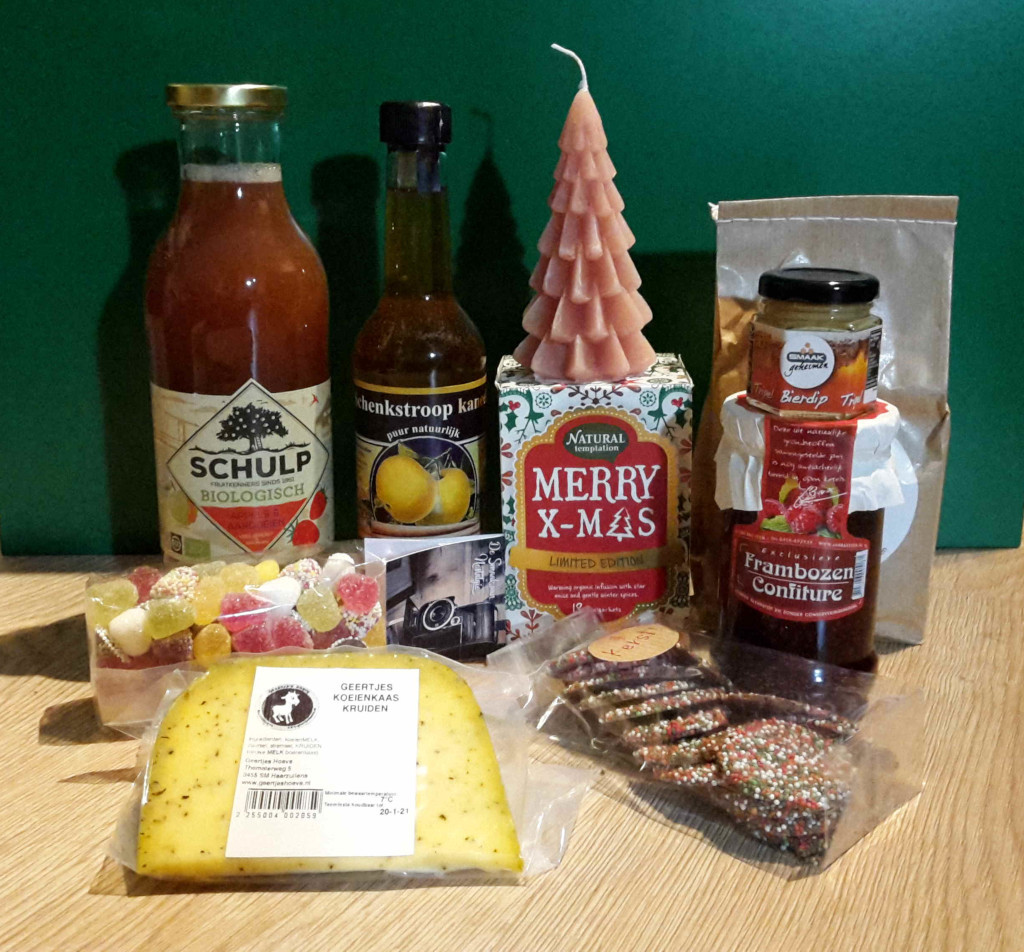 As written above, I received a voucher myself. I took a look around on the website and the choices are huge this year. Certainly much more than usual. All kinds of gadgets, or household items and kitchen ware, but also many things to make your home a nice place (the amount of pillows, blankets and candlestuff!) and ofcourse, you can also get coupons with your… coupon. :-p
I'm currently torn between the Barebones Hori hori classic garden knife or a coupon to buy books with. The slow cooker was also interesting, but only comes copper-coloured which doesn't fit my kitchen. In normal years I would possibly choose a coupon for a day at the spa or go for one of a store I like visiting. But I'm not sure if I would use it next year, same goes for the knife now that I think about it… Only books would be something I can enjoy soon and will make me feel the world is bigger than just my home.
So what about you? Do you have any traditions like this in your country? I would love to know!