I made it to book 50! 😀
Okay, officially, I have two books currently reading. But one of those I have finished on May 1st and the other one is read over 60% too. In April I've read 16 books and 5,213 pages. Such big numbers again! And hitting that 50 so early in the year? Whoa!
Let's not waste time and dive straight into the read books shall we?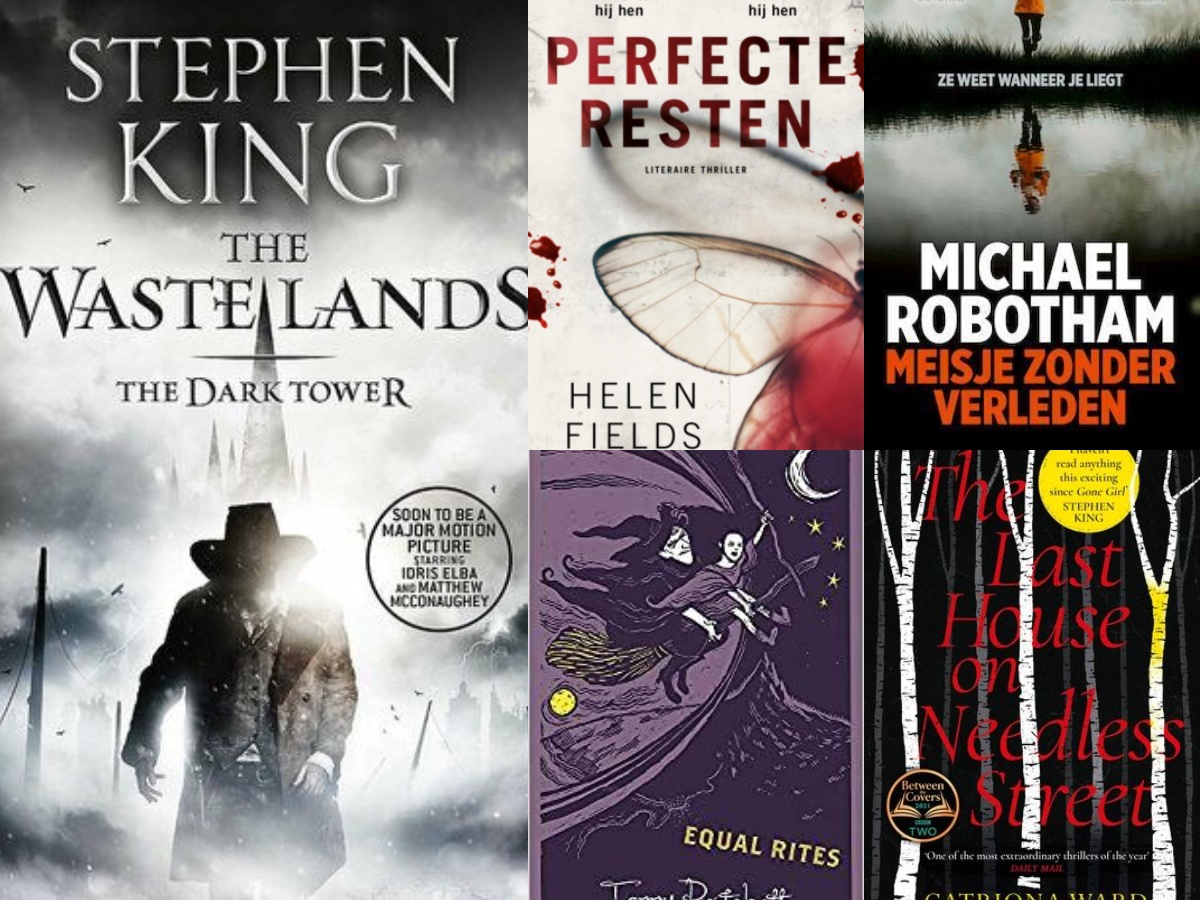 34. the Waste Land by Stephen King (English, 4.5 stars)
I will probably say this about most of the books in this series, but this one is definitely a favorite! The ending always gets me though, such a cliff hanger! That doesn't change after a reread either.
I like how Eddie's character is evolving. He seems like the soft dude, when everyone is always rooting for Jake, and Susannah being a total badass certainly takes the stage. But I feel Eddie is a far more interesting character, as he has a lot of changes coming to him now that he has entered Rolands world. After reading this, and that damned no-ending, you want to read the next one right away! (I couldn't though, it's up for May during the readalong)
35. Perfect Remains by Helen Fields (Dutch, 4 stars)
It's been a while since I read a book this fast. There were many layers and at one point I felt that the two cases of the detectives would be overlapping and actually be one, but they weren't. This made it feel like a more realistic police department, teams helping each other, talking about their cases, instead if just sticking with their own. Everybody needs some feedback right? Both cases were interesting and the evolving friendships and dynamics between the department too. I didn't know this is a series when I started reading, but now I'm glad it is. Hopefully the rest will be just as good.
36. The Nightingale and the Rose by Oscar Wilde
I needed this for a bonus prompt and wasn't sure what to expect of it but oh what an emotional poetic story! I feel so sad for the nightingale, people are so stupid!
I got Oscar Wilde recommended to me a couple of times by a friend of mine, she really wants me to read the Picture of Dorian Gray and I must admit after reading this I am less intimidated. Maybe I'll finally pick it up?
37. Good Girl, Bad Girl by Michael Robotham (Dutch, 4 stars)
Apparently, also the first in a serie which I didn't know when I started it. But another good one! This tense story focuses on a psychologist who's helping the police, but also gets emotionally involved in a second case, that one of a traumatized young woman who won't speak about her terrible past. The chapters follow their story from both pov's and the writer is luring you in with hints of the dark trauma that surrounds them both. The police case itself follows all kinds of taboos, going here and there to end up with a banging outcome. Can definitely recommend!
38. Equal Rites by Terry Pratchett (English, 3.5 stars)
There's a downside to reading Discworld series by series instead of publication date. You go from reading a lot of Pratchett's later work, to some of his earliest ones. But I must admit, that I like Granny a lot and the wizards weren't so bad this time around. It's just… the puns are a lot more subtle. Pratchett isn't just as outspoken yet as in later works, even though he's making a VERY BIG POINT. This book could work well as a standalone, so if you like witches and magic and "why the hell should all wizards only be male" this might be the book for you!
39. The Last House on Needless Street by Catriona Ward (English, 4.5 stars)
There is so much darkness in this domestic horror, I needed breaks to lighten the tension, but not for long because I also couldn't stop reading. I do wish the blurb on the back didn't tell me "that it isn't what you think it is" because that made me know early that it exactly was what I thought it was. Nevertheless, it was gripping till the end!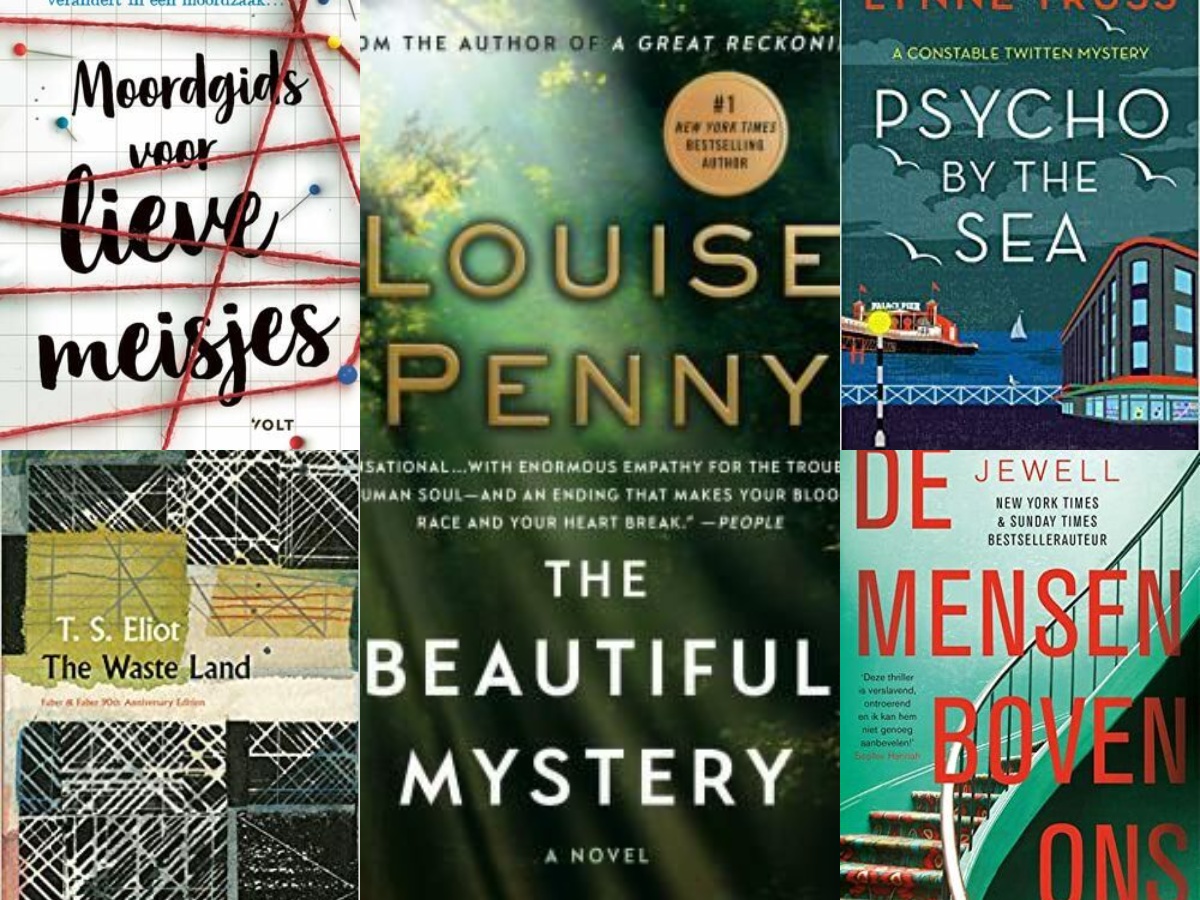 40. A Good Girl's Guide to Murder by Holly Jackson (Dutch, 2.75 stars)
Reads fast and the formatting was nice, but I don't know. I am not the right audience for this. It's definitely YA and the main character was a bit annoying to be honest. Plot was okay enough, but not very believable.
41. The Beautiful Mystery by Louise Penny (English, 3.5 stars)
I love this series, but this was the first one I thought took too long and was too slow. I was excited at first, an ancient secret monks monastery mystery? Whoa! But it wasn't as beautiful a mystery as the titel suggests. And for most of the book I kept wondering where it was about. I now know of course. And it leaves me heartbroken. Still, the mystery itself could have been a lot more intriguing!
42. Psycho by the Sea by Lynne Truss (English, 3.25 stars)
This is a funny historical detective, actually the 4th in a series, set in the late 1950's. I also found it rather chaotic though, but it was hard to put down and I read it in less than a day. I don't think I will read the rest of this series, but it was fun to try it out once.
43. The Waste Land by T.S. Eliot (English)
I was curious to know and can see how this inspired several parts of the Dark Tower series, but I find it hard rating this. I'm not a poetry reader and bits of this were too vague. Maybe I should try again with an annotated version to add more context.
44. The Family Upstairs by Lisa Jewell (Dutch, 4 stars)
I really liked this story, I can see why it's such a hype. But it's mainly a very sad story, as things like this happen every day. The ending was a bit of a surprise though, but I'm guessing it won't be such a happy ending after all since there is a second book coming…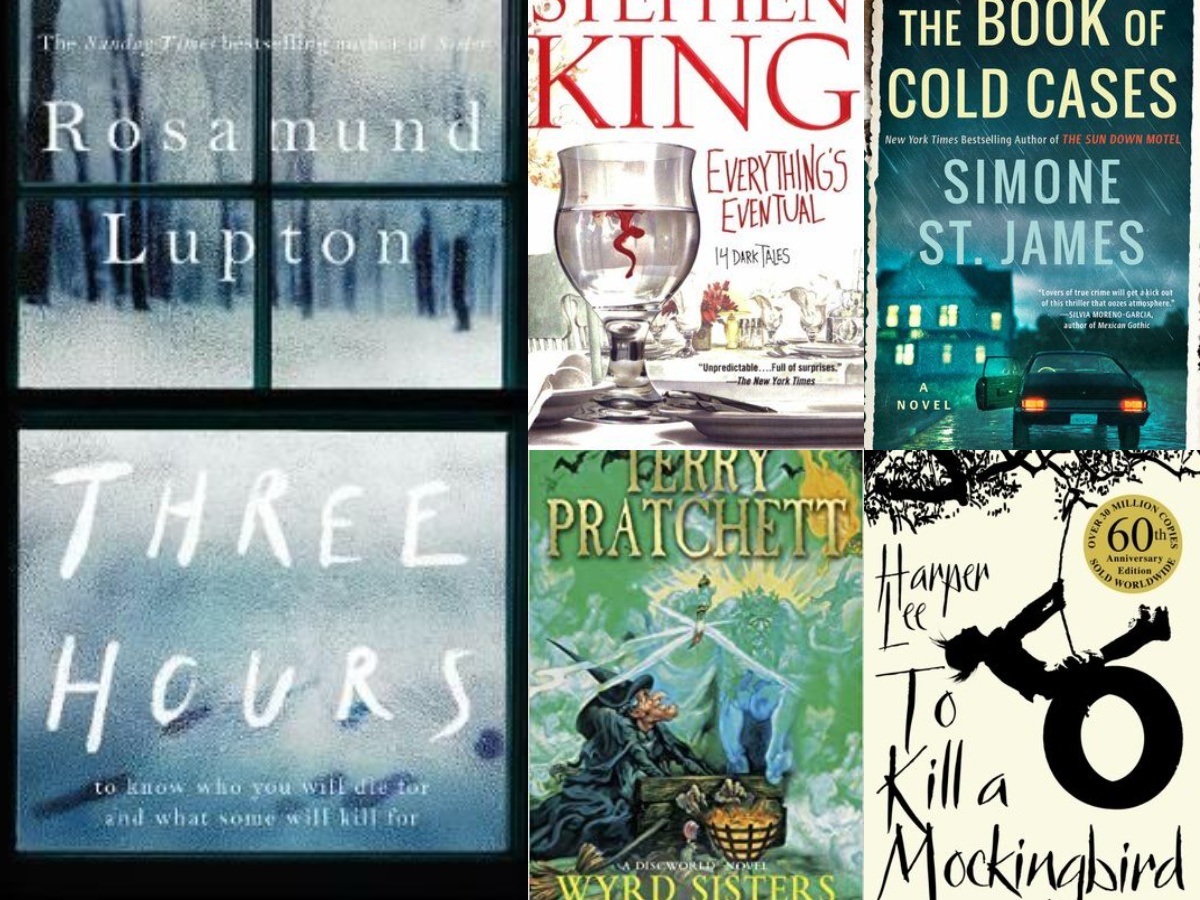 45. Three Hours by Rosamund Lupton (English, 4 stars)
Well, mixed feelings much? I saw most of the plot twist coming from miles away, and for a large part nothing much was happening. It didn't feel as pageturning as promised. But still. Brilliant concept for a thriller! And in the last few chapters all promises in the four page long reviews at the start of the book come true. (yes, four pages of reviews to start your book with, bit much maybe?)
46. Everything's Eventual by Stephen King (English)
Am still reading these short stories collection, but did review Little Sisters of Eluria which is a true part of the Dark Tower, when Roland was still traveling alone. A bit of horror fantasy, with a hint of mystery, some tension and sadness. Glad I finally got to read it!
47. The Book of Cold Cases by Simone St. James (English, 3.75 stars)
I liked this. It's advertised as a true crime story, but it's also one of severe trauma and a haunted mansion. It wasn't as gripping and tense as I hoped for though. Not much surprises either, but still, a very well written story.
48. Wyrd Sisters by Terry Pratchett (English, 5 stars)
I kept hearing about the witches as soon as I told people I started reading Discworld. Now I know. They are hilarious! Got me cackling out loud multiple times! Again, this one can easily be read as a standalone if you like plays, witches, or just want to laugh.
49. To Kill a Mockingbird by Harper Lee (English, 4.5 stars)
A true classic! It's a shame I haven't read it sooner, but I am sure I will reread it again. Some bits were a bit dry though, but most of it was pretty captivating! It's a shame not much has changed over all these years though, which still makes this a very reflective read.
50. Icelands Gambit by Dominique Biebau (Dutch, 3 stars)
A fast read! This is a Belgian thriller about the murder of a master spie and chess player in Reykjavik. He's left a mysterious cryptic manuscript appointing his murderer. Bit weird to read now that Russia is causing war and terror again. But the manuscript is set up well. The lost love story was a bit overdone sometimes, but that all becomes clear in the end.
What about you, how has your reading month been? Are you meeting your goals? And have you read any of these? Or have you maybe read anything similar you can recommend me? Let me know in the comments!