It's Non-Fiction November, and even though I did read a couple of non-fiction books this month, there are some on my TBR I never seem to get to. They are either too challenging, and scaring me or they are meant to teach me something, while I don't feel like learning because books are there to relax me. Some are just, never the right time though, which is the case to the more biographical non-fiction reads.
Here are a couple of non-fiction books I want to read, but never do, in non-specific order: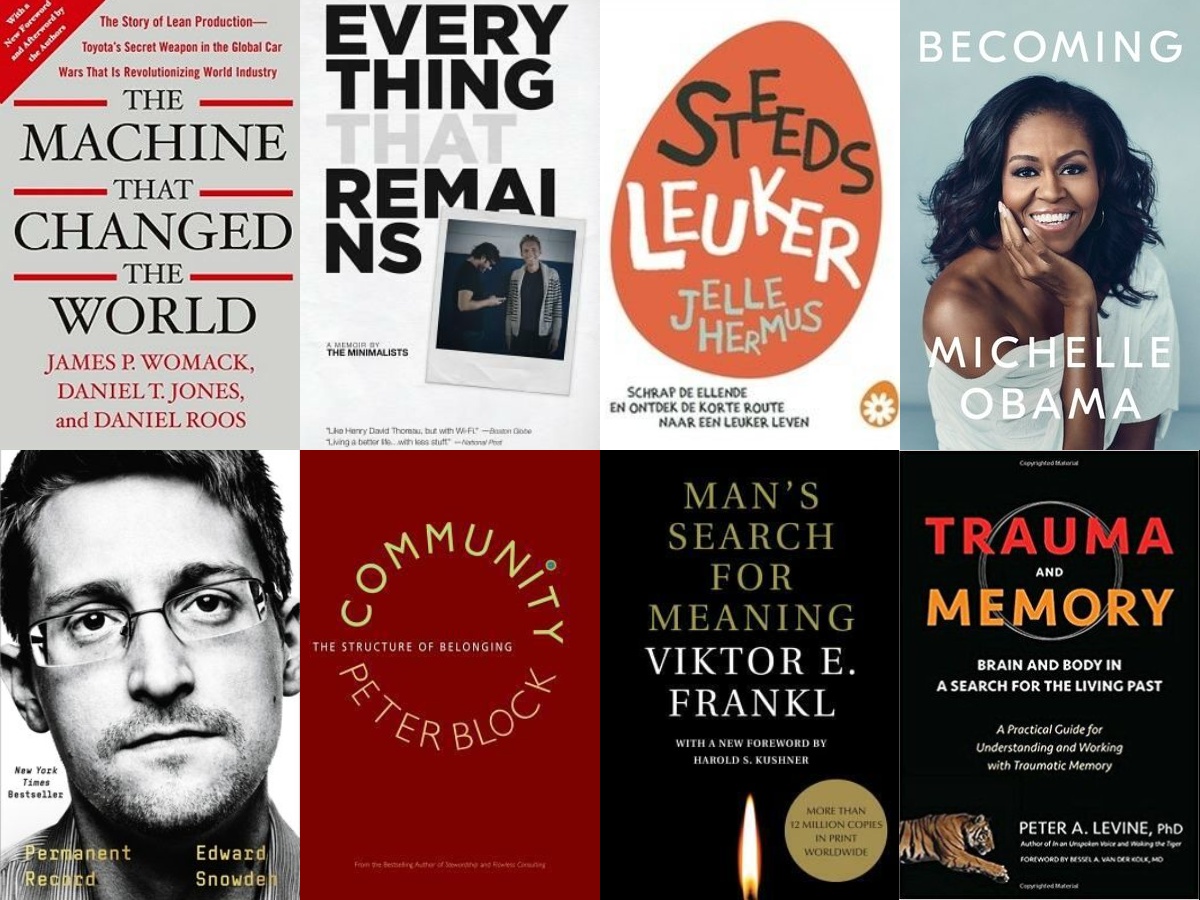 The Machine That Changed the World: The Story of Lean Production
Based on MIT's pioneering global study of industrial competition, The Machine That Changed the World, offers a groundbreaking analysis of the entire lean business system developed by Toyota, including product development, supplier management, sales, service, and production. I need to read this for work, but I don't want to think about work when I'm offduty, even though this is pretty interesting stuff.
Everything That Remains by Ryan Nicodemus and Joshua Fields Millburn
This has been on my TBR for soooo long. I read the Minimalist blog, when there wasn't much at all yet. Now these men have books, podcasts, tours, all about quitting their high-end jobs and starting a minimalist life. I've been quotes multiple parts of this book by Joshua already, but never actually sat down to read it. I don't know why. Somehow the minimalist lifestyle thing isn't something I actively pursue anymore. Not that I now fill my life with meaningless things, it's more, that I have already found my own motivation.
Steeds Leuker by Jelle Hermus
This book falls into the same category a bit. Jelle has a very successful blog, and writes books and courses now. This was his first book, and I even own a first signed edition as I was one of his backers to get published, but I never read it. And it has been published in 2017! It's a self-help book though, and I don't really need that right now.
Becoming by Michelle Obama
I feel everybody has already read this book, so this doesn't need much explaining on it's whereabouts. It has been on my TBR right from the start. Michelle is a remarkable strong and positive woman. Her story must be very inspiring, and I'm sure I'll learn something. But as I don't really read much autobiographies, this just isn't one I didn't get to.
Permanent Record by Edward Snowden
Another autobiography. And one I'll probably get to sooner as there is some overlap between Snowden's and mine worlds. A teeny tiny one, but still. I ofcourse already know his story, having watched his lectures and video calls, but still, putting it down in written words make things more structural and often give them more depth. So, someday, I will read this one too.
Community: The Structure of Belonging by Peter Block
Speaking of communities… I'm not really into sociological science, but sometimes have very interesting conversations with people who do, and this book was recommended to me by one of them. And because multiple people often told me that I am a community builder, I should probably learn more about the psychology behind it. It seems pretty hard material though. And as I said, reading is to relax mostly.
Man's Search for Meaning by Viktor E. Frankl
A memoir, self-help book, and a psychology manual is the story of psychiatrist Viktor Frankl's struggle for survival during his three years in Auschwitz and other Nazi concentration camps. Instead of just writing about the horror of it, he seems to be more philosophical about the meaning of life. I find it interesting how someone surviving a concentration camp, becoming a psychiatrist, would think about that time. But it also seems pretty heavy stuff. And I've also heard some reviews about how dry it is, because it's written so long ago…
Trauma and Memory: Brain and Body in a Search for the Living Past by Peter Levine and
The Body Keeps the Score by Bessel van der Kolk
These two just downright scare me. As someone with a traumatic past, and multiple related problems, these two books could really help me reclaim my life further. Even though I have already come a very long way, I don't think I am done yet. But it also scares me to resurface some of the things I hope I am done with. And I know these will. And I don't want to. At least, not yet.
What about you, do you take part in Non-Fiction November? Or are you like me, postponing those books till they haunt you down? Tell me all about it in the comments!