Oops, a day late! That Easter weekend seems to get my days confused, but I didn't forget.
It was time to use my muffin tin again. Now that we won't be going to the shops so often anymore and clearing out the cabinets made me discover I have 13 kinds of flour waiting for me, I try to bake something new every week. Last week it were Lemon and poppy seed muffins. It's more of a sweet snack, than my earlier shared and still favorite Zucchini bread muffins. I also recently made a Apple crumble pie, but I still have to tweak that one a bit before I can share.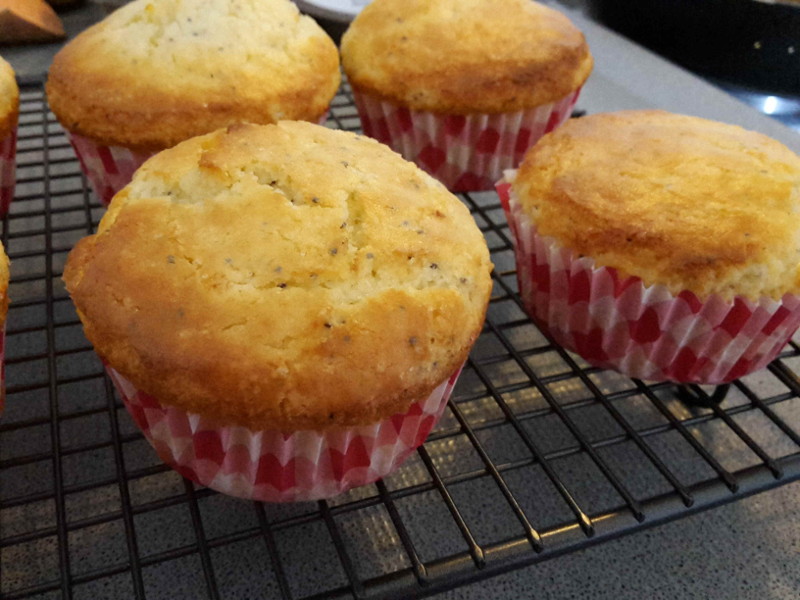 So how to make these lemon poppy seed muffins?
This recipe is for 6 muffins. I know most muffin tins are for 12, so is mine, but I can't eat everything within time and wanted to save some storage in the freezer. If you do want to make 12, you can just multiply the recipe by two. (wooow, there's math here!)
First you'll need:
• 130 grams of gluten free flour (I use Doves Farm flour)
• 1 teaspoon of baking powder
• 1/8 of a tea spoon of xanten gum
• 1/8 of a tea spoon of baking soda
• 1/4 of a tea spoon of salt
• 1/2 a spoon of poppy seeds
• 120 grams granulated sugar
• 1 large egg
• zest of a whole lemon
• juice from 1/2 a lemon
• 65ml of milk
• 40ml of olive oil (or another kind of vegetable oil)
(note: if you aren't a celiac yourself and are making this for someone who is, make sure to check if the baking powder and soda are indeed gluten-free)
And then you'll:
0. preheat the oven at 200 degrees Celsius (for flat muffins)
1. mix the dry ingredients together in one bowl
2. mix the wet ingredients together in a second bowl
3. put muffin cups in the muffin tin or grease them instead
4. mix in the wet ingredients in the dry ingredients
5. take a ladle and spoon the batter into the muffin cups (note: you'll notice it becomes less fluid, this is because of the xanten gum and yes that is suppose to happen)
6. bake for 15 minutes in the preheated oven
7. take the muffins out of the muffin tin and let them rest and cool on a rack
You could do a frosting of powdered sugar and lemon juice after, but I don't particularly like frostings myself. Do make sure the muffins are cooled down, otherwise it won't stick!
You can either eat everything at once and get a slight stomach ache, keep them for a week in an airtight container or (also in airtight containers) put them in the freezer for 2 months.
Enjoy your muffins!