To kick it right of: my second day of cheer was: a board game template! To make up your own board game. What a surprise! I actually love board games, and have designed some when I was a kid. Sadly I don't have anyone to play with these days as my partner can't stand to lose. But maybe I can turn this one into a single player game? It's my rules right? 😀
Yesterday's tea was a "Fireplace" tea, filled with rose-hip, appel, hibiscus, orange zest, cinnamon, orange flavor and vanilla extract. I'm not a fan of hibiscus, so this didn't sound too appealing to me, even though the name is fantastic and made me want to curl up with a book right away. The dry sachet smelled deliciously fruity and in the water it turned a dark reddish pink. The taste was as the color made me expect, a lot of hibiscus, which always tastes a bit sour to me. Only after a while you start noticing the slight orangy taste. It's okay to drink once, but I wouldn't buy a pack.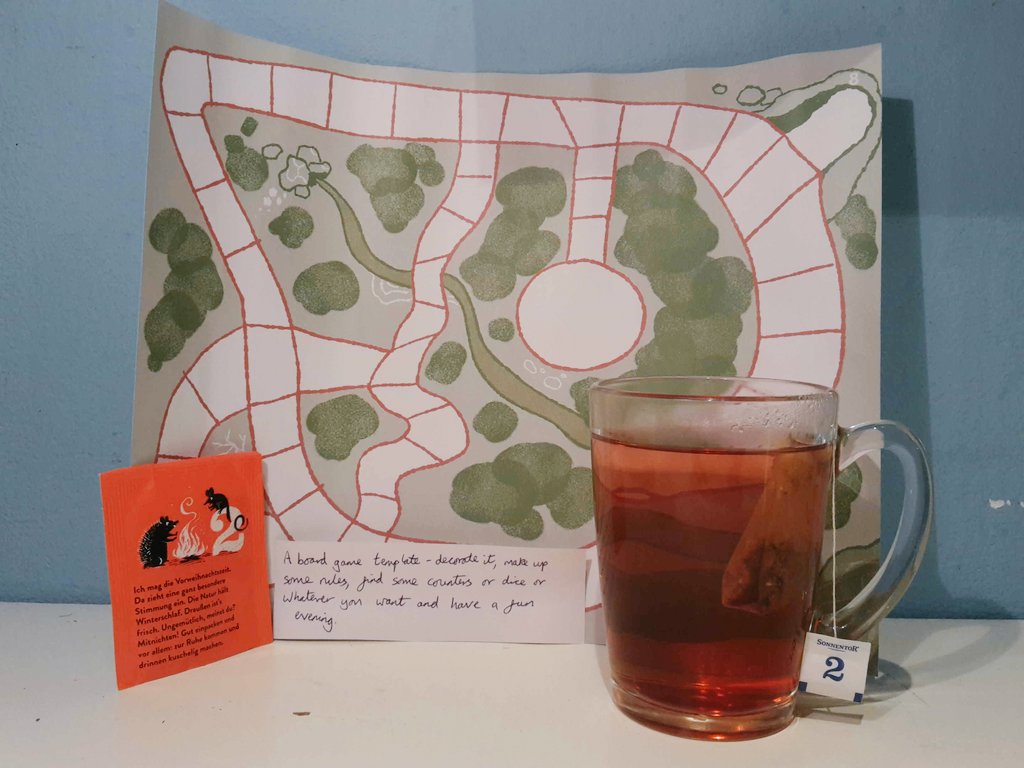 And today, my third day of cheer, is: a Christmas tree puzzle! I always like al these wooden lasercut things. It also makes me wonder why I never use the lasercutter at the Hackerspace. Maybe I should collect some designs and give it a try soon. This is adorable! 😀
Today's tea is a "Golden Turmeric" tea, filled with turmeric, cardamom, cinnamon, ginger, coriander, fennel, liquorice root, vanille, clove and black pepper. It smells delicious and the color is indeed a golden orange. This tea is more like it for me! I love the taste of it, especcially this time of year when it's getting cold and this tea warms you up inside.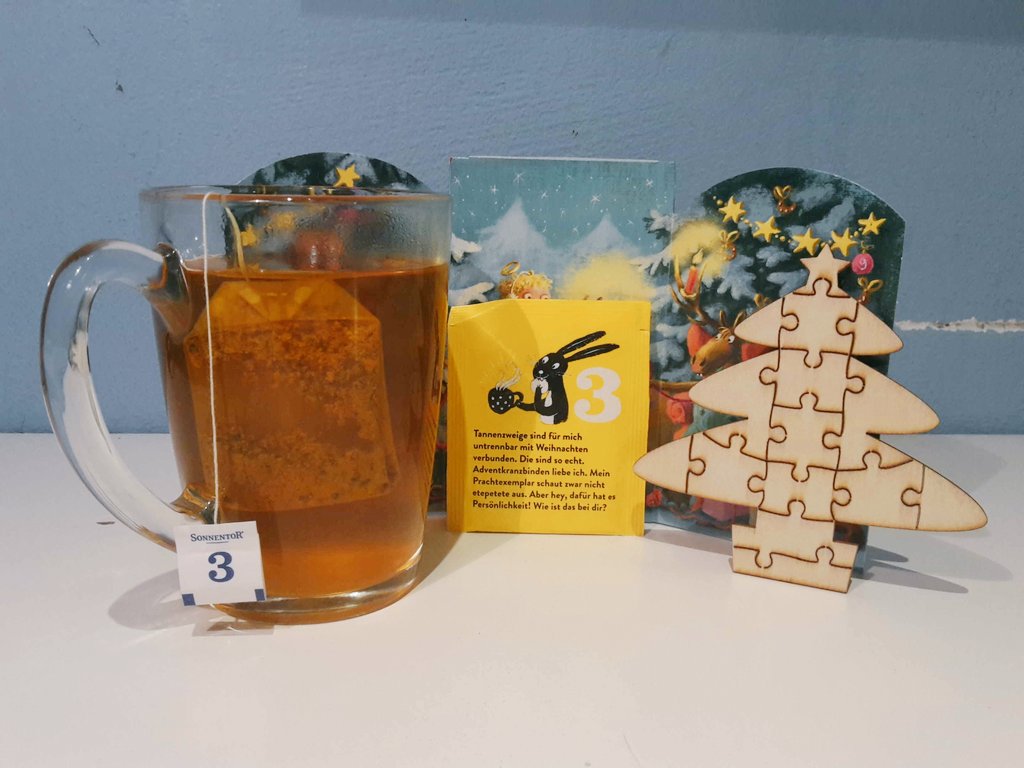 Since we can't go out much this year, I have been watching Christmas movies during November (saving the best for later this month!). Not any of the latest stuff, but some oldies that used to be on television when I was young. Think of, 80's and 90's movies.
So far I have watched: the Holiday, National Lampoon's Christmas Vacation, Christmas with the Kranks, Miracle on 34th Street and Emmet Otter's Jug-bands Christmas. Both Christmas Vacation as Christmas with the Kranks are typical American Christmas movies, where EVERYTHING goes wrong but ends up fine anyway. If anyone would watch them for a first time now, I guess they would be awful movies. But for me it's a bit of nostalgia (which fits the holidays!) and they really made me laugh again. Miracle on 34th street has many adaptations, the one I watched was from 1994. Santa appears in a town but gets arrested, and a lawyer and and a little girl try to prove to the city and the judge that he is real. I liked Richard Attenburrough and Mara Wilsons performance, but other than that, it didn't feel special.
What was a surprise to me was the Holiday. I am no romance lover, it's not that I don't believe in romance or love, but those over the top soppy love stories are completely wasted on me. The Holiday however, was really enjoyable. It's still a typical love story of two women totally fed up with their lovers and thus men in general, swapping houses (and countries, as the British one goes to LA and the American one goes to the UK) and while there, fall in love. But it wasn't over the top and the difference in ambiance was really good. Another surprise for me was the "Arthur Abbott" sub plot. It was delightful and saved the movie from predictability (even though, the outcome still was predictable). It felt like I was watching people with real life problems and a possible real life happy ending. So if you are still looking for a Christmas romance to watch, I can really recommend this oldie!
Emmet Otter's Jug-band Christmas isn't a long movie, as it's only 48 minutes, but it's really charming. It's a Jim Henson movie, the puppeteer and animator from the Muppets. The story is about a poor Otter family, mother and son, who live in a river village and there is a talent show. It's almost Christmas and they both don't have enough money to buy eachother a gift, so they both try to win the talent show (which they don't tell eachother because it's supposed to be a surprise). It's a real simple story, but it's all made with hand-puppets and marionnettes and the details on this are amazing! There are some songs sung, with funny made-up texts, which might be the only thing showing it was actually made for children. But it's fun for grown-ups too! So if you have about an hour to spare on a boring afternoon, you might want to watch Emmet Otter's Jug-band Christmas! And if you just want a little preview you can also only watch this clip:
Still on my list are the Christmas Chronicles, the House without a Christmas tree, Lovely Still, Tokyo Godfathers, Joyoux Noel, Krampus and the musical White Christmas. But I am sure others will be watched too!
So what about you? Have you already watched Christmas movies? What are some of your favorites? Or still on your watch-list? Tell me about it in the comments!