My forth day of cheer were: four adorable Christmas sweater postcards. These are just the right size to add to letters, or to use as labels to gifts, or at the Christmas dinner seating table. I especially like the reindeer one, and the snowman is SO happy! Yes, this brought absolute cheer.
Yesterday's tea was a "Soothing Throat" tea, filled with rose-hip, elderflower, lime-tree blossom, staghorn and mallow. Most of these ingredients sound unfamiliar to me as tea but I do know the plants itself. The smell of the sachet was kind of sweet at first, but after adding water changed to a earthy herby smell. The color was a light pinky orange. The taste was a surprise! It was both flowery sweet as earthy. Really nice actually. And soft. It tasted soft.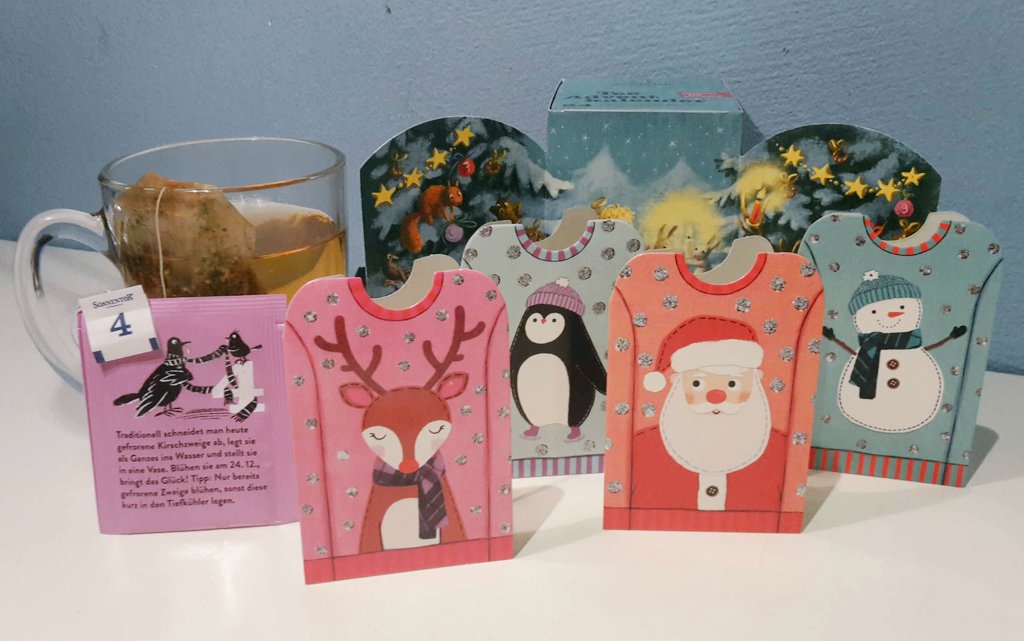 And today, my fifth day of cheer, are: 4 beautifully patterned origami papers, an instruction of folding a spider and a papercut web to put the folded spider in. This is so amazing! I love paper. And spiders. And to put that papercut web in is a wonderful finishing touch. I'm just going to say it again: amazing!
Today's tea is a "Pleasant Leisure Time" tea, filled with blackberry leaves, lemon gras, lemon balm, lime-tree blossom, cornflower, calendula and rosebud. It smells fresh and the color is a medium-to-dark yellow. It tastes slightly lemon, with a flowery aftertaste. Really enjoyable in the morning! I would buy this if I could get a pack of it. It would be the perfect summer tea.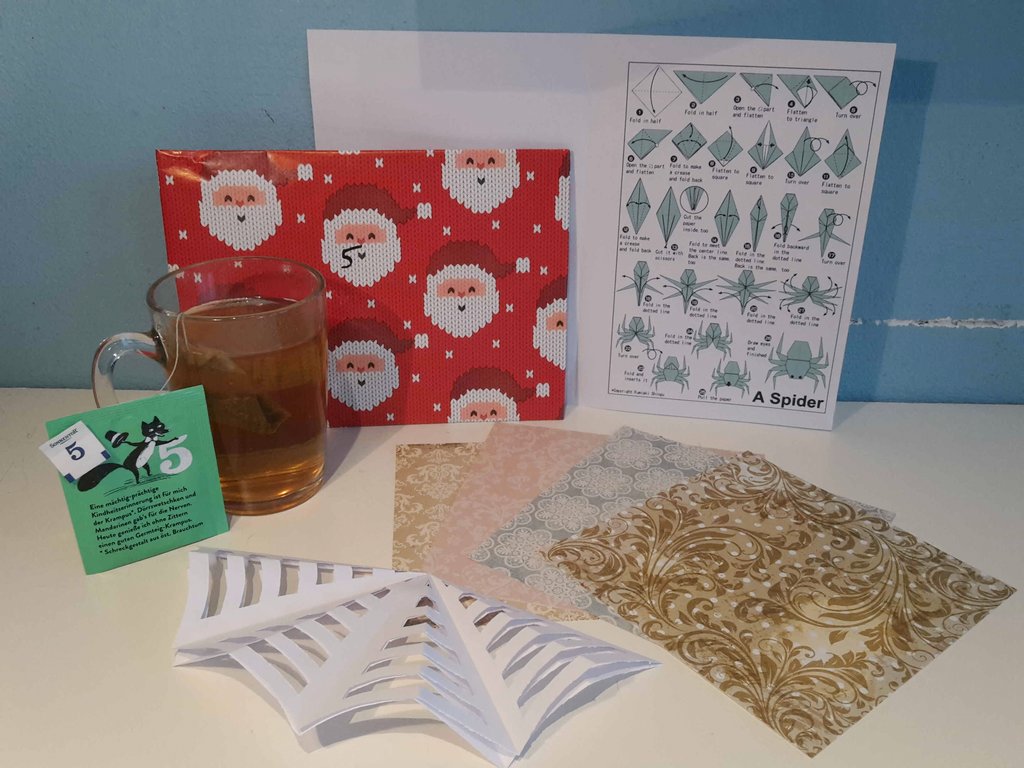 Day three of my twelve days of Christmas brings you my End of the Year book tag. I have never done this before, but as I want to be writing a bit more about books now that nothing else seems to be going on this year, it seemed a good tag to jump in on. I wasn't specifically tagged, but since some bookbloggers write "If you feel like taking part, then I tag you!" I felt spoken to!
Are there any books you started this year that you need to finish?
Well, yes. I'm only halfway through the The Hitchhiker's Guide to the Galaxy: The Trilogy of Four by Douglas Adams. I read the first two books in this trilogy-quartet in august and after so much sillyness needed a break I didn't come back to yet. I am planning to finish it next year.
I'm also currently reading Soul Music by Terry Pratchett (which I started a couple of days ago). I WILL finish this one, probably soon, because I am very entertained by the music of rocks and Susans weird inheritance of Death.
Do you have an autumnal book to transition into the end of the year?
No not really. The books I enjoy rereading aren't set specifically in autumn. But I am looking forward to rereading the Winternight Trilogy by Katherine Arden once our winter starts!
Is there a new release you're still waiting for?
Yes, this doesn't happen often but there are a couple this year! The first two are already out in the US (for a while) but I can't get them in NL yet: it's both The Summer Children and The Vanishing Season by Dot Hutchison. I also am looking forward to reading Hollow Empire by Sam Hawke, which is ALMOST available now and might end up under my Christmas tree. 😉
What are three books you want to read before the end of the year?
That would be Terry Pratchett's Hogfather, Merry Midwinter and Where wizards stay up late.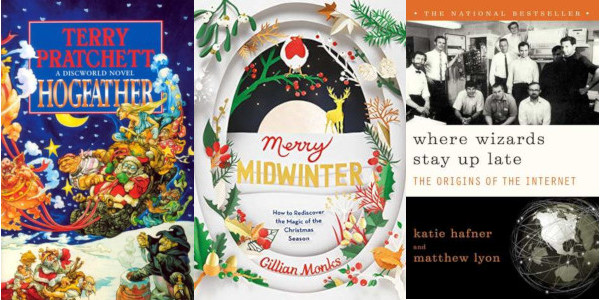 Is there a book you think could still shock you and become your favourite book of the year?
Shock? No, I am not easily shocked. But a favorite? Probably Hogfather by Terry Pratchett. It's supposed to be Discworlds most Christmassy read.
Have you already started making reading plans for 2021?
Not really. I should be preparing the next IGGPPC Geeky Readathon by now, even though that runs till the end of January. And I have been looking at my cabinet thinking I should reread all eight books of Stephen Kings Dark Tower series. And of course the reread of the Winternight Trilogy. But as I don't know which books I will have at the end of this year (there are currently 7 waiting under my tree!) I haven't made my plans yet.
So what about you? Did you already wrote an End of the year book tag? Or am I now tagging you to do one? 😉