With so many Christmas projects going on this year, it seemed a good year to take a swing at Blogmassing too. Instead of posting daily, I will try to post every two days from now until the 24th. I call it, my 12 days of Christmas. (so original, haha!)
I have been busy making Christmas swaps and Christmas post cards for the last two months. While I already showed off some of my postcards in previous posts, there are more and other crafts to come! After sending away two swaps, I will also be receiving two. One is the Secret TBTBSanta book swap, which is something organised by booktwitter. I've send mine out just last week, and went full out with the wrapping again! I also made a book quote art piece, which I can finally show off after I know my recipient has opened her gifts.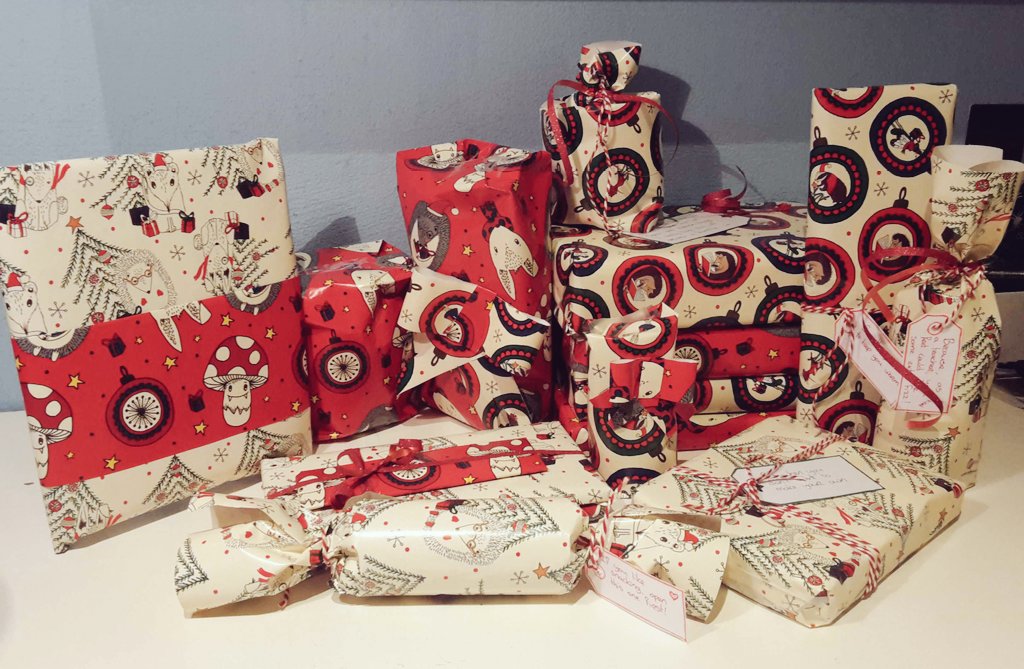 The other swap is the 25-days-of-cheer swap from IGGPPC. It's an advent style swap with 25 little gifts which was really fun to make for my recipient, and I will be posting my received gifts along during my 12 days of Christmas. Because the gifts are mostly small, they are currently IN and underneath my tree as decoration and extra ornaments. It looks really festive and will also give me some fun festivities when having to look for the right number. (or frustration when I can't find it back anymore?)
I also bought myself a tea advent calendar from the brand Sonnentor which I will share with you in my posts. And besides all this excitement, there are ofcourse some blog post waiting to happen, about Christmas movies, Christmas recipes, Christmas crafts (I already mentioned this, but I'm excited okay?) and even a Christmas read! I also have an unboxing planned not only of my TBTBSanta swap, but of our end of the year holiday gift we get from work. It's a Dutch tradition apparently unknown in many other countries.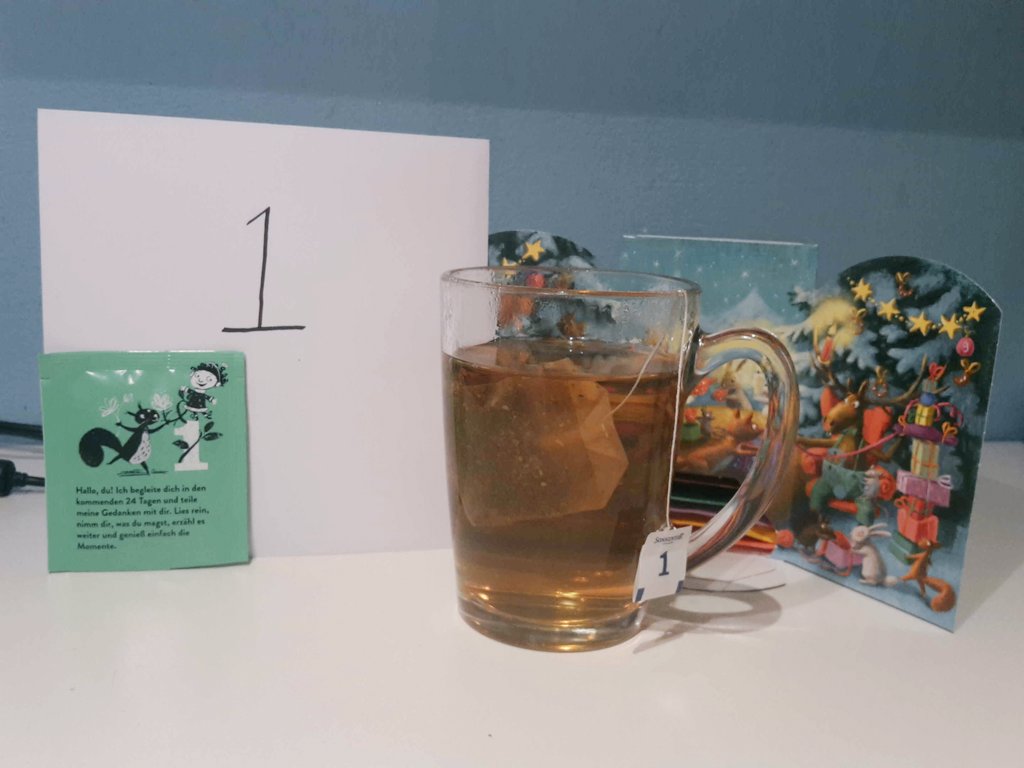 But let's get it on for today, day 1! My first day of cheer exist of… A POST CARD! I was so tempted to open it early, but I waited till today. I did put it up on my desk yesterday, together with the tea advent calendar to find it there first thing this morning. And I must admit, it was a good incentive to get my yoga done! The post card looks handdrawn, and after having noticed myself how hard it is to draw a Christmas tree, it is very well done! The outline is symmetrical, but the lines still go down. I would probably have messed this up myself.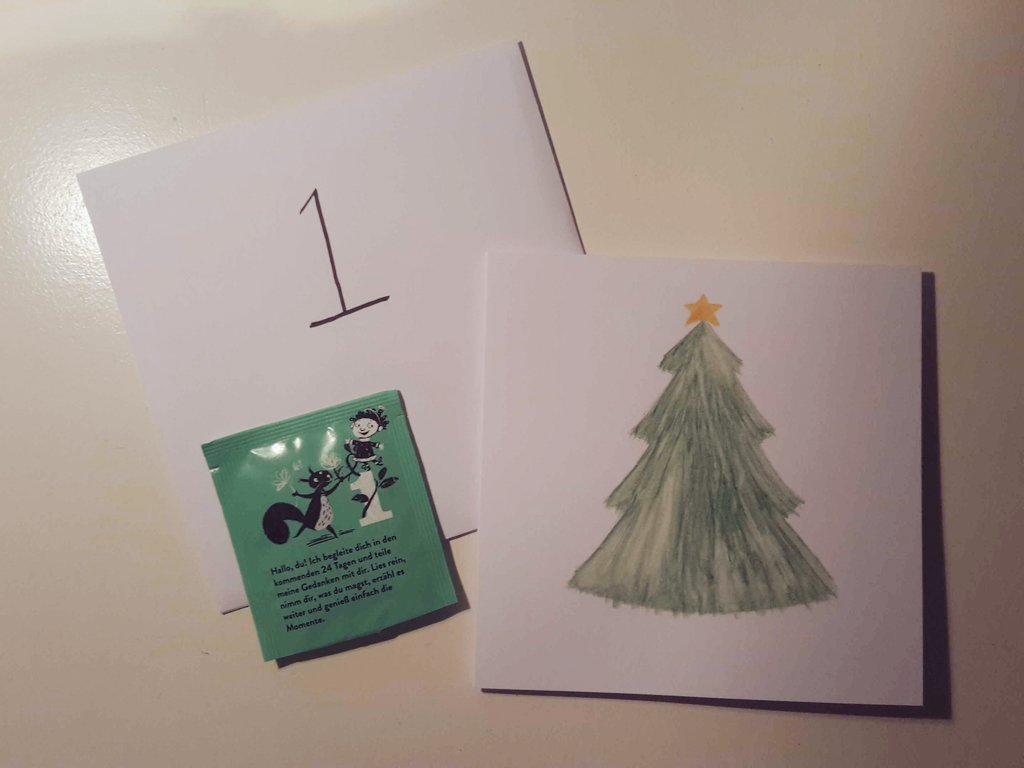 Today's tea is a "Cheery good mood" tea, filled with blackberry leaves, apple mint, strawberry leaves, calendula, cornflower and sunflower leaves. It sounds lovely! The smell is indeed herbal, it smells more like leaves than the mentioned mint (which is good, because I am not a mint lover) and the color is an ambery orange (from the calendula perhaps?). When tasting the tea you can definately taste the apple mint, but also the earthiness of the mixed leaves. The mint does lift it up a bit, but for my taste they could have done with less.
So that's it for my first day of Christmas! What about you? Are you planning a Blogmas this year? What is it about? Share your blog with me so I can visit you!
Full list of my 2020 blogmas posts:
3. Christmas movies
5. End of year book tag
7. Bacon wrapped green beans recipe
9. DIY string star ornaments craft
11. Merry Midwinter book review
13. Hot chocolate recipe for your winter date
15. Christmas music
17. Unboxing: Dutch tradition of employers gifts
19. More winter postcards!
21. Old Dutch cooked pears recipe
23. My first year participating the #TBTBsanta book swap
25. Merry Christmas!