Wow, damn! I don't know how I did it, but… I have read 14 books this May! We've had a lot of cold rainy days and I am still self-isolating, but I never expected this. It's the biggest amount of books I have read in one month ever! And am ahead on my yearly goal by 10 books/2872 pages!
As I told last month I did another readathon in May, which is called dotheThingathon. It's about doing the things, for the goals you have set for yourself at the beginning of the year. I made a shortlist of 8 books I thought I might focus on, from my 2021 TBR. But then I also added my current TBR from the library… and the two monthly picks for IGGPPC Bookworms… And I ended up with a list of 13 books! How the hell did that happen? From these impossible amount of books I have read all but one and… also read two other books! I truly never expected this to happen.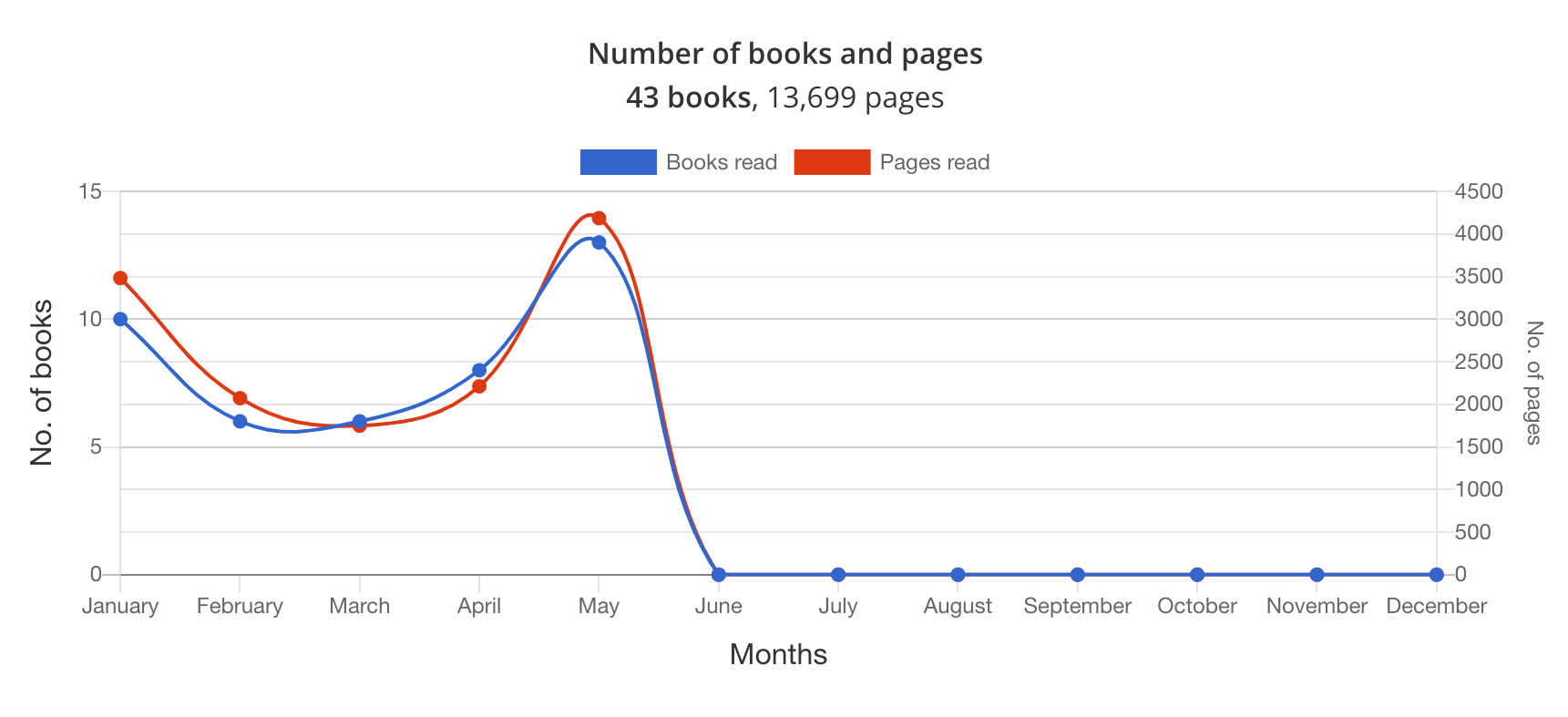 So let's get to it! What did I read this May?
33. Alles begint by Bach by Merlijn Kerkhof (Dutch, print, 4 stars)
I've been wanting to learn more about classical music for a while now, since I listen to a lot of it (while reading). This modern explanation of classical music is very entertaining! It's not about all the difficult technical parts, but about the composers and how their music evolved, and what influenced it. The differences between symphonies, operas and concerto's, the Germans, French and Italians and also why there are no famous Dutch composers. There is so much information packed in between these pages, but it doesn't feel like reading a non-fiction, it reads like a novel. I need to buy my own copy, because I wanted to make all kinds of annotations in the margins for later reference. I also couldn't shut up about each chapter to my partner and my Spotify is filled to the brim with everything I listened and still need to listen to. Stupidly enough there is a Spotify list with lists of songs to each chapter, but it's only mentioned in the back of the book. A bit stupid if you ask me, but maybe that's more to inspire the reader to find their own music first, before they mindlessly link to these lists.
35. the Lost children archive by Valeria Luisselli (Dutch, print, 3 stars)
Not a fan. Right from the beginning I was annoyed by the narrative. The mom telling us the story felt like she was stuck into her head too much. Her endless thoughts felt so distant, talking about the boy, the girl and the husband, nameless like they did not matter. I really disliked her, and him. The writing itself was somehow a bit poetic and the way the book within the book and the story about the missing children intertwined was interesting enough to follow. Luckily most of the chapters were short so it was easy to "read one more" and "maybe just one more" again which got me into a nice reading flow. But still, I couldn't connect.
36. the Winter of the witch by Katherine Arden (English, ebook, 5 stars)
This was a reread. This trilogy is one to submerse yourself in, take a week off during the cold winter days and read them back to back. I absolutely love them. The myth, the folklore, the history, the witchcraft, the love, the nature, the journey, the battle. It is so many things. A true epic.
37. Perfume, the story of a murderer by Patrick Süskind (Dutch, print, 5 stars)
I absolutely love this movie, and only discovered last year that this is actually a book! I really wanted the book to be better than the movie. For a while this was also the reason the book was very intimidating and I kept postponing to read it. But now I finally have.
For a short moment I felt scared that the book was NOT as good or better than the movie. But soon the poetic words about all the ugliness of medieval cities like Paris drew me in and held me hostage till the last page. Can a book about a murderer committing his crimes be beautiful and poetic? Yes it can, and this story totally proves it. I can't describe why though, you would have to read for yourself. The writing style is just magnificent. Have you ever tried describing all the scents of the world? Patrick Suskind manages to do just that, in a way that you can actually feel them.
38. The Dalai Lama's Cat and the Power of Meow by David Michie (English, ebook, 4 stars)
I generally love books about cats or from cats perspective and this series is very enjoyable. I remember reading the first one and being surprised about how it was both informative as funny. The second one wasn't bad, but did resonate less with me. And now I have finally picked it up to read the third, which was again a treat to read! Sure, of course some things are exaggerated a bit but the overal lessons about mindfulness are intertwined nice with the stories and adventures of His Holiness Cat. The book in itself is relaxing and the character building through out the series is fun to follow. I'm not sure what a fourth of this series should be about, but I wouldn't mind reading more from these characters!
39. Bitter Falls by Rachel Caine (Dutch, print, 4 stars)
Another good one in the Stillhouse Lake series. Again, complex and full of tense action. But I also noticed more of the repetitiveness I spotted in the previous story. It's sometimes explaining too much, which makes it feel less real. Might be good for some readers, but it was annoying me a bit.
40. the Dead list by Jennifer Armentrout (English, print, 3,75 stars)
This was a surprise #tbtbsanta present last year. Not on my list, since I normally don't read YA, but still recommended. And I must admit, it was not bad, for a YA thriller. I actually had fun, really laughing out loud, about all the highschool drama inbetween the killings and the softporn attraction scenes. It's like watching a bad teenager movie, but with a really good story behind it. Not what I expected! Maybe sometimes, once in a while, I could read more of these just for the fun of it.
41. Propeller island by Jules Verne (English, print, 3 stars)
I really wanted to reread this one. From my previous read I remembered to be surprised about the amount of technical details and social structures Jules Verne has written about. Things that weren't even invented yet back then. But I weirdly remembered not even half of the story! Because there is a forbidden love romance and quite an amount of action too. It still remains a slow read, not something to read in one day. And therefore I can't change my rating to anything above 3 stars even though it's one of those books that you keep in the back of your mind and can't stop thinking about for two years…
42. On writing, a memoir of the craft by Stephen King (English, ebook, 4+ stars)
I finally got around to reading this, it has been on my TBR shortlist for longer than a year now. I enjoyed it! Stephen Kings honesty both in the memoir parts as the writing advise. Reading all these backstories about writing his own novels and how they became made me want to read all of them even more.
There's one part in the writing advise which feels like a light summary from the often mentioned Struck&White. It reads easy though and it's clear information (without the bullshit, as King writes). He clearly has an opinion about some things, and although I do think he's probably right about most of them (remember, English isn't my native language) some of it sounds like it's coming for a grumpy old man. Without it, I would have given it a solid 5 stars!
43. Frankenstein by Mary Shelley (English, ebook, 4 stars)
This is one of those classics you think you know, but end up being totally surprised about many things. It's more an exploration of humanity and the creature who has no name shows more of that than Viktor Frankenstein himself. Also, Viktor's an idiot. He created the creature. That's was no accident, it was also not fate. It needed several actions to complete, it took him quite some time. Therefore I believe it was due to his own choices. He could have kept it a theory or maybe try it on a tiny mouse first? Interesting though! Some bits were a bit drowsy (maybe because I read it in one day?), but most of it was really smooth for a 300+ year old read.
44. still reading
45. Making money by Terry Pratchett (English, ebook, 5 stars)
I thought the Watchmen series would be my favorite and for long they have been, but now that I am reading all of Moist von Lipwig's adventures I am actually thinking I like these more! They are so funny and filled with all kinds of technical details. I just can't stop laughing. Sometimes even pages later, there is a reference to something that happened before and I am just laughing all over again. Yes, out loud!
46. Shadowland by Peter Straub (English, ebook, 2,5 stars)
A story of stories, which feels all thrown together and the slow-pace doesn't make it any easier. Most of the time I felt like young Tom, observing and witnessing, but not getting what it all means. I was promised horror and suspense, but got a lot of confusion instead. My curiosity to where it would all go and if it would make sense somehow is what got me through the first 60%. It wasn't until then that the pieces started to fit together, but in the end I had to conclude that even though it was a story of epic proportions, it wasn't one for me.
And that was it! These were my May reads. Insane right? Have you read any of these too? What did you think about them? Do you have a recommendation for something similar? Or is there anything you would like to know? Ask me in the comments!