Whoa! Going out of the year with a bang! *BOOM*
I've done it! I've reached all three of my goals, and something. This wasn't the easiest reading year, but somehow I have managed. Here are some stats from my theStorygraph.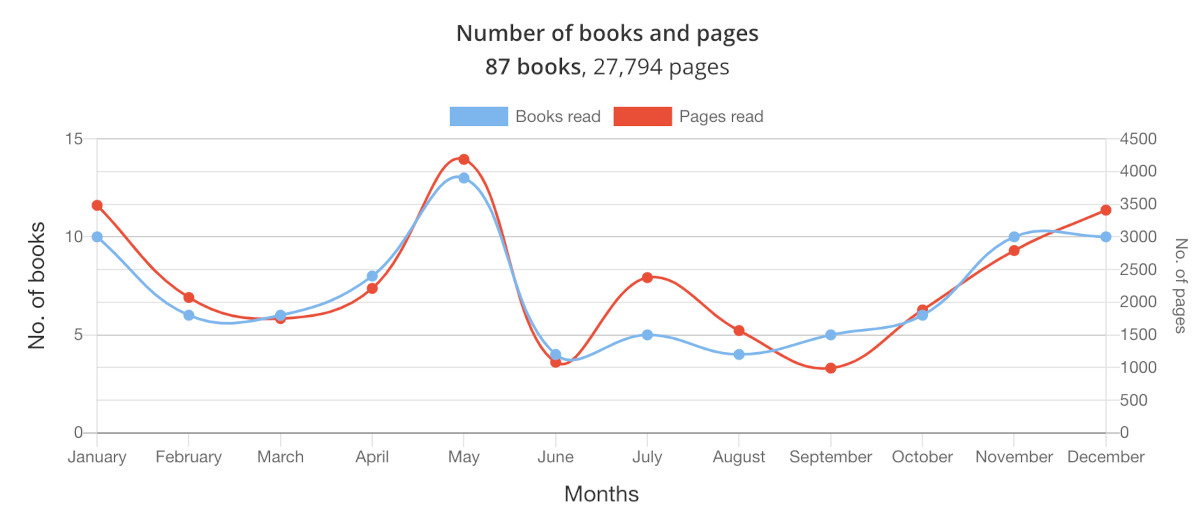 What is becoming clear to me thanks to these statistics is that a "normal reading month" for me is a month where I read about 8 to 10 books or at least a 2500 to 3000 pages. Last year this was also around 2500 pages, but this year I have a few more months to go even higher! If I can keep this up, I might be able to read 100 books next year.
My reading habits are still "mainly fiction that are mysterious, dark, and adventurous. medium-paced books that are 300-499 pages long" and I am good with that. I do want to read more historical mysteries though and more horror! But we'll see how I'll do with that next year. 🙂

So let's get to it! What did I read this December?
83. the Snow Child by Eowyn Ivey (print, Dutch, 5 stars)
Tragic and sad, but also very beautiful. I was a bit surprised about how much this magical story got to me, as I usually don't understand the longing of people to have children. I don't have this feeling myself, so I can't put myself in their place. Eowyn however, wrote it down so well, I was as happy as they were when they found their snow child, and as anxious and sad when they lost her. I could understand both their stories, but also have wanted to shake them up so many times and even had to tell my partner about their bad communication skills that brought so much sadness. It's a magical folkloric story, but also a touching real one. Fully deserves it's Pulitzer!
84. Star Over Bethlehem: Poems and Holiday Stories by Agatha Christie
DNF-ed
85. The Outsider by Stephen King (print, English, 3.75 stars)
As usual for SK, it was at start a slow story until the pace picked up halfway through. It had many details, which makes it easy for you to feel like you are actually there witnessing everything. Didn't totally love it though. The ending wasn't right.
86. Winterhouse by Ben Guterson (print, Dutch, 5 stars)
Even though this isn't aimed at adults, it was a very pleasant book to read. It's really geeky and mysterious, I even wanted to get pen and paper myself trying to figure out the mystery and all of the word games. Looking forward to the next!
87. The boy in the headlights by Samuel Bjork (print, Dutch, 3.25 stars)
Not the best one in this series, somehow it felt like nothing was happening and both stories came to an end it just a couple of chapters. Previous books were a lot more tense. It was a fast read though, and despite the slowness not boring. (Yes I know, very contradicting)
88. Sepulchre by Kate Mosse (print, Dutch, 4 stars)
A true historical mystery mixed in with folklore. It has everything! Sadly, I lack the words to describe how much I have enjoyed this. But I really did!
89. Winter story by Jill Barklem (audio, English, 2.75 stars)
Not as enjoyable as The Secret Staircase, actually nothing really happened… Ohwell, it can't always be a win!
90. the Secrets of Winterhouse by Ben Guterson (print, Dutch, 3.75 stars)
Interesting secrets, but not as well performed as the first Winterhouse story. Also less geeky, which was exactly why I loved this series. Hoping the next one in this series is a 5 star again!
91. Catering to nobody by Diane Mott Davidson (print, Dutch, 2,5 stars)
Yeah, this is not a recommendation. It was a cozy mystery read, about a catering owner with a difficult ex-husband, a teenage kid and money problems who had to cancel all her jobs in November because someone was poisoned at one of her jobs and became the main suspect. But also started dating the detective? I read it in one day, on a very tired day after Christmas. Because sometimes you just need something you don't need your brains for. Maybe I'll even read the next one in this series someday.
44. Where Wizards Stay Up Late: The Origins of the Internet by Katie Hafner (ebook, English, 4 stars)
Even though there is quite an amount of technical details and explanation of processes and organisations to read, it is alternated with more personal stories about the people involved aswel and includes a lot of personal anecdotes. The writing is done well, there were many occasions where I could picture the engineers working on their projects, discussing things and hunting and solving bugs like I was sitting in the room with them. Took me a few months though! Had to take a break after moving and then forgot about it.
92. Nemesis by Agatha Christie (ebook, English, 3.5 stars)
I still wasn't feeling well when I read this, but it was a fun read. Miss Marple gets a letter from a solicitor from an acquaintance she met two years before during her Caribbean Cruise, asking her to go investigating. But about what? And who? Very intriguing. By now Miss Marple is even more old, so there is quite a bit complaining about old people ailments, which became a bit annoying. The story itself is a bit weird but intriguing. It isn't until halfway into the book that the case becomes more clear. And this time, I did in fact figure out whodunnit before the explanation!
And that was it! These were my December reads. I'm so happy with them! Have you read any of these too? What did you think about them? Do you have a recommendation for something similar? Or is there anything you would like to know? Talk with me in the comments!