Are you ready? Because I have read SO MANY BOOKS this month. It wasn't even that I had nothing else to do, most of them are shorter than usual reads. There was also a one-weekend readathon, and the FNLC Summer Challenge (more on this later) has really spiked my enthusiasm. So… ehm… I'll keep this part short, because the rest of this post is super long!
66. The Long Way Home by Louise Penny (English, 4.25 stars)
NO! No, no, no, no, just. No. This one left me heartbroken. Again. How does she do it? Give you all the hope, and then to take it away again? Amazing! Now excuse me while I cry some more… Damnit. You would think I got used to this by the time I get to the 10th Chief Inspector Armand Gamache novel right? Apparently not!
67. Pinkeltje in de Efteling by Studio Dick Laan (Dutch, 4 stars)
This Dutch children's book was a nice palet cleanser. It was adventurous and fun, and sometimes even a bit scary if I still would have had the targeted age. This edition takes place in our own fantasy-themed amusement park, de Efteling and Pinkeltje visits lot's of the fairy tale characters, while having his adventures. Luckily he gets the help he needs to find his way back home again.
68. The Silence of the Lambs
by Thomas Harris (English, 4 stars)
Was looking forward to this a lot, as I love the movie. But the book has much more psychology. It's also much clearer how much misogyny Clarice had to deal with within the FBI. Overall, I enjoyed this read a lot. The style problems I had with Red Dragon weren't apparent here. It's fun to see how Harris' style is improving. Will reread!
69. March Violets by Philip Kerr (English, 3.5 stars)
Another book (series) that has on my TBR for way too long. This book has many characters and conversations to keep up with, but I'm glad I finally got to it. The amount of sex and violence shows it's age though. Even so, I get why these Bernie Gunther crime series are so popular and will sure read more of them, hoping that there will be less namedropping in those. Also, I'm sorry about the dogs.
70. the Corpse Flower by Anne Mette Hancock (Dutch, 3 stars)
Mmmyeah, not sure. The story isn't badly written per se, but it was lacking something. There is a nice plot twist near the end which makes things more clear, but this books leaves you guessing into nothingness for a looooong while till that happens and the closing wasn't very satisfactory either.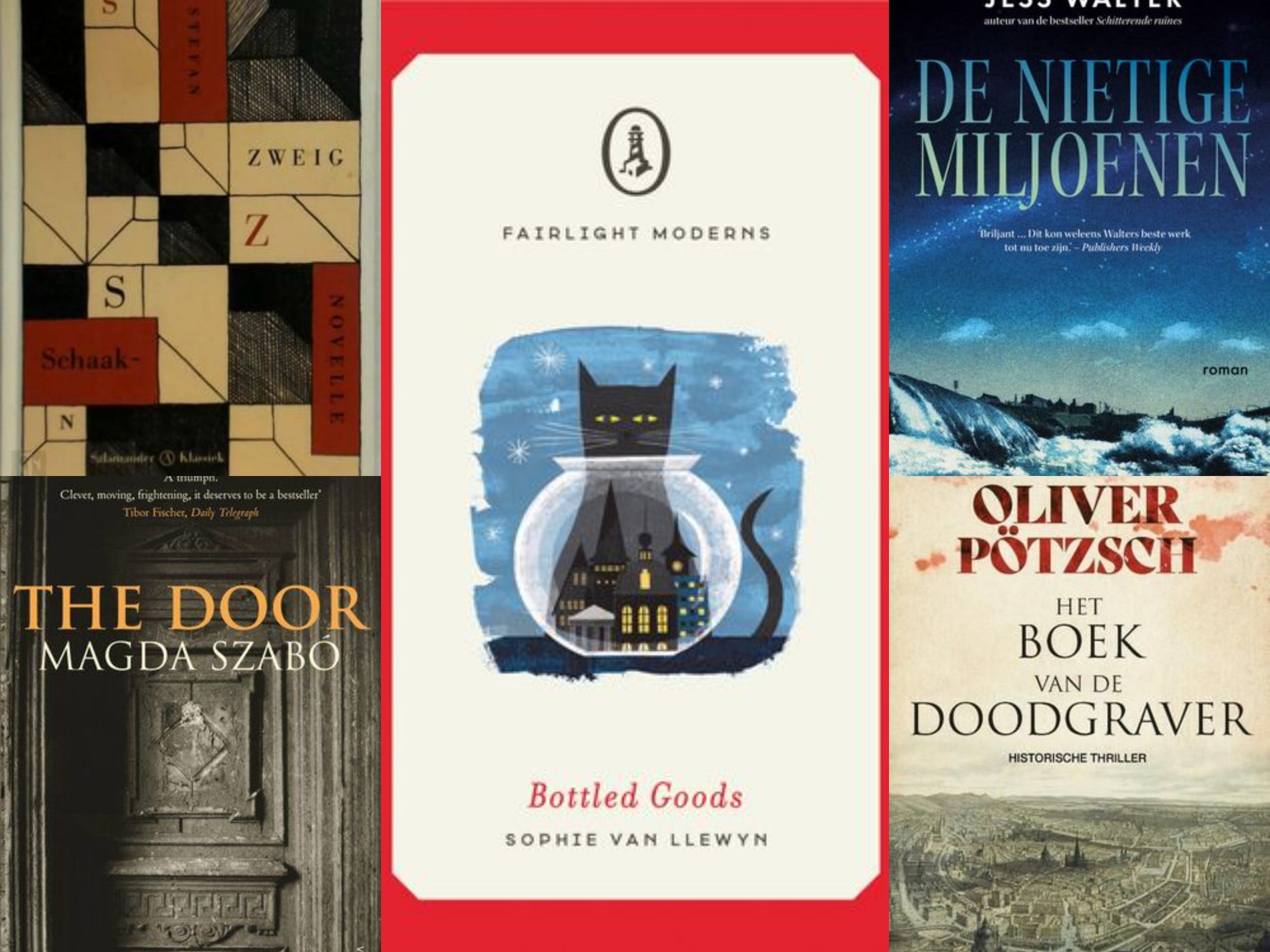 71. Chess Story by Stefan Zweig (Dutch, 3 stars)
Listening to audio, still does t feel like I'm reading, but with short novellas I do find it refreshing sometimes.
This chessnovella can get very technical about the game, but the part where the former prisoner tells his story is very moving. I find it hard to rate, because it's well-written and the psyche is interesting, but I don't love the game. I'm afraid I can't do the book justice.
72. Bottled Goods by Sophie van Llewyn (English, 3.75 stars)
Some books are so full of sorrow, they become poetic. This is one of those books. It's also, a very strange and dark book. The writing style on it's own is interesting enough, but the way this writer manages to let you feel along with Alina is just… whoa! Throw in some Romanian folklore and a touch of magical realism and you've got me. Also, the art cover is stunning, they should have done an entire page of that drawing.
73. Cold Millions by Jess Walter (Dutch, 2 stars)
Glad to be finished with this one, because I couldn't get into it at all! Do wonder what's wrong with me though, because this has really high rating and has been called "One of the most captivating novels of the year (2020)" but it wasn't for me. It was so slow! Only the last quarter was more interesting to me.
74. The Door by Magda Szabó (Dutch, 3.5 stars)
I had some trouble with the beatings the dog received, but even so it was a good read. The character building was really impressive and the extraordinary but weird relationship of the two women makes you read on till the last page. It's truly a book that makes you feel.
75. Het boek van de doodgraver by Oliver Pötzsch (Dutch, 3.75 stars)
Good story, but not as thrilling as expected. I really love good historical mysteries though, and will certainly try something by this German writer again!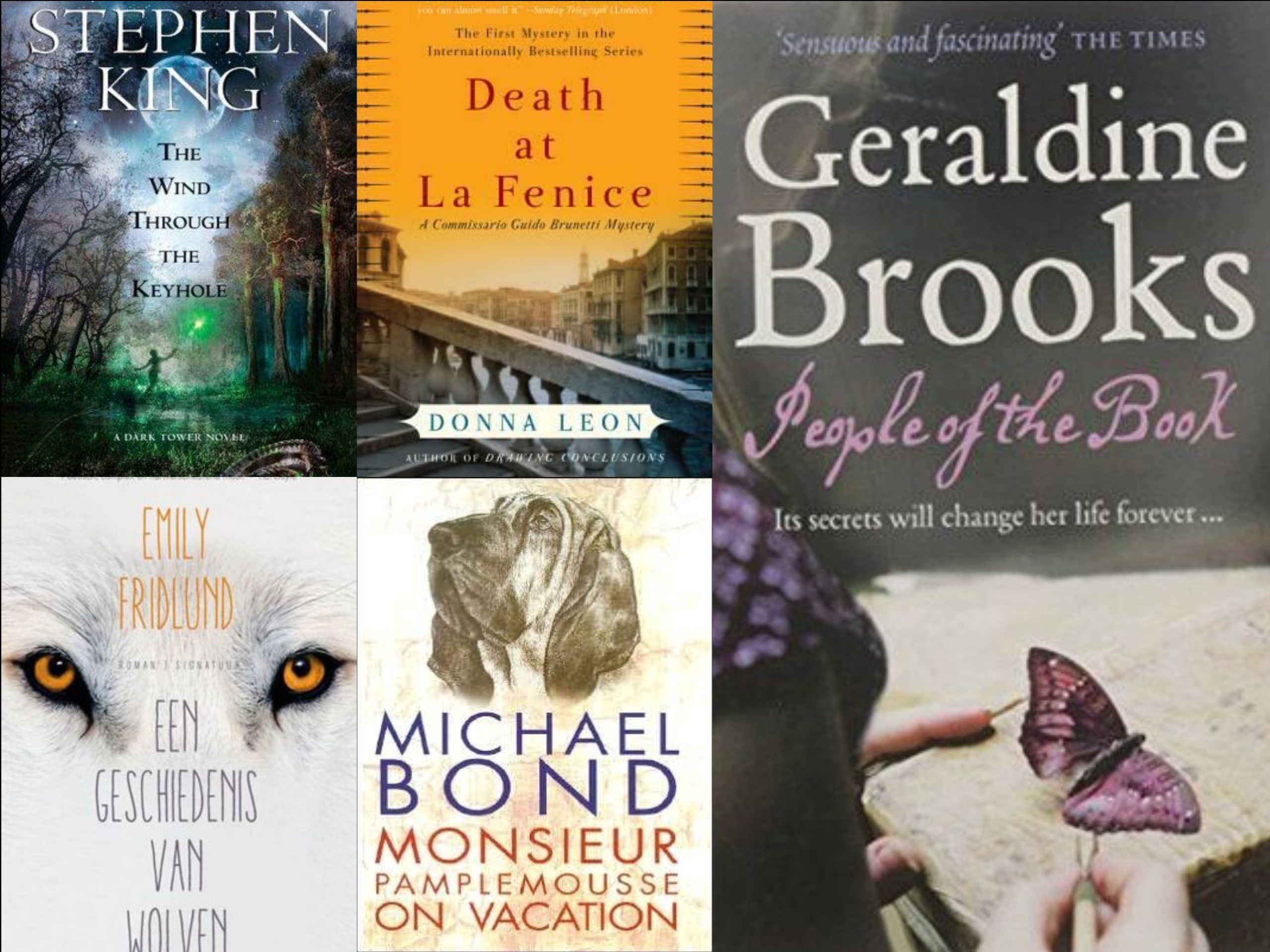 76. The Wind Through the Keyhole by Stephen King (English, 3 stars)
A story within the story, within the story. I enjoyed the main story and the story within the story, but the third layer was so entirely different that it didn't make sense to the rest of it. Apparently I rated this one higher when I previously read it. But somehow I didn't remember any of it!
77. The History of Wolves by Emily Fridlund (Dutch, 2 stars)
This was not my style, slow-paced AND coming of age. It was also quite sad and dark, which was what kept me going. I was hoping for a more clear ending, but some book-characters just never get that.
78. Death at La Fenice by Donna Leon (English, 3 stars)
Nice read but not very special. The descriptions of Venice are present, but do not overtake the plot which is nicely paced. The murderer is a bit of a surprise though at the same time it isn't, just not what you think of at the start.
79. Monsieur Pamplemousse on Vacation by Michael Bond (English, DNF!)
I was looking for a fun cozy mystery, but this was very chaotic, like the writer wanted to cramp in all kinds of cozy things (surroundings, food, funny people at the beach) that the story somehow got lost. Couldn't get into it, and decided to DNF instead of struggle through it. After two previous "meh/just ok" books, I wanted something good to read for now!
80. People of the Book by Geraldine Brooks (English, 3.75 stars)
What a relief, right from the start I knew this would be good. But I wish I could say I loved this book more, as it is a true historical mystery, and involving a book too! Sadly, I didn't feel for many of the characters. And it reads as a bunch of short stories intertwined with the original story (and I don't enjoy short stories). A couple of the characters stories did indeed make the book good. And it was far better than anything else I've read lately. But I didn't love it.
81. The Chateau by Catherine Cooper (English, 3.75 stars)
This was a surprise. It wasn't my usual style, it often felt YA to me, but it was funny though. Yes of course, people died and got murdered, but the stuff all around that was so… bad! The main characters just kept making things worse and worse for themselves, feeling as victims. I hated them. So the ending was pretty satisfying.
What about you, how has your reading month been? Are you meeting your goals? And have you read any of these? Or have you maybe read anything similar you can recommend me? Let me know in the comments!