According to my StoryGraph Wrapup, 59 of the 130 books I've read last year were part of a series. If you have visited me before, you know that could easily be true, because I love my series!
Because there are so many series on my TBR, there are a few I want to prioritise this year. On top of that, there are also some I would like to continue inbetween. I've listed both of them below, and will draw them up in by journal to keep myself focused. I can keep a digital tracking system, but I've learned a physical one helps me better. Are you the same?
Here's the list for 2023. Hopefully I wont get sidetracked too much by whatever (series) I find at the library! 😅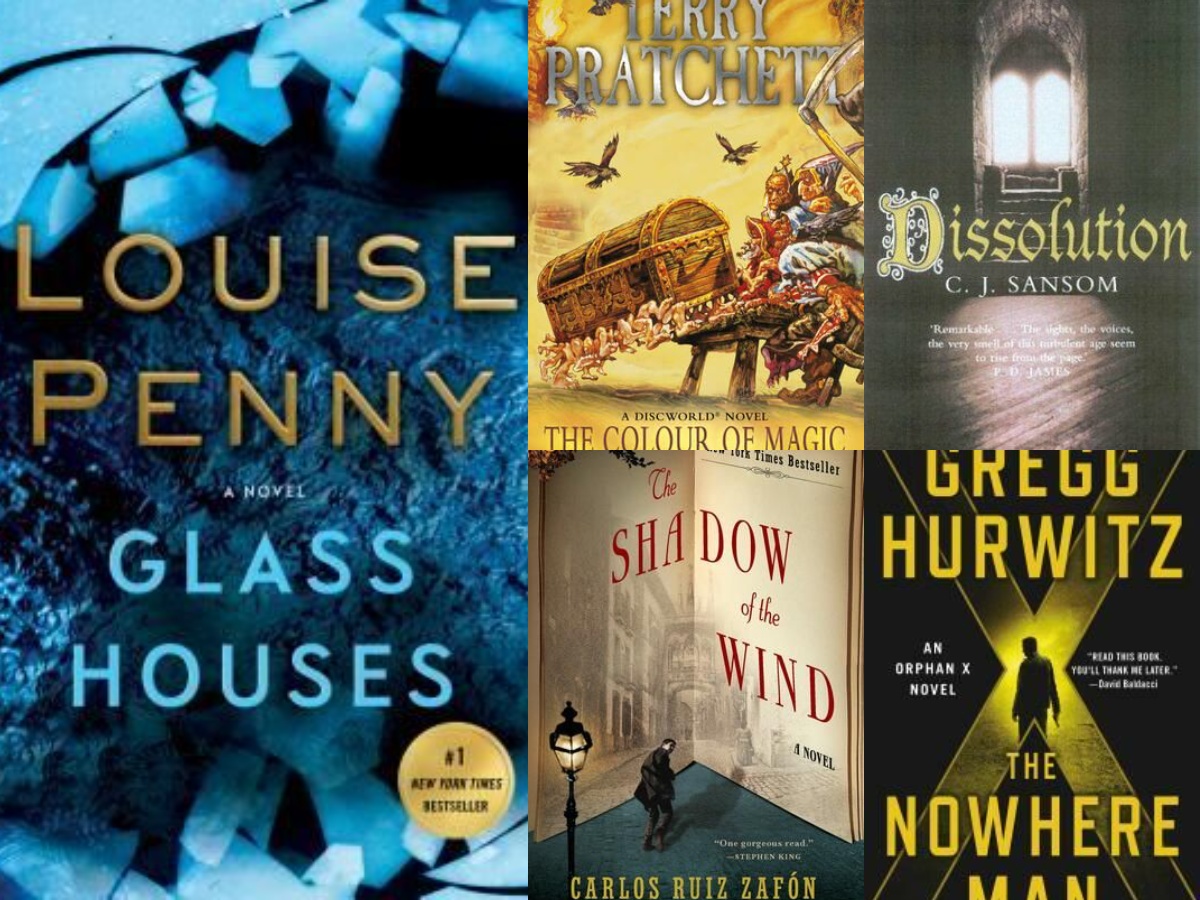 Chief Inspector Armand Gamache by Louise Penny
I've already read 12 out of the 18 books, so I will probably finish this series during the coming year. Which is already making me sad, but luckily new books are still being written, and I can always start over and reread them. This series is about a lovely Canadian village named Three Pines, where lot's of murder and mysteries happen and get solved by their very diverse and interesting inhabitants, accompanied by the Chief Inspector Armand Gamache of Sûreté du Québec, and his Deputy Inspector Jean-Guy Beauvoir. Thanks to the setting it's a very gentle cozy series, even though there is also a psychological depth to it. It's not brutal in a sense that there are gruesome awful descriptions of the murders, but your heart will be ripped out so many times!
Discworld – Rincewind Series by Terry Pratchett
This is the last of the major series within the Discworld. After this there is only the Tiffany Aching series and some of the standalone books left. The Rincewind series is about the failed wizard Rincewind from the Unseen University for wizards in Ankh-Morpork. We've met wizard from the academy before in other Discworld novels, but I am still totally blank about where this series will be about. These 8 books are Pratchett's most early works for Discworld, this is also what made me save them for later. His earlier work isn't as refined yet. Now that I know the Discworld a bit, I'm ready to dive in!
The Shardlake Series by C.J. Sansom
This historical mystery series is new to me, I don't really have a good idea what it's about except that it's set in Tudor England during the reign of Henry VIII in the 16th century. Somehow it's popping up all over my timelines recently, which is making me curious as I do love historical mysteries! I already have a standalone by C.J. Sansom on my TBR for this month, if I indeed like it, I will start on this series as soon as I have finished the last novel in the Languedoc trilogy.
The Cemetery of Forgotten Books by Carloz Ruiz Zafón
Not sure yet if I can combine this with the Shardlake series, but it's set in a different time and in a different country, so I'm hoping to reread this series again this year. I've read it multiple times now and it still remains a favorite! Every time I read I discover new things, and fall in love with it more. My last reread was 2018, so it's definitely due for another turn of these pages.
Orphan X series by Gregg Andrew Hurwitz
Bernie Gunther series by Philip Kerr
I'm in doubt on which one of these to prioritise, but at least one of them should be added to my priority list. I've read the first novel of both of them last year. Both are spy-thrillers, but the settings are far apart. Orphan is a more modern Jason Bourne/John Wick kind of story, taking place mostly in the US. And Bernie's series started in pre-WWII Berlin and goes along from there to far behind the iron curtain during it's many many books. These are written in the 90's and it's age often shows a bit, but nevertheless they are popular for a reason!
Besides the series listed above, I also still want to continue and/or finish these current series:
– Languedoc by Kate Mosse (read 2 out of 3)
– D.I. Callanach by Helen Fields (read 2 out of 7)
– Hannibal Lecter by Thomas Harris (read 3 out of 4)
– Howl's Moving Castle by Diana Wynne Jones (read 2 out of 3)
– Cyrus Haven by Michael Robotham (read 1 out of 3)
– Cormac Reilly by Dervla McTiernan (read 1 out of 3)
– Lumberjanes (read 2 out of 20)
– Her Majesty the Queen Investigates by S.J. Bennett (read 1 out of 4)
– Leo Stanhope by Alex Reeve (read 1 out of 4)
– Thursday Murder Club by Richard Osman (read 1 out of 4)
– A Boy Called Christmas by Matt Haig (read 1 out of 3)
So, ehm, I guess I have a bit of reading to do!