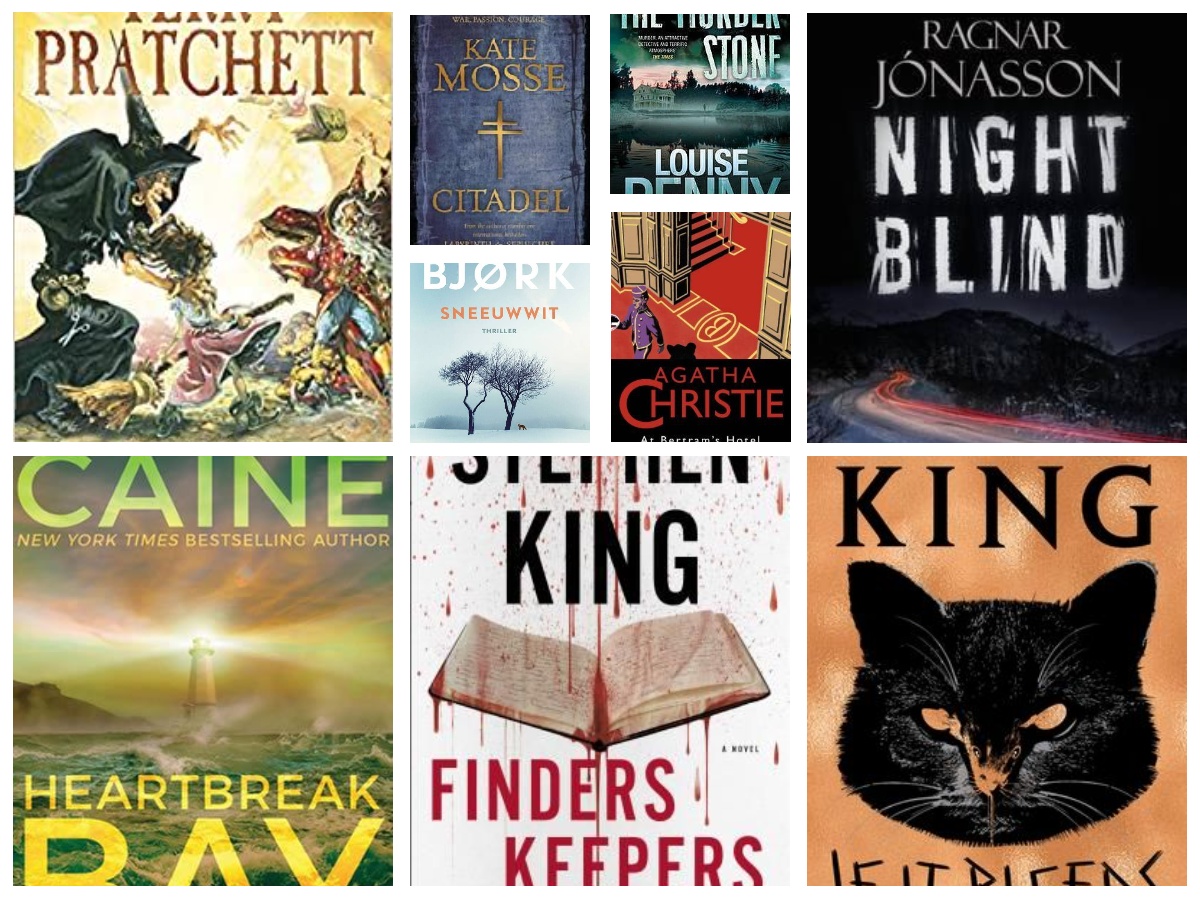 I absolutely love reading series! Reading series just brings another layer to a story and getting to know book characters and being with them when they grow is just so amazing. And for todays Top Ten Tuesday by Artsy Reader Girl, we were asked to write about something we love, so… this was an easy one to come up with. 😀
These are all my current series, or at least, the ones I have started and want to continue this year. As I am starting to write this, I have NO IDEA how many series there will be and how many books I still need to read to finish them. I love reading series. You get to know an entire world, and all kinds of details, you won't get from most stand alone reads. I'm getting a bit scared now what we will discover at the end of this list, so let's just get to it shall we?
Equal Rites (Discworld #3) by Terry Pratchett
The ultimate series of series! I have read 17 of the 41 books belonging to Discworld. I started the Watch-series and have also read the Death-series and the Industrial Revolution novels. Now it's time to start on the Witch-series and get to learn Nanny Ogg! Looking forward to this.
Citadel (Languedoc #3) by Kate Mosse
The books in this series are easily readable as stand alones, which is good, because I read the first one in 2018 and only discovered the second one late 2021. I'm not even sure why this is a series, besides that they take place in the same surroundings of Carcasonne in South France.
Sneeuwwit (Holger Munch & Mia Kruger #4) by Samuel Bjørk
A nordic noir series, about a special investigation unit in Norway. They work the weird murders, usually children are involved. The books are quite long, but haven't disappointed me yet. This fourth one is just released.
The Winterhouse Mysteries (Winterhouse #3) by Ben Guterson with Chloe Bristol
I read the first two of this middle grade mystery series in December and want to read the third one too, even though I didn't love the second one as much as the first.
Bury your Death (Chief Inspector Armand Gamache #6) by Louise Penny
I still have quite a few of this series to go, as the 17th one has been released in 2021. It's a cozy mystery series I really enjoy. You keep going back to the same small town characters, there's quite a bit of psychology involved and the food is delicious! Louise Penny has won the Agatha Christie award multiple times with books form this series, and I really get why. Some of the murders seem impossible, until she reveals the method at the end.
At Bertram's Hotel (Miss Marple #11) by Agatha Christie
The original Miss Marple series. I really want to finish them, but these books take me more time than I anticipate each time. They are slow-paced and I don't believe I have managed to find out whodunnit before the final explanation yet. Luckily I don't have to get through these in one year, I can read them slowly as intended.
Nightblind (Dark Iceland #2) by Ragnar Jónasson
I have enjoyed the first one of this series, but not as much as I expected. Possibly because I was reading it during summer, and reading a winter book during a heath stroke doesn't make me feel cozy. These cold months are perfect though!
Heartbreak Bay (Stillhouse Lake #5) by Rachel Caine
Just one more to go in this series. Unless Rachel writes more! The Stillhouse Lake series took me by surprise last year. I read the first few in one go. They are so full of suspense! I absolutely loved them! This fifth one is just released, so I'm hoping to get them soon from our library.
Finders Keepers (Bill Hodges Trilogy #2) by Stephen King
If It Bleeds (Holly Gibney #2) by Stephen King
These series belong together, but I have been reading them in the wrong order. The Bill Hodges trilogy comes first, in that series Bill Hodges and Holly Gibney solve murder mysteries and start a company together. In the Holly Gibney series, het expertise is called upon in different weird cases. It's both a detective series as paranormal, but despite that I haven't fully enjoyed these stories yet. They do fit in my Stephen King Challenge, so I should probably get to them soon.
the Dark Tower series by Stephen King
Additional to this list is the Dark Tower series which I am rereading this year. I already wanted to in 2021 and put the first two books on my reading list, but somehow I didn't prioritize. This year however a group of booktubers have planned a readalong, including a couple of Dark Tower related stories. How perfect! This also means, I'll be reading about 15 Stephen King novels this year. And that doesn't include the ones I mentioned above!
Okay, this is not as bad as I thought it would be. As mentioned, I love reading series, and I was afraid I had many unfinished. Some of these are almost done, unless more will be written. And others I still have many to go, but I don't have to read all of those this year. As long as there is progress, and as long as I am enjoying them, I will be content.
Speaking of series, have you read any of these? Or something similar? Do you have any recommendations for me?