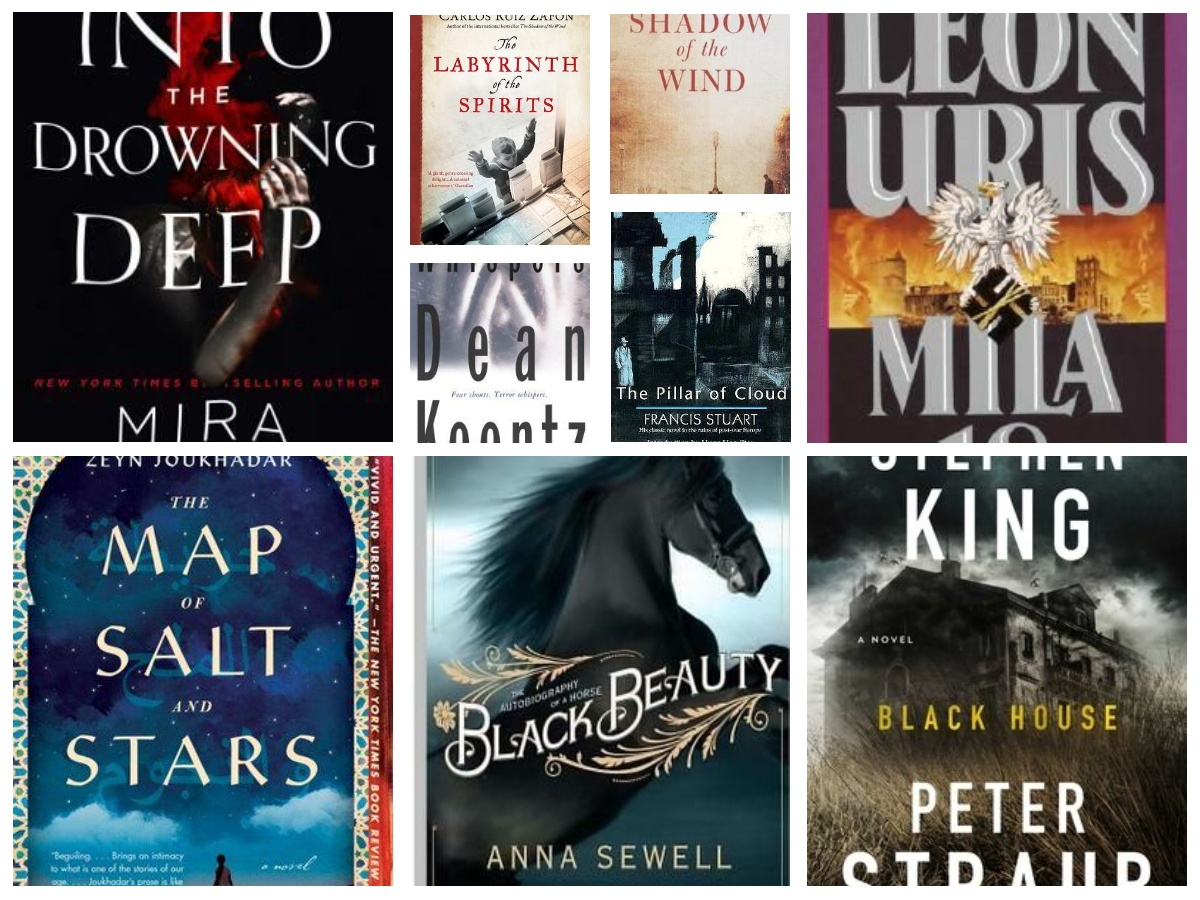 For todays Top Ten Tuesday I will postpone my reads of February till next week and write about books I have enjoyed (and given 5 stars) but have never mentioned on my blog.
Into the drowning deep by Mira Grant
I have read this book in 2019, after receiving it as a surprise book in a book swap. I am an absolute horror-fan and this was so totally different from most horrors but still so much horror. The build-up was really good! And it didn't end in a disappointment. Absolutely loved it. So even if you aren't a horror-fan this will be a good read. Not gross or creepy, just… a lot of anticipation. Sadly I can't reread this, because I forwarded it into another swap.
The shadow of the wind and The labyrinth of spirits by Carlos Ruiz Zafon
These are the first and the last of the quartet about The Cemetery of Forgotten Books. I have reread both this series are just these two many times. Each of the books can be read as a stand alone, but are somehow tied together. They are historical literary mysteries, taking place in bookshop Sempere & Son, at the heart of old Barcelona. All four are epic story of murder, madness, and doomed love. But also about books and mystery. Just thinking and writing about them now make me want to reread them again!
Whispers by Dean Koontz
I read this in 2018 and I still often think about it, which is funny because all the other Dean Koontz books I've read were just boring to me. It's haunting, it's psychological and it has such a creepy atmosphere! I haven't reread this one yet but I still have it in my cabinets and can't seem to part.
A pillar of cloud by Francis Stuart
This novel was a hard one. Not hard as in difficult to read, but hard as in full of dread, despair and hopelessness. But also very poetic and full of love. It's hard to describe the feeling this book leaves me with, but it is definitely worth 5 stars. I often think back to it, despite it being so dark, and I still own it to read it again someday.
"I only believe in one miracle – the miracle of pain. Because it is a miracle that the heart ca bear what it is given to bear. And when it can't bear it anymore it is a miracle, too, to have a way to escape."
Mila 18 by Leon Uris
I don't feel this one need explaining, as it's a European classic most of us would have read during high school. I found my copy later in life though, on the shelves of my husband who inherited it from his grandfather. It's one of the best Second World War books around. And if you have never heard of it before, please do go read it!
The map of salt and stars by Zeyn Joukhadar
This wasn't too long ago actually, so it might be up on the blog somewhere. Still, it's worth mentioning again but it's absolutely stunning! I loved this Middle-Eastern storytelling and the travels of both parties in the story, both current-time as historical, are interesting to follow. There was also a fair amount of mythology throughout the story, and I loved how the mystical journey intertwined with the present time journey, which were both so adventurous but for very different reasons. and the braveness of the girls… the book made me cry multiple times. Despite all the horrible things there was a double happy ending and in this case it was well-received. I would happily reread this one again.
I also liked how the main present time character (whoops, forgot her name, the little sister) goes from her naive opinions to learn more about the stuff really happening around her, like between her and her sister with the bracelet. It felt very real, because at that age you really are that naive but as you grow into adulthood you notice that things aren't what you think they are and that there is a story behind everything (and that a lot of people wear masks).
Black Beauty by Anna Sewell
I would never have thought to like this classic, as I knew it before as a childrens book about a horse. And I am not a horse lover. But this book has certainly surprised me. It's truly a classic that is still very accurate. It's not about the horse per se, but good manners, kindness and compassion among people and animals. As I was telling my partner about this (because I couldn't stop explaining why I liked it so much), he made me laugh real loud by comparing it to the bible: "fictional but with some very good pieces in it about how to live." I will certainly re-read this book again.
Black House by Stephen King and Peter Straub
This is the second of a series, but can luckily be read as a stand alone as I haven't enjoyed the first. I LOVED this one though! We all have that one book you want to keep going forever, for me that's eight, The Dark Tower series, and now it has become ten. And seriously, even when it wouldn't be Black House is GOOD! It's both a a mysterious detective, as an alternate world story and it's a horror. So gruesome murders and obscene and ferocious evils, combined with the Dark Tower world? Hell yeah!
What about you? Have you read any of these? Or are they still on your TBR? Will you be adding them now? Let me know in the comments!