Well well well, that goal of reading 100 books this year starts to look like a bit of a laugh really… Will you believe it, when I write you I have now read 25 books this year. TWENTY-FIVE! Already. In just two months. I could read nothing next March and still won't be behind.
My average rating this month dropped a bit though. And so did the amount of books. But only a little, because I still read more than usual. A whopping ten books! Half of them were from the library, I am really enjoying my new subscription again. I can't however get used to the library itself yet. It's so big! I never know how to find what I am looking for. So instead of browsing, I now order my books and let them put on hold for me. It feels fancy though, to get someone else look for my books for me, but I do hope I'll get the hang of it and will be able to just browse the shelves and surprise myself with what I can find on them.
But, that's another story, let's get back to the books and see what I read this month.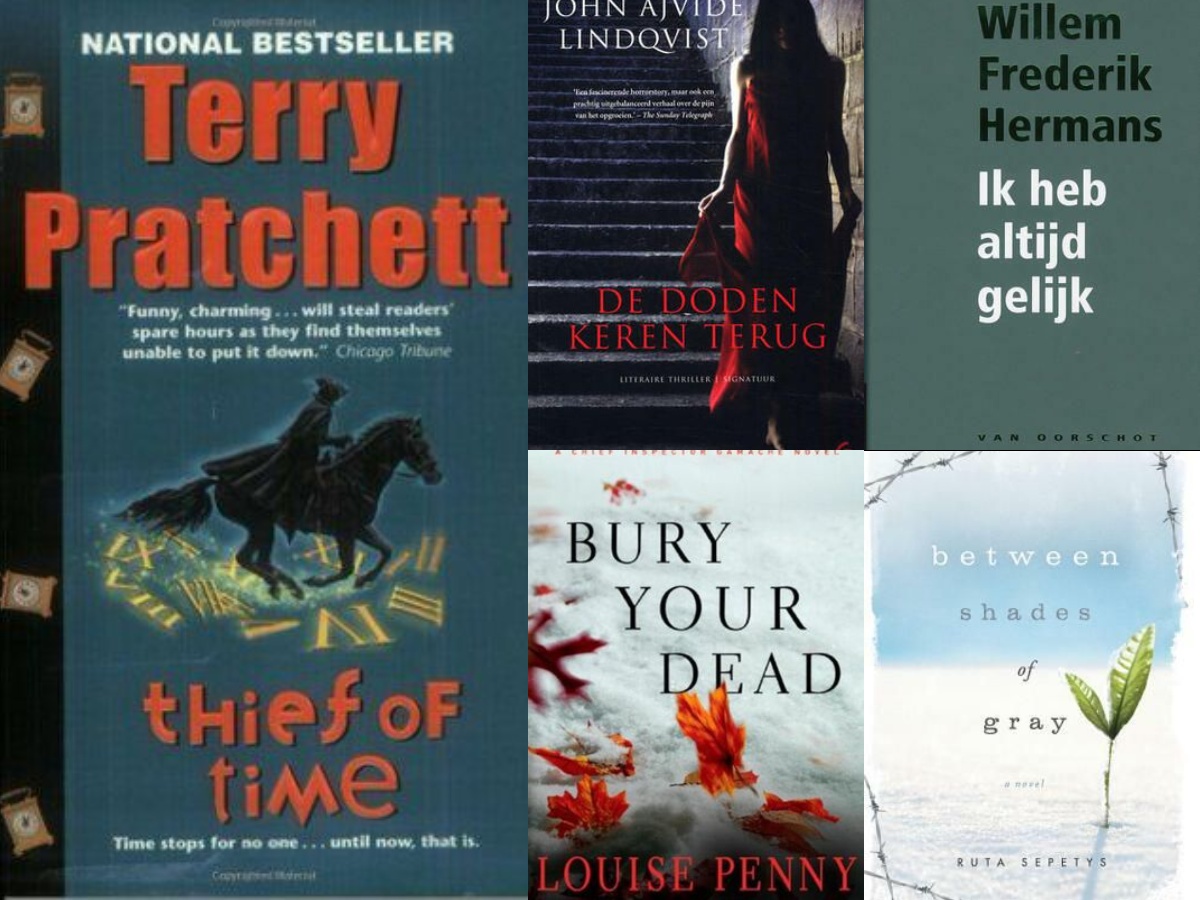 16. Thief of time by Terry Pratchett (English, 3.5 stars)
I must admit, this last one in the Discworld Death series was a difficult one. I liked Death, I liked Susan, I liked Lut-ze, I liked Lobsang. But their stories all put together were a bit complex. The stories were far apart, but at the same time, belonging to eachother. Lucky for me, it being written by Terry Pratchett, the puns were very enjoyable none the less. The descriptions of the Auditors were genius! But this is definitely one that needs a reread to fully get the stories.
17. Handling the undead by John Ajvide Lindqvist (Dutch, 3.5 stars)
A bit of a mediocre read. I liked it, but I didn't love it. The story didn't creep me out as much as I anticipated. Maybe that's because Let the Right One In was so up my alley. It was however a good write-up of how society reacts to… well, anything really. In this case it was the dead coming back alive, but it's the same with any other "disaster". Reflective and challenging.
18. I am always right by Willem Frederik Hermans (Dutch, 1 star)
Horrible! What a start of the reading month… The main protagonist is a whiney 30-year old white male, just back from the "political assignments" in Indonesia. He only complains, 250 pages long. It wasn't a very pleasant read, I really struggled through and even thought about DNF-ing, but despite that all of it felt like very typical Dutch culture, not just of the 1950's, but in some embarrassing cases, still very much the same but more hidden. I doubt we will ever learn and change…
19. Bury Your Dead by Louise Penny (English, 5 stars)
After a couple of mediocre and even an utterly frustrating reads, I needed something I knew would be good. And I really wanted to know how this story was unfolding, after my heart being torn out in the previous book in this series. And it delivered!
In this 6th Armand Gamache story we are presented with not one but three cases, one of them which feels like an historical fiction novel. It was marvellous, but also a slow both comfortable as emotional read. After the previous hangover, this one lets your heart tumble around for a while before shoving it back in. Being an officer isn't just all heroics and solving cases you know. And this might as well be the best one in the series yet.
20. Between Shades of Gray by Ruta Sepetys (English, 5 stars)
Damn it, my heart! It's been a while since I read a good historical fiction set during the 1940's when WWII was raging Europe. This one is set in the Sovjet Union though and follows a girl, her mother and brother being deported from Lithuana to Siberia. It reads fast, but it's emotional. You get to be confused, enraged, engrossed, starving with anyone of the characters, while also remembering their past. Before I was halfway through I was already crying, at the end I was down right sobbing.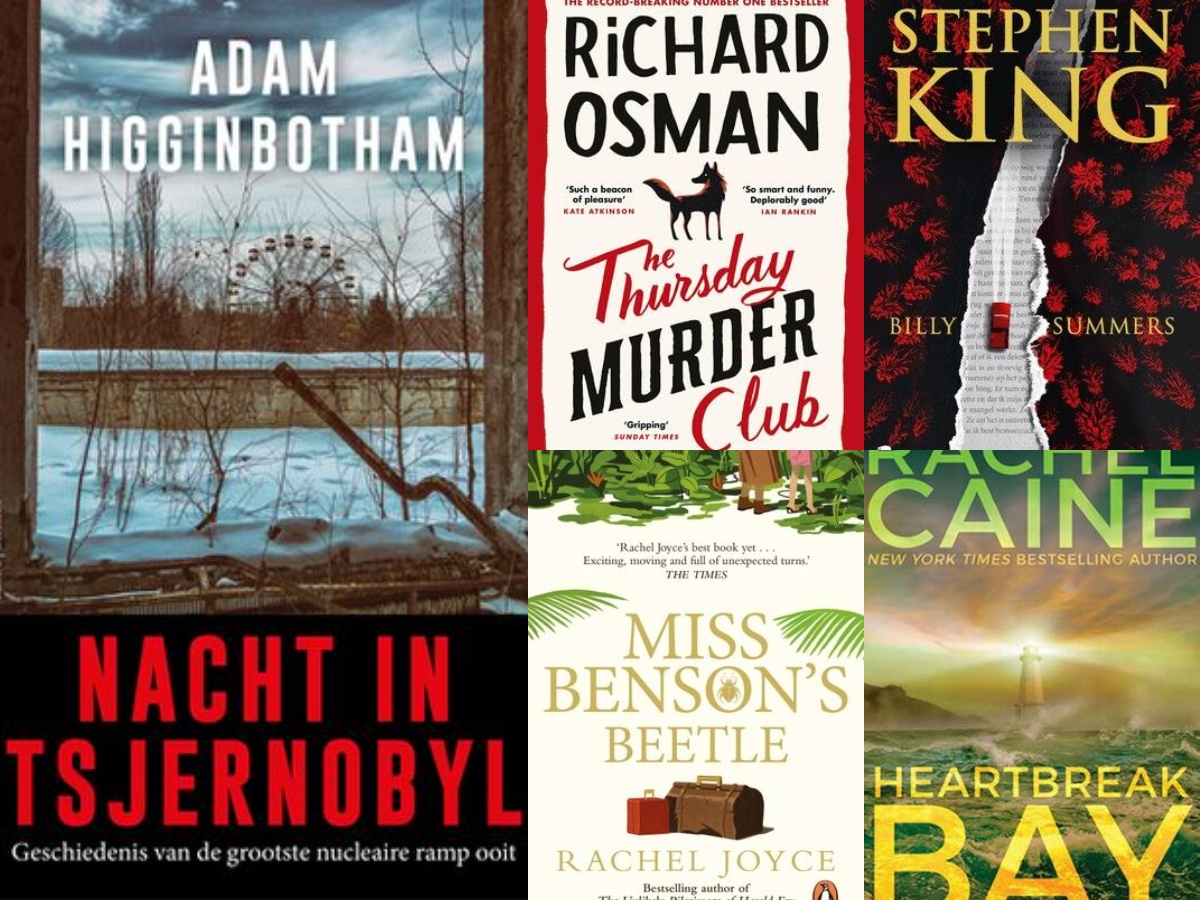 21. Midnight in Chernobyl: The Untold Story of the World's Greatest Nuclear Disaster by Adam Higginbotham (Dutch, 3.75 stars)
This is a very thoroughly written journalistic historical and scientific researched book. It covers all area's around the Chernobyl nuclear disaster. It is however, a lot of text, and the bureaucratic disasters following the nuclear one are dense to read through. I do love that Higginbotham spoke to the actual people and made parts of the book feel like you were actually there with them. It makes it all more alive, during the 40 years surrounding the disaster.
With the current events unfolding in Europe right now, it is very weird to just heaving read this and it puts everything happening in another spotlight. 🙁
22. The Thursday Murder Club by Richard Osman (English, 3.75 stars)
Next to Chernobyl, I needed a bit of a light read and this was such a funny one! But once you get through all the British humor, you'll notice quite some dark bits. Many subjects of life unfold themselves before you. The mystery was great. Well, mysteries actually, because there's more than one. But you'll likely find out for yourself as this book is quite the hit recently.
23. Billy Summers by Stephen King (Dutch, 5 stars)
This is one of those King-books, that if it wasn't for the references, you would forget it was a King-book. It's very character driven and makes you root for the bad guy, with his good moral, and it certainly leaves you with a book hangover, like Blaze did. The blurb talks of a dynamic duo, but I would call it a dynamic triple, counting Bucky too. The developing bond between the three is what makes this story so wonderful. The title is exactly how it should be.
24. Miss Benson's Beetle by Rachel Joyce (English, 4 stars)
This was a fun and cozy surprise! Two women end up at the other side of the world, one a bit of a mystery, the other one plain as day. They both have their reasons and their personalities are completely the opposite, but somehow they stick together and they become friends. It's a lighthearted and funny emotional story, even though some gruesome life-events happen. It's very adventurous, and couragious. I expected it to be more of a chick-lit, but it's got more mystery and danger than anticipated.
25. Heartbreak Bay by Rachel Caine (Dutch, 5 stars)
Terrifying! This 5th Gwen Proctor novel from the Stillhouse Lake series was again so full of tension, and so chilling… It is sadly the last in the series, but what a good one! I'm too scared to give away any spoilers, because I recommend this series so often. If you enjoy tense murder stores, start with the first one Stillhouse Lake. This series feels so real. *shivers*
And these were my reads! Not a great start, but I went out with a bang none the less. Again. I can't believe it! I wonder what March will bring. Have you read any of these? Or are they still on your TBR? Will you be adding them now? Let me know in the comments!